AP Rescue Partner Spotlight: Thrive
Thrive Animal Rescue's Cece Bloum has built a unique facility where animal lovers can come together to give rescue pups a better life.
Horses and ponies and rescue dogs, oh my! When you make your way up the drive to Newmarket Farm, it looks like a traditional stable. A second glance, however, will reveal so much more! Cece Bloum has built a very unique facility where animal lovers can come together to give rescue pups a better life. I sat down with Cece to learn more about Thrive and how she is making an impact in her community.
Newmarket Farm is such a beautiful place. How is it that a successful show stable began doubling as a dog rescue?
I started out in 2014. A couple years before that, I would just go to the shelters, get dogs, put them in stalls or in my house, and then take them a few days later to the local horse shows, and everybody loved it! Then, every time we went back to the horse shows, we would see all of the dogs that we had adopted out!
Once we got our non-profit status, we started turning a few of our barn stalls into "doggie rooms". We even have a puppy room in our office. The horses and the dogs really are a perfect combination, because horse owners are amazing and will do anything for their animals. All of the horse people love the dogs being here. When people walk by the barn, they get to see the dogs, so it has turned into a great way to find homes for them.
What are the most common reasons, if any, that a dog may end up at Thrive?
Most of them end up at Thrive because we visited them at the shelter, or we are contacted by a rescue partner that we have in Mexico. They know we are able to take on and promote family friendly dogs. There are amazing dogs in shelters, but many people don't think that. They think they are getting "problem dogs" or a very specific type of dog.
Our mission is to share with people that there are amazing dogs waiting in shelters. A lot of people don't want to actually go to shelters and look, so we go and look for the type of dog that our people love. They are always there waiting for us. We have gotten a lot of street dogs lately. Lots of "Momma" dogs who have been on the street come here, decompress, and have their puppies.
Our other program that we are very passionate about is our senior program. We currently have 30 senior dogs that we support in homes. We cover all their medical expenses for as long as they live. Every time I go to the shelter, I try to get a young or very adoptable dog and an old dog.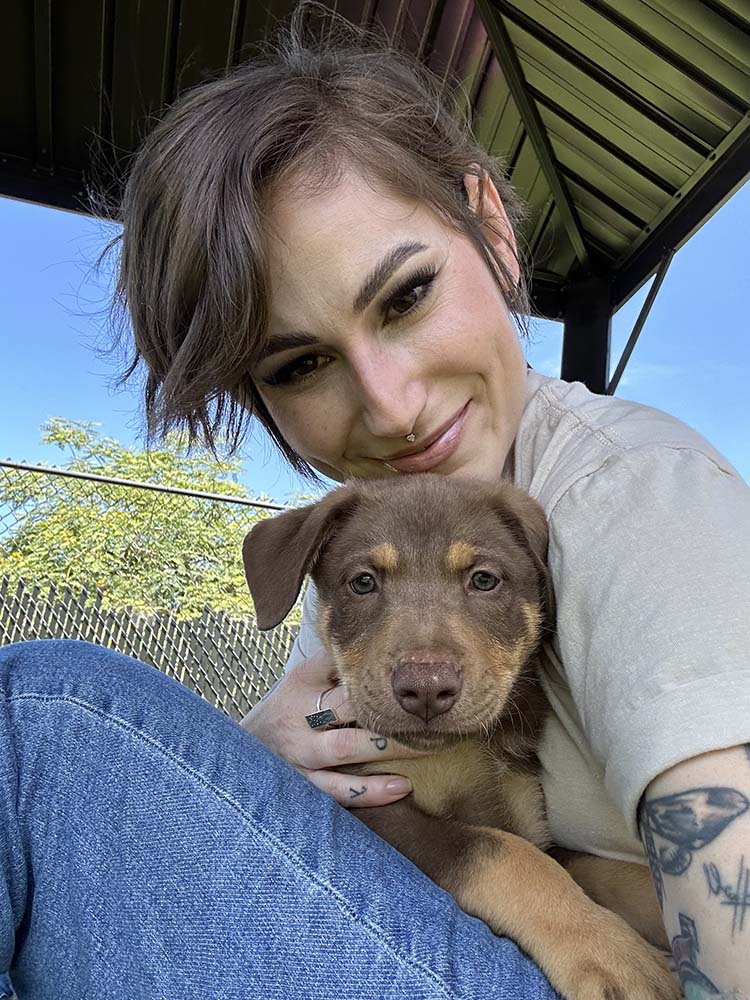 Speaking of "Momma" dogs and seniors, are there any themes in the types of dogs who end up with you?
We have a lot of scruffy terriers. People just love the scruffy ones. But we have sort of branched out. We are not breed specific at all. We love all dogs. We do our best to get ones that are dog-friendly, because the majority of our adopters already have dogs. A big thing at Thrive is group play and pack walks, so we want everyone to be able to mix together. That is the main criterion. We try to dog test them before they arrive. If they are fearful that's fine. They will learn to love us over time. We just don't want them to be dog aggressive.
When you walk onto the property, it is such a special experience to see both dogs and horses sharing the same barn space. Do you feel the company of other animals is beneficial in helping dogs entering the facility adjust to their new surroundings?
Absolutely! When we walk the dogs by the horses, they are a little afraid of them at first, but then the horse will reach down to their level and there is some sort of communication going on there. I don't know what it is, but after that, the dogs almost let out a big sigh of relief. This property has a very mellow vibe compared to the shelter, and I think the dogs pick up on that. I think the dogs and horses are talking to each other all the time.
It is common that your office space in the barn transforms into a maternity ward overnight. Is it challenging to have so many pregnant dogs enter your care?
We try to have one pregnant mom at a time, but a couple months ago we had a group of dogs come in and we suddenly realized we had three pregnant moms. We quickly took the office apart and made it into a nursery. We had whelping boxes scattered all around. It can be tough, but we just do whatever we can for them. We call it the "Home of Unwed Mothers".
One thing that I truly love about your facility is that no dog is ever put in a traditional kennel. They have their own bedrooms, with heated floors, cozy beds, and anything else they may need to feel at home. How do you feel these surroundings help your dogs to "thrive" at Thrive?
I feel like they can come in here and just relax. They are in a home environment, very similar to what a real home is like. This allows us to tell the adopters more accurate information about the dogs. Like, "be careful, because he might chew your couch at night". They adjust really quickly and get accustomed to environments like that. They love their houses and cozy beds. They are very nurtured here. It is as good as it gets outside of a shelter, before they find their forever homes.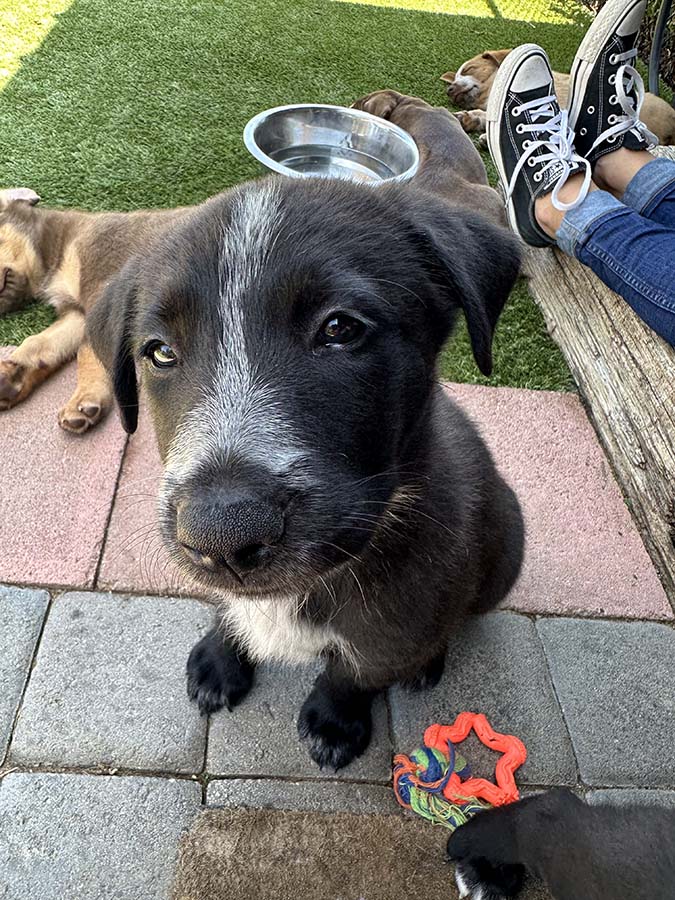 In a post-covid rescue landscape where shelters are at max capacity and foster families are hard to come by, how does Thrive play a part in the solution without becoming completely overwhelmed?
It is really hard not to be overwhelmed. The shelters are completely full again. We pulled some dogs from the San Diego Humane society recently, and they have dogs stacked in crates in the hallways because they are out of kennel space. We just try to do what we can and take as many as we can without becoming over-capacity ourselves, because then we can't give them what they need. It's a fine line. We have a great foster program. We reach out as needed and just say "we need some help", and we usually get some people in the community that will step up and help us. It's great.
That leads right to my next question. There is obviously only so much space available at Newmarket Farm. How important is your foster network in keeping Thrive running?
It is SO important. It is so important for dogs to come in, decompress with us, and then go into homes. So many rescues struggle with trying to find a good foster base. We are always looking for ways to make it easier on our fosters and help them out. We are starting a program where fosters can drop their dogs off during the day if they are working and pick them up and let them sleep in their house at night. I think that will really help.
As you mentioned before, you hold many rescue events at horse shows. Why do you think this specific setting has proven to be successful in getting dogs adopted?
I think it's because horse people are also amazing dog people. We drive up in the van and kids crowd around us because they know we are coming. The dogs "fly off the shelves" as they say. They go into really, really good homes. We took the dogs out to Temecula one weekend and adopted out 18 dogs at one event. When we adopt out lots of dogs like that, we are able to go to the shelter and get more! Now, whenever we go to horse shows, there are Thrive dogs everywhere! It's the best platform! We are very lucky to be a part of the equestrian world.
You and your team were buying JustFoodForDogs meals out of pocket for a few years before the Adoption Project began sponsoring Thrive. Why is whole-food nutrition so important for your pups?
Because we have seen it! We have witnessed it turn dogs around. What your food can do for these dogs is amazing. If a dog has diarrhea and is stressed out, we don't have to worry about it. We just had a dog come in today who was stressed out and had diarrhea. We know that we can get out the Balanced Remedy recipe and make her feel better.
We love the Joint & Skin Support for the older dogs. They are really thriving on that. They adjust quicker, and their stools improve faster. It just works, and we have known that for a while. We knew we had to work it into the budget. It was non-negotiable. We tried other things before, and it didn't work. We knew this was what we needed to do. It's the best food ever. We are so incredibly grateful. We are honored to be a part of this.
For more information, please visit Thrive's website at www.thriveanimalrescue.com. You can follow them on social media at @thriveanimalrescue.