Choosing the Right Diet for Dogs With Liver Disease
Learn how nutrition and diet play a key supporting role for dogs with liver disease.
If your pup was recently diagnosed with liver disease, your veterinarian may have mentioned adjusting your dog's diet.
Your dog's liver plays a huge part in your dog's body. It helps with digestion, prevents blood clots, breaks down toxins, and metabolizes proteins and carbohydrates. For dogs with chronic liver disease, a dietary change, when used in combination with medical treatment, can boost your dog's health.
Read on to learn more about liver damage in dogs, as well as how and why a prescription diet can help.
Liver Disease in Dogs

Liver disease takes many forms. Often, a buildup of liver enzymes is leaked into the bloodstream due to liver damage. One of the first things your veterinarian will do to check for liver disease or liver failure is a blood test and/or bile acid test, followed by a biopsy.
Clinical signs of liver problems in dogs include:
Vomiting
Diarrhea
Excessive thirst and urination
Lethargy
Loss of appetite
Jaundice (eyes, skin, and gums turn yellowish color)
Swollen abdomen
Blood clotting
Seizures
Disorientation
Liver disease can progress to Hepatic encephalopathy, which affects the nervous system. Liver issues are common amongst breeds like Yorkshire terriers, Dobermans, Rottweilers, and Cocker spaniels.
It is important to narrow down the exact type of liver issue your dog is having before choosing a treatment plan or new diet.
Types of Liver Issues
Common types of liver issues include:
liver cancer
liver shunt (aka portosystemic shunt)
fatty liver disease
leptospirosis
hepatitis
copper storage disease
According to the UC Davis School of Veterinary Medicine: "Once a diagnosis of liver disease is made, dietary therapy may prove beneficial in preventing further damage and in ameliorating the consequences of liver failure."
Let's take a look at what types of pet food constitute a hepatic-friendly diet.
Dog Food for My Dog with Liver Disease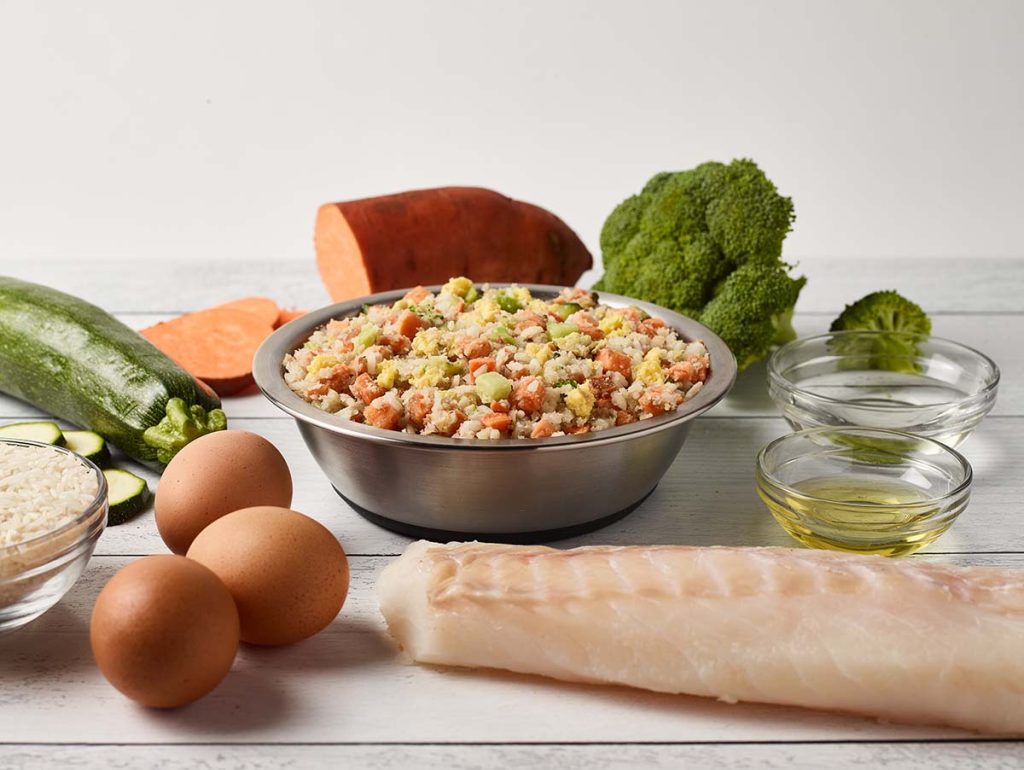 Commercial dog food is not formulated for dogs with liver issues. To manage canine liver disease, many DVMs and veterinary nutritionists recommend a low-protein, low-fat diet designed to promote healthy liver function.
JustFoodForDogs Hepatic Support diet is formulated to support dogs with liver disease or early-stage kidney disease by addressing the following key nutritional factors:
Made 100% with ingredients approved for human consumption
Low fat
Carefully controlled high-quality protein levels provided by wild-caught cod and eggs
Restricted copper for dogs with copper storage disease
Reduced phosphorus and controlled sodium for dogs with renal disease
Omega-3 fatty acids
Balanced for long-term feeding under veterinary supervision
The Hepatic Support diet for liver health is hand-prepared in open kitchens using sweet potatoes, long-grain white rice, eggs, wild-caught Alaska Pacific cod, premium fish oil, broccoli, and zucchini.
Zucchini is great for liver support as it is an excellent source of manganese, vitamin C, magnesium, vitamin A, dietary fiber, potassium, copper, folate, B vitamins, and phosphorus.
Note that our Renal Support Low Protein diet and our Hepatic Support Pantry Fresh diet are best for hepatic encephalopathy. The Fresh Frozen version of our Hepatic Support diet is not appropriate for hepatic encephalopathy, despite the name.
If your pet can not tolerate one or more of the ingredients in our diets, you can get a customized diet developed by our experts. Nutrition consultations are free!
Nutrition Plays a Supportive Role in Liver Health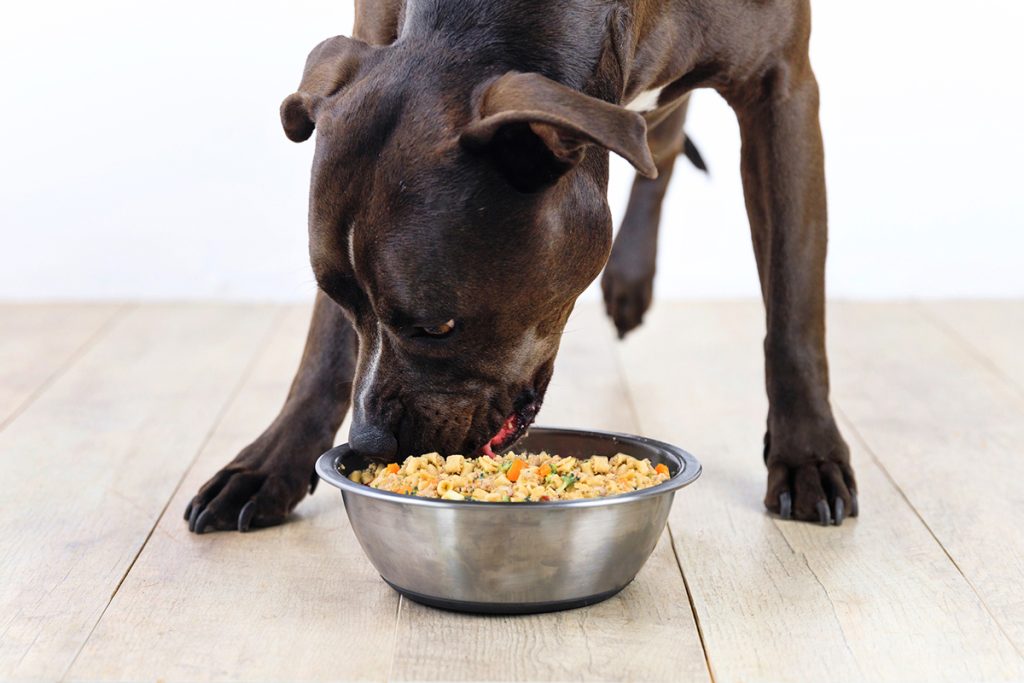 Some DVMs recommend giving your dog liver supplements as well.
Supplemental antioxidants that fight free radicals can protect the liver cells. Vitamin E, Vitamin C, S-adenosyl-methionine (SAMe), amino acids, and milk thistle are also advised, though UC Davis points out: "…It is important to note that the exact mechanism of action, dosing, and efficacy of these supplements are still under investigation."
Nutrition can go a long way in promoting your pup's overall quality of life. Talk to your veterinarian about what options are best for your pet's health.