Getting Started with Customized Dog Food
Customized dog food allows you to create a diet that is perfectly tailored to your dog's individual needs.
Dogs are individuals, just like people. And just like people, their dietary needs vary depending on their life stage, breed, activity level, and health conditions. Customization allows you to create a diet that is perfectly tailored to your dog's individual needs.
Unlike kibble, custom pet food can help with things like weight management, sensitive stomachs, environmental and food allergies, digestive health, skin and coat health, organ health, kidney and liver support, picky eaters, and more. Everything is tailored to meet your pet's nutritional needs.
JustFoodForDogs Customized Meals: How It Works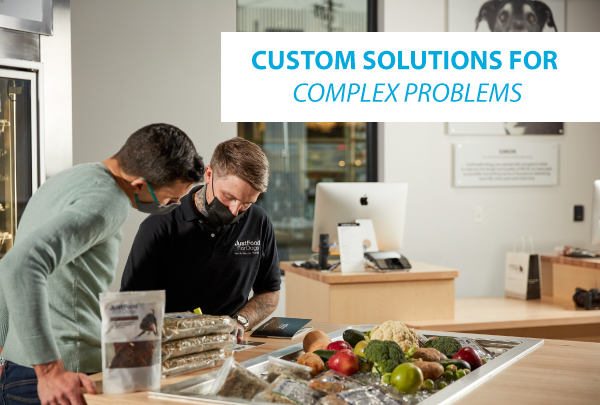 Every custom fresh food formulation starts with a free consultation with a Nutrition Consultant. Pet parents should prepare to provide all necessary dietary and medical information so we can gauge what kind of meal plan will best accommodate their dog's needs. For example, if your pet is allergic to turkey or sensitive to sweet potato, tell us! If our consultants determine your pet could benefit from a custom formula, they will guide you through the next steps.
The next step is the medical records review. Our veterinary whole-food formulators will review your pet's medical records and partner with both you and your veterinarian to discuss custom dietary options that would best fit your pet's needs.
Finally, we prepare your pet's fresh-frozen personalized meal using high-quality ingredients in our kitchen. As always, each meal is free from by-products, preservatives, additives, and fillers.
DIY Custom Dog Food
If you want to make your pet's custom diet at home yourself, you will receive a list of human-grade ingredients to purchase and a recipe to follow. We will hand-prepare your pet's custom nutrient blend, which ensures your dog's food meets AAFCO standards and is complete and balanced, and deliver it to you.
If you go the DIY route, it is vital you follow the veterinarian's instructions to the letter in order to avoid nutrient deficiencies. Almost all 200 DIY dog food recipes tested in a 2013 UC Davis study lacked vital nutrients. Only 10 of 200 recipes tested met minimum essential nutrient intake recommendations.
"Homemade food is a great option for many pets, but we recommend that owners avoid general recipes from books and the Internet and instead consult with a board-certified veterinary nutritionist," said Jennifer Larsen, an associate professor of clinical nutrition at the UC Davis Veterinary Medical Teaching Hospital and the lead author on the study. "These specialists have advanced training in nutrition to help formulate customized and nutritionally appropriate recipes."
JustFoodForDogs custom nutrient blend supplements are prepared to pair specifically with your dog or cat's real food diet to ensure it is nutritionally balanced, so pet owners: do not skip this step! Everything from the fatty acids, veggies, and proteins in these recipes is designed to be just right for your pup's specific needs.
Transitioning to Custom Fresh Dog Food
Once you have created a customized diet plan for your dog, it is important to transition them to the new food slowly. This will help to avoid any digestive upset.
To transition your dog to a new food:
Start by mixing 25% of the new food with 75% of their old food.
Gradually increase the amount of new food over the next 7-10 days until they are eating 100% of the new food.
If you notice any digestive upset during the transition, slow down the process or contact your veterinarian.
Customized dog food is a great way to ensure that your dog is getting the best possible nutrition. It can also help to improve their overall health and well-being. If you are considering feeding your dog customized food, start your free consultation today.