The Truth About AAFCO Feeding Trials
Everything you need to know about AAFCO feeding trials — and why JFFD went beyond its requirements.
Did you know that pet food can be formulated, sold, and fed to your pets without ever being field-tested or fed to any animals? Or that your pet food may be based on old, outdated research?
The guidelines for dog and cat food provided by the Association of American Feed Control Officials (AAFCO) are rudimentary. They are not developed by veterinarians or nutritionists. In addition, pet food laws and regulations are enforced by the U.S. Food and Drug Administration (FDA), not AAFCO.
AAFCO published nutrient profiles in the early 1990's. If a pet food manufacturer follows this 'recipe' today, then they can put a diet on the market without ever testing its effects on live animals.
These AAFCO nutrient profiles are roughly based on outdated data from 1984-1985. We have learned a lot in nutrition since then. Other organizations, such as the National Research Council (NRC) have published and maintained much more recent and accurate data. In 2016, AAFCO finally updated its profiles to more closely mirror the 2006 NRC profiles for its official publication.
AAFCO-Established "Nutritional Adequacy"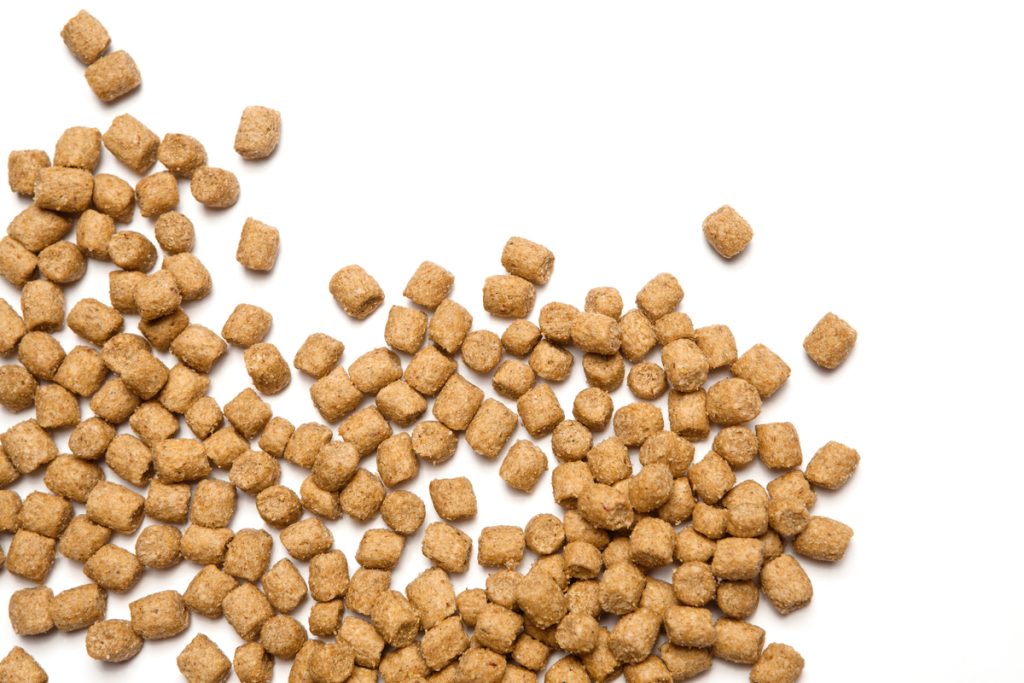 The NRC is a private research organization commissioned by the government to update and publish new information on nutrition. They have updated information on what dogs need to be healthy, with a recent publication in 2006.
At JustFoodForDogs, we've been formulating our diets to NRC standards since the day we first opened our doors — a decade before AAFCO update its profiles.
This means it has taken the kibble industry 30 years to catch up to what is current regarding pet food nutrition, and what we at JFFD are already doing.
To find out if your diet is outdated, look for this language on the "nutritional adequacy statement":
"(Name of product) is formulated to meet the nutritional levels established by the AAFCO Dog Food Nutrient Profiles"
The fact of the matter is that nutritional adequacy cannot be guaranteed by simply formulating to meet a specific set of profiles without conducting feeding tests. Yet a majority of the pet food labels that say its contents are "premium" or "ultra-premium," are actually being formulated to meet AAFCO profiles instead of going through any feeding trials.
According to board-certified nutrition experts Joseph J. Wakshlag DVM, PhD, DACVN, DACVSMR and Justin Shmalberg DVM, DACVN, DACVSMR, approximately 80% of the pet food industry does not perform feeding trials with their foods.
Since we at JFFDs like to do things thoroughly, we did not choose to follow the old standards; we chose to follow the newer NRC standards from the jump. For this reason, we ran longitudinal feeding trials on our five daily diets for healthy dogs.
Transparent Nutrition: Going Beyond AAFCO Guidelines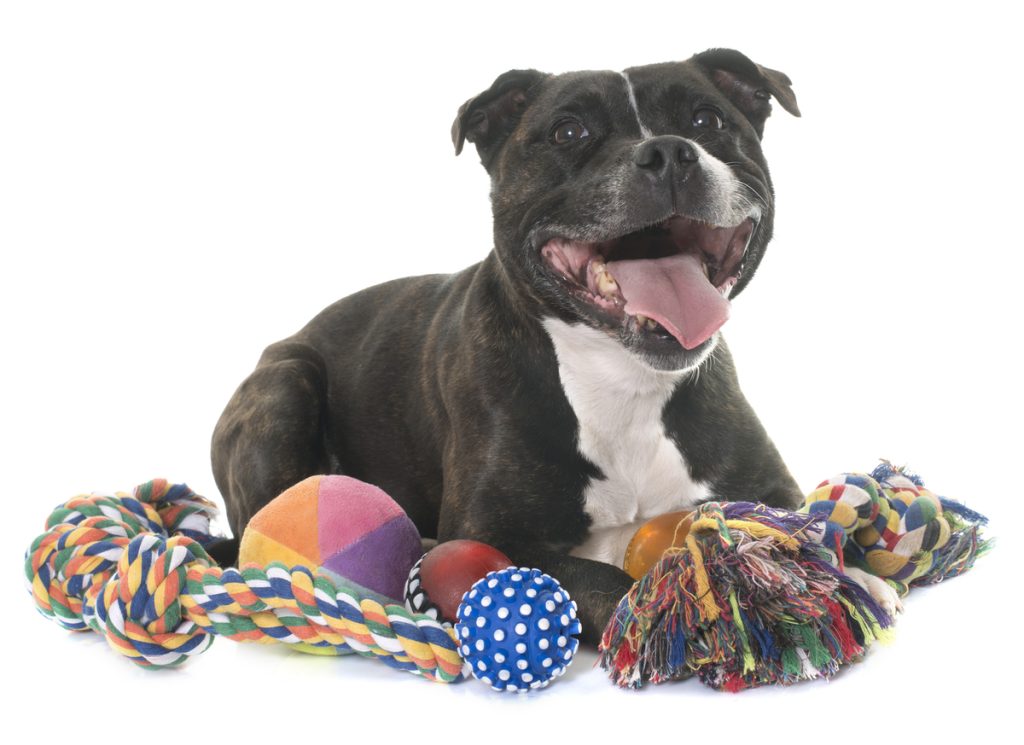 Other than doing what most pet food companies do by simply meeting the bare minimum AAFCO standards, we at JustFoodForDogs wanted to take things further.
To ensure dog owners are getting the best human-grade pet food products available for overall health, JFFD did:
12-month vs. AAFCO's 6-month trials
Full complete blood count (CBC) analysis vs. only the 4 measures required by AAFCO
30 dogs required to finish the trials vs. the 6 adult dogs (at least a year of age) required by AAFCO
Why a 12-month animal feeding test and not six? Frankly, nutritional deficiencies and other health issues can take longer to develop than in a six-month trial period. AAFCO protocol simply doesn't cover an adequate amount of ground.
"What a feeding trial can tell you depends upon how you conduct that trial. We believe that the minimum requirements of the AAFCO trial are elementary — despite being considered the Gold Standard of the industry for proving nutritional adequacy," said Shawn Buckley, JustFoodForDogs' founder.
The data from the JFFD trials was eventually published in the Journal of Animal Physiology and Animal Nutrition and presented at the 2014 AAVN/ACVIM veterinary conference in Tennessee.
"Most veterinarians and scientists agree that AAFCO feeding trials can miss identifying deficiencies that take longer than six months to develop or are not detectible by the rudimentary bloodwork required in the protocol. Simply put, if you test for a short enough period and you examine only minimal bloodwork, you may not ever see deficiencies that might exist."

Shawn Buckley, Founder, JustFoodForDogs
AAFCO requires the average of four blood values fall within acceptable levels. The blood parameters tested are: Hemoglobin, packed cell volume, serum alkaline phosphatase, and serum albumin. The test fails if dogs show signs of nutritional deficiency or toxicity.
JFFD's blood tests and research found that not only were the recipes beneficial for long-term feeding, but they also promoted healthy functioning of the immune system in dogs.
Similarly, a digestibility study found that JustFoodForDogs food is 40% more digestible when compared to similar studies that looked into kibble.
The Proof Is in the Poop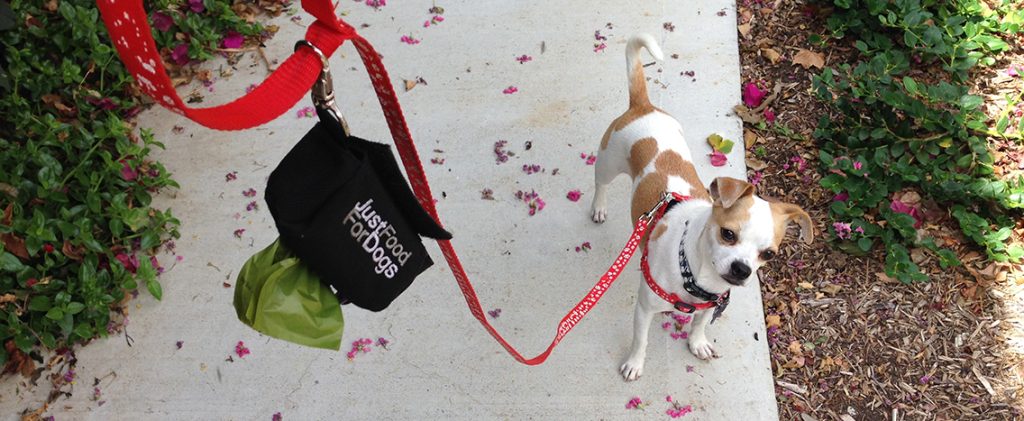 Our data shows that dogs who ate nutritionist-developed JustFoodforDogs fresh whole food absorbed more nutrient levels and consumed a larger volume of food than when on a diet of processed kibble. Additionally, the dogs fed a fresh whole food diet produced up to 66% less poop than when eating premium kibble and up to 41% less feces when fed a feed-grade fresh processed brand.
Putting Thorough Feeding Trials into Practice
Feeding trials are considered the superior method for establishing nutritional adequacy in the pet food industry. Our trials were executed using a groundbreaking humane method developed exclusively at Cal Poly Pomona University.
We are proud to include the affidavits issued by Cal Poly alongside our labels and on our website for each diet. This is why you will see the more reliable, and frankly, higher quality nutritional adequacy statement on each of our daily diets.
The trials can be read in more detail in this blog post.
We are committed to improving the health and happiness of dogs at all life stages through proven nutrition. JustFoodForDogs diets are the subject of various ongoing research initiatives that are looking at the impact of whole food on health and wellness and chronic disease. Pet owners can learn more at our research page.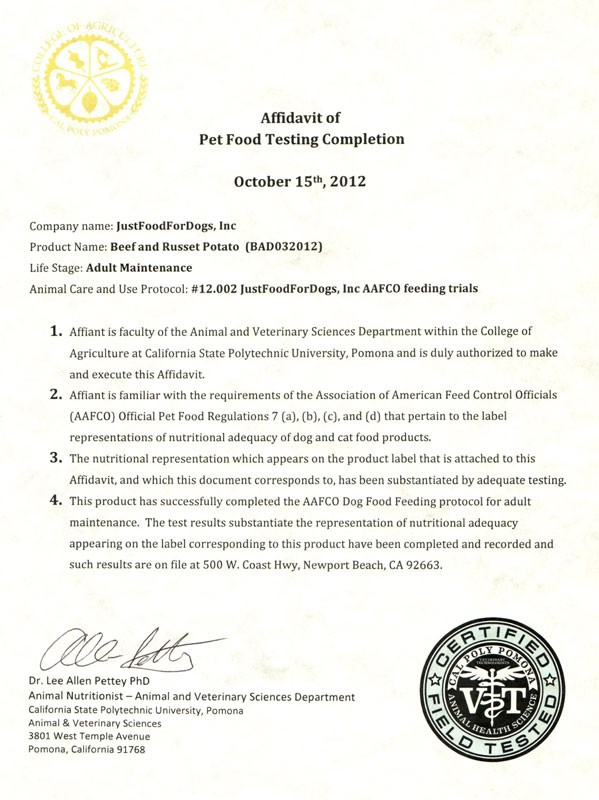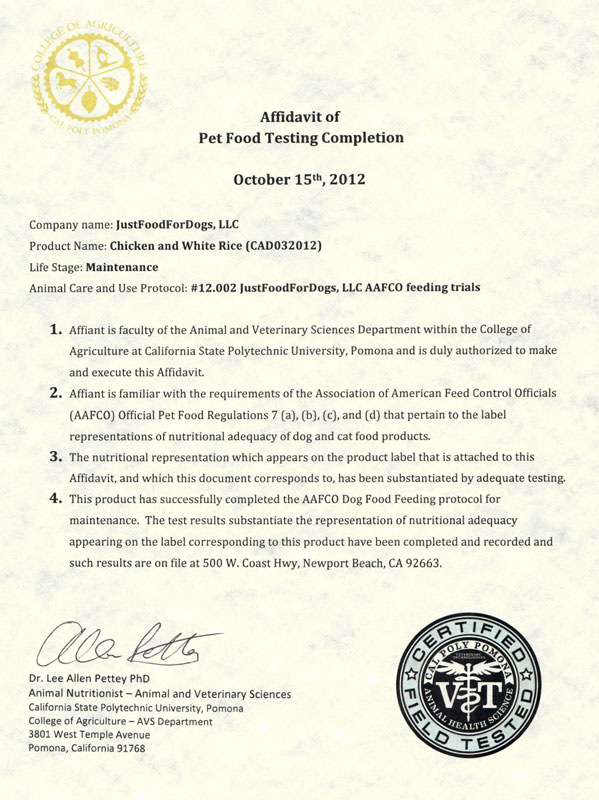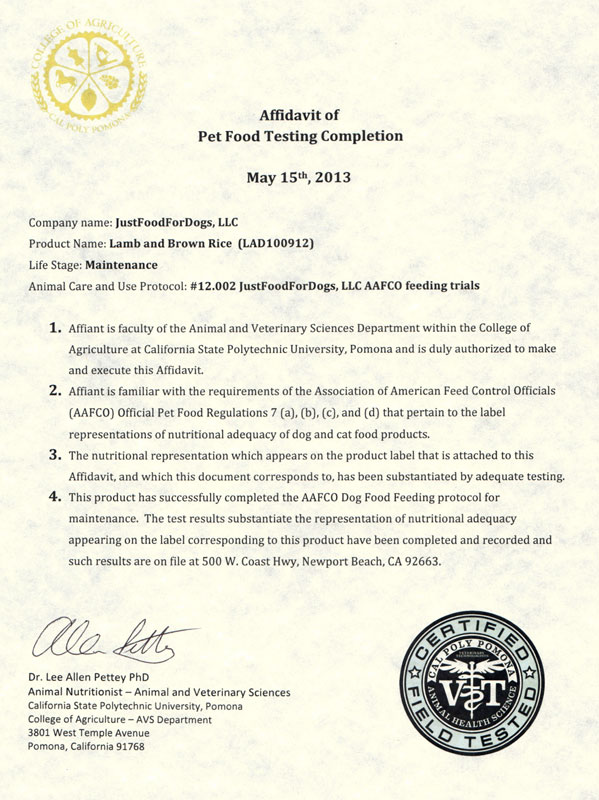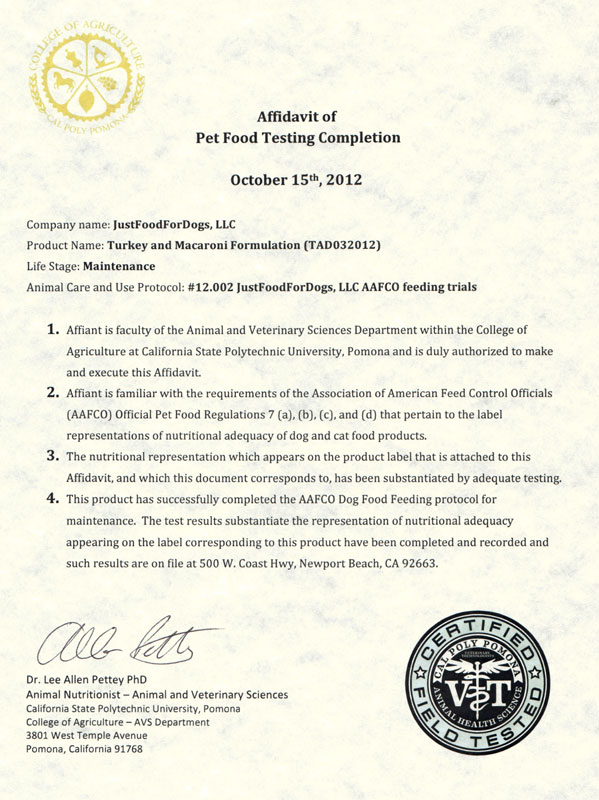 Dr. John Tegzes, a board-certified veterinary toxicologist involved in our AAFCO feeding trials with his two dogs Daisy and Duke is featured in this interview: