Homemade Dog Food With Fish & Sweet Potato
How to make veterinarian-recommended homemade dog food with fish.
Find here a homemade dog food recipe with fish and sweet potato! If you're looking for a nutritious and delicious recipe to treat your pet, you've come to the right place. In this article, we will provide you with a step-by-step guide on how to prepare a vet-approved fish and sweet potato meal for your dog.
Not only is this pet food recipe quick and easy to make, but it also ensures that your dog receives a healthy and balanced diet. So let's dive in and discover how to cook up a wholesome meal that will have your dog's tail wagging with delight!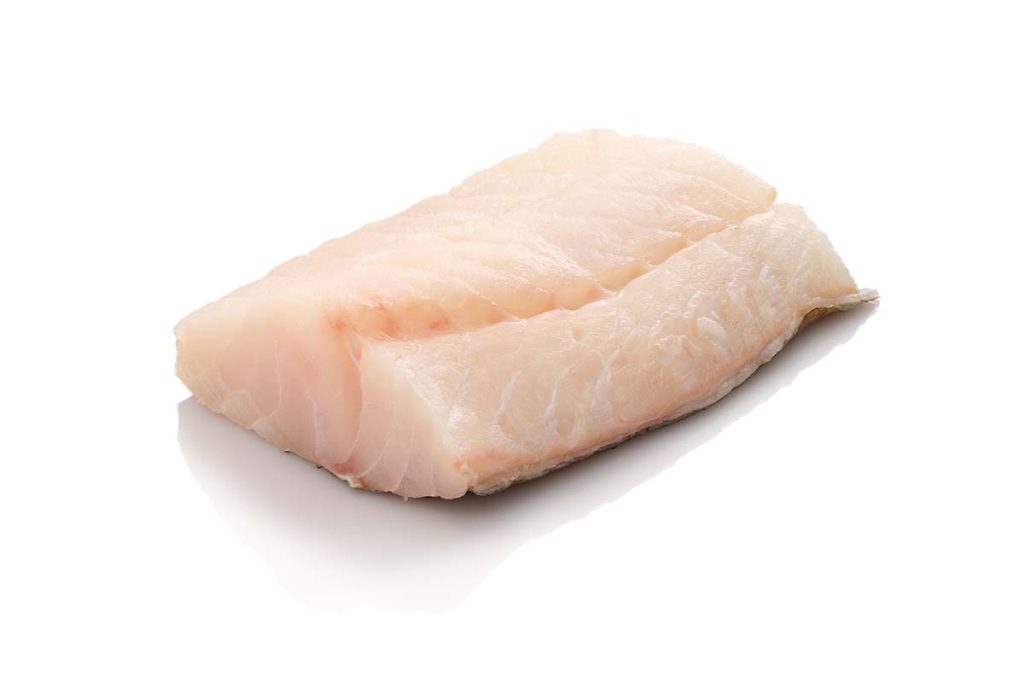 About this recipe
This recipe calls for Pacific cod, a white fish that is an excellent low-fat protein source with naturally occurring omega-3 fatty acids, potassium, amino acids, magnesium, and antioxidants. Fatty acids in a dog's diet are very beneficial for promoting healthy skin and a shiny coat, and antioxidants can reduce inflammation.
It also includes healthy carbohydrates like sweet potatoes and russet potatoes and veggies like green beans and broccoli.
This recipe is great for both puppies and adult dogs, thanks to its high calcium and phosphorus levels, which help support healthy bone and tissue growth.
It's a veterinary nutritionist-developed recipe that is good for dogs with food allergies or gluten sensitivities as it is gluten-free and grain free. As always, our recipes are free from preservatives and by-products.
Ingredients
Makes approximately 9 lbs*
4 lbs 8 oz Pacific Cod
3 lbs 3 oz Sweet Potatoes
3 lbs 3 oz Russet Potatoes
6 oz Green Beans
Finely chopped

6 oz Broccoli
Finely chopped

5.75 oz Safflower Oil
---
Note: As with any dog food recipe, it is essential that it is complete and balanced. This recipe is nothing without the DIY Nutrient Blend, which is formulated specifically for each recipe to meet AAFCO recommendations. The blend is compounded from 100% human-grade nutraceuticals regulated by the FDA. As such, it is vital that you follow this recipe exactly as it is written.
---
White Fish & Sweet Potato Dog Food Serving Size
Choose a serving size based on your dog's ideal weight. For example, a healthy 40 lb dog will need 23 oz of this recipe per day.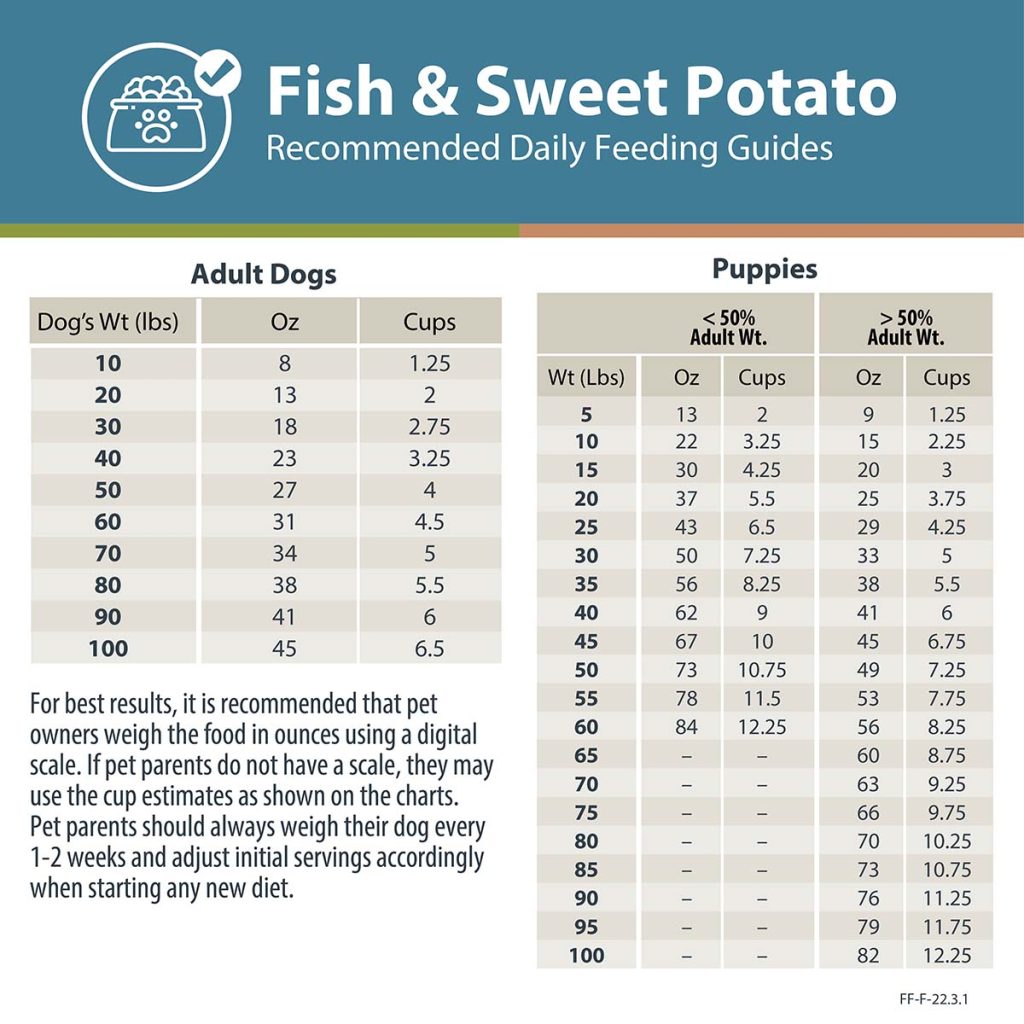 Fish & Sweet Potato For Dogs Vet Approved Recipe: Home Cooking Instructions
PREPARATION
1. Wash all veggies thoroughly. Use fresh vegetables whenever possible, but if one or two items are purchased frozen (may add as is), make sure there are no added ingredients such as salt or sugar.
2. Be sure to use edible potatoes, without any signs of aging or shades of green.
3. Prepare a one-quart ice bath in a large bowl. Once the potatoes are cooked, the ice will be used to cool them and to stop the cooking process so they retain their texture.
Approximate prep time: 10 mins
COOKING INSTRUCTIONS
1. Place cod on a parchment-lined baking sheet and place the sheet in a preheated oven at 350°F. Cook for 15-20 minutes or until fully cooked. Let cool to the touch.
2. Steam or boil green beans and broccoli until soft. Let cool.
3. Choose a pot that will hold all the potatoes, add water and bring to a rapid boil. In the meantime, dice the russet and sweet potatoes (do not peel) to an appropriate bite size for your dog. Add potatoes to the water and lower heat to a simmer. Cook for 10-15 minutes or until fully cooked (soft to the touch). Add ice to stop the cooking process. Drain. Let the potatoes cool to the touch.
4. In a large mixing bowl, combine all ingredients, including safflower oil. Slowly sprinkle in DIY Nutrient Blend until fully incorporated.
5. Portion into individual serving sizes and store in freezer or refrigerator. Stored in the refrigerator, this recipe will stay fresh for up to 3 to 4 days. In the freezer, it can be stored for up to 3 months.
Approximate cook time: 35 mins
Estimated total time: 45 mins
Making Just Food For Dogs Meals at Home
Now that you have learned how to make this healthy dog food recipe, you have the opportunity to provide your pet with a healthy and nutritious meal at home.
Unlike with commercial dog food, you have control over the ingredients, ensuring that only the best quality food goes into your pup's bowl. Remember to consult with your veterinarian about any specific nutritional needs or dietary restrictions your dog may have.
With this homemade recipe, you can show your love and care for your dog by serving them a tasty and wholesome meal that will keep them happy and healthy. Give this fish & potato recipe a try and see the joy on your dog's face as they enjoy this delightful dish made with love!
Calorie Content Per KG
Calorie Content (Calculated):
922 kcal ME/kg; 26 kcal ME/oz
468 kcal ME/18 oz; 1872 kcal ME/72 oz
*All weights indicated are raw or dry weight.
Prefer to make a smaller batch? This printable PDF includes instructions for full and half batches of food.
You can find JFFD DIY Nutrient Blends, fish oil supplements, fresh frozen favorites, and dog treats on our website, Amazon, Chewy, Petco, and more.