How to Make Fresh Dog Food (That's Approved by Vets)
Knowing how to make fresh dog food the right way can ensure that your pet is getting the best possible nutrition that meets their dietary needs.
Are you ready to kick the store-bought kibble and learn how to make fresh dog food? Making fresh dog food is a great way to ensure that your pet is getting the best possible nutrition that meets their dietary needs. It can also be a lot of fun! You can get your pup in on the action as the "clean up" crew for bowl licking or recovery of any green beans that happen to fall on the floor.
In this blog post we will provide you with all the information you need to get started, including homemade dog food recipes, DIY tips, and resources.
Before You Get Started
Talk to your vet or veterinary nutritionist before making any major changes to your dog's diet. And this cannot be stressed enough: if you choose to make your dog's food at home, ensure you provide all the essential nutrients at the appropriate concentrations.
Most home-prepared recipes available to pet owners are not balanced diets. A study of 200 such recipes by the American Veterinary Medical Association (AVMA) found that most of them (95%) had at least one essential nutrient at concentrations that did not meet AAFCO or NRC guidelines. Over 83% had multiple deficiencies.
The AVMA concluded that for best results, pet parents should only use recipes created by board-certified veterinary nutritionists:
"Formulation of recipes for home-prepared diets requires expert input to minimize the risk of problems, and we recommend that recipes for home-prepared diets for dogs be obtained from or evaluated by board-certified veterinary nutritionists or veterinarians with advanced training in nutrition who are experienced and able to understand and address these concerns."
Luckily for you (and your dog), JustFoodForDogs homemade dog food recipes were made by those very experts, so you can rest assured each whole food meal will meet their nutritional needs.
Vet-Formulated, Vet-Approved Fresh Dog Food Recipes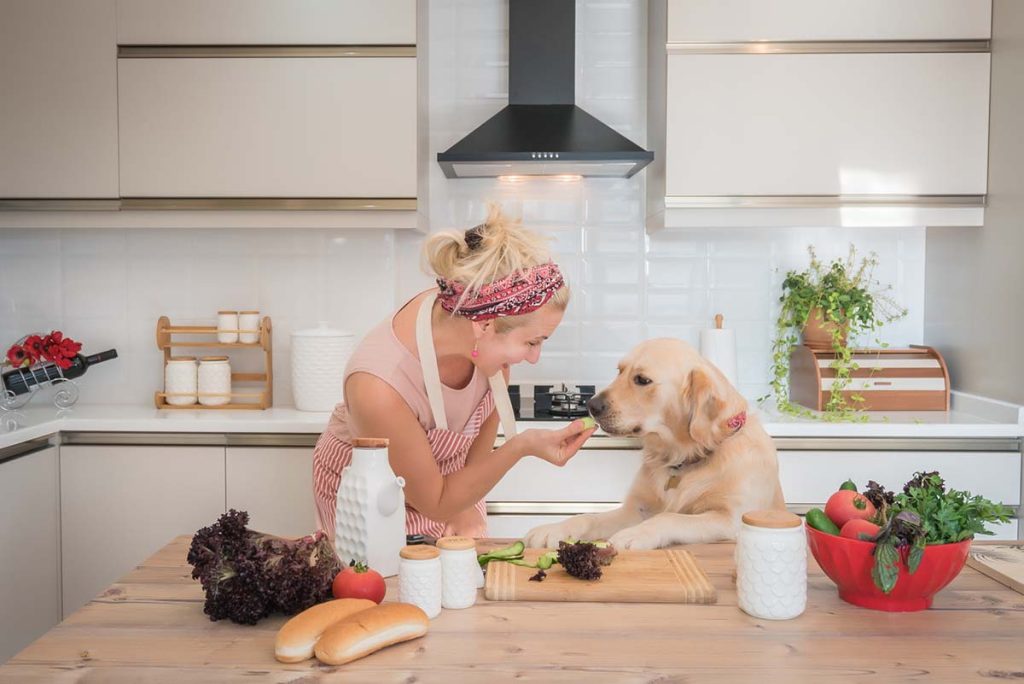 The following are recipes for several of our fresh meals for dogs. Each recipe pairs with the corresponding DIY Nutrient Blend* and is formulated to include the right balance of protein, veggies, calcium, carbohydrates, fatty acids, potassium, antioxidants, and other vitamins and minerals.
Click one of the fresh dog food recipes below for a handy printable PDF:
Cook time and prep time may vary. All recipes use human foods and come with stovetop cooking, Crock Pot slow cooker, and Instant Pot instructions as well as instructions for making half batches and whole batches.
*As with any dog food diet, it is essential that it is complete and balanced. Each recipe is nothing without the DIY Nutrient Blend, which is formulated specifically for each recipe to meet AAFCO recommendations. The blend is compounded from 100% human-grade nutraceuticals regulated by the FDA. As such, it is vital that dog owners follow our recipes exactly as they are written.
Benefits of Making Fresh Dog Food
There are many benefits to making homemade meals for your dog. Some of the most important benefits include:
Improved nutrition: Fresh dog food made with high-quality ingredients is packed with nutrients that are essential for your dog's health.
Better digestion: Fresh, healthy dog food is easier for your dog to digest than commercial dog food.
No harmful additives or preservatives: Fresh dog food does not contain any harmful additives or preservatives.
Reduced risk of food allergies: Some dogs may have allergies to the ingredients in commercial dog food. Fresh dog food can help to reduce the risk of allergies and make elimination diets easier.
More control over your dog's diet: When you make home cooked dog food, you know exactly what is going into it.
Quality: Commercial dog food is often made with low-quality ingredients, such as fillers and questionable by-products. Making your own dog food allows you to use fresh, human-grade ingredients to better suit your dog's needs.
Save money: Making your own pet food can actually be more cost-effective than buying commercial dog food, especially if you buy your ingredients in bulk.
Tips for Making Fresh Dog Food
Here are a few tips for making fresh dog food:
Cook the boneless meat and organ meats. This will help to kill any harmful bacteria. Do not feed your dog raw food.
Do not overcook the food. Overcooking can destroy some of the nutrients.
Let the food cool completely before serving. This will help to prevent your dog from burning their mouth.
Store the food in an airtight container in the refrigerator or freezer.
Don't add seasoning. Spices can be harmful to dogs. The closest thing to a seasoning that should be in your dog's food is omega-3 fish oil!
Talk to your veterinarian if you have any questions.
Transitioning from Kibble to Fresh Food
It's important to take things slow when making the transition from dry dog food to fresh dog food. Ask your vet what daily amount of food is right for your adult dog. Adjust serving size depending on your dog's weight, activity level, and life stage.
To transition your dog to a new food:
Start by mixing 25% of the new food with 75% of their old food.
Gradually increase the amount of new food over the next 7-10 days until they are eating 100% of the new food.
We would like to again emphasize that it is important to talk to your veterinarian before making any major changes to your dog's diet. They can help you to create and/or evaluate a homemade diet recipe to ensure it is tailored to your dog's individual needs.
Making fresh dog food and dog treats is a great way to show your pet how much you care. It is also a rewarding experience that can help you to improve your pet's health and well-being.
The content of this post was reviewed and approved by a board-certified veterinarian.