Pantry Fresh vs. Air-Dried Dog Food
Weighing the pros and cons of different types of shelf-stable dog food compared to shelf-stable fresh food.
A product with a long shelf life offers convenience for anyone looking to have food readily available in the pantry when there's nothing to eat in the fridge. With all of the different types of dog food out there, not everything is equally shelf-stable.
One of the obvious drawbacks of fresh dog food is the fact that it has to be refrigerated or frozen. This makes things like road trips, dog boarding, or even camping with your dog well … inconvenient. At JustFoodForDogs, we are well aware of this dilemma. And we have a solution: Pantry Fresh.
What Is Pantry Fresh?
Pantry Fresh is made with the same fresh, whole ingredients as JustFoodForDogs' fresh dog food, but it's gently cooked in unique TetraPak cartons to create a shelf-stable product. This means that it doesn't require refrigeration and can be stored for up to two years.
What are the benefits of Pantry Fresh?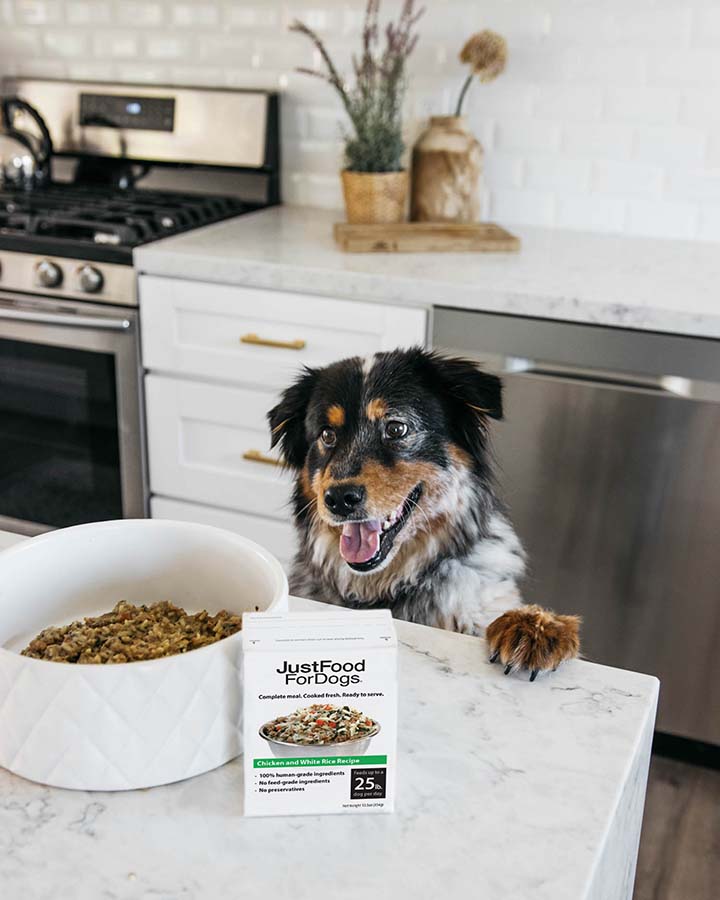 Pantry Fresh offers a number of benefits over other types of dog food, including:
Fresh, whole ingredients: Pantry Fresh is made with real, human-grade ingredients, including fresh meat, fruits, and vegetables. This means that your dog is getting the nutrients they need in their most natural form.
Convenient to feed: Pantry Fresh is easy to feed. Simply open and serve!
Shelf-stable: Pantry Fresh doesn't require refrigeration, so you can store it anywhere in your home. This makes it a great option for travel or for busy pet parents who don't have time to prepare fresh meals every day.
Of course, there are other types of dog food that are conveniently shelf-stable as well. One is air-dried dog food.
How is Pantry Fresh different from air-dried dog food?
Air-dried dog food is made by cooking raw food at a low temperature until it's completely dry. This process can preserve some of the nutrients in the food, but it also removes some of the moisture, which can make the food less palatable for some dogs.
Since air-dried dog food is raw, there is a small risk of bacterial contamination. A recent UK study found that air, freeze-dried, or dehydrated dog food or treats can contain trace amounts of Salmonella, a common risk of raw diets and raw meat in general.
Pantry Fresh is cooked, not raw, in order to ensure the quality and safety of the food you give to your pet.
Which type of food is right for my dog?
Both Pantry Fresh and air-dried dog food are good options for dogs, but the best choice for your dog will depend on their individual needs and preferences.
If your dog is picky eater or has sensitive digestion, Pantry Fresh may be a better option. Pantry Fresh is also a good choice for busy pet parents or for people who travel frequently.
No matter which type of food you choose, make sure to talk to your veterinarian before making any changes to your dog's diet.