Let's Talk About Veterinary Mental Health
There is a very real mental health crisis in the veterinary industry. Here's what pet parents and vet professionals need to know.
Editor's note: This blog post contains mentions of suicide which may be triggering for some individuals.
This Mental Health Awareness Month we wanted to acknowledge the hardworking veterinary community. Many are not aware that there is a very real mental health crisis in the veterinary profession. In fact, 1 in 6 veterinarians consider suicide at one point in their career.
Did you know that veterinary professionals are up to 3.5 times more likely to die by suicide than members of the general population? Broken down, male veterinarians are 1.6 times, female veterinarians are 2.4 times, male technicians 5 times, and female technicians are 2.3 times more likely to die by suicide.
There is a lot more to an average day in a veterinary practice than petting dogs or cuddling kittens. Spreading awareness of the prevalence of mental health issues in the veterinary community is key to understanding how to promote veterinary well-being and prevent further tragedy.
Why are suicide rates in veterinary medicine so high compared to the general population?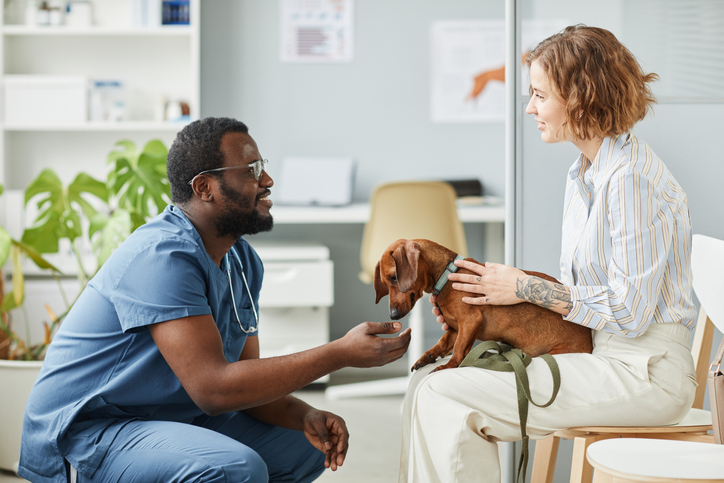 There is no singular cause that leads DVMs into deep depression, anxiety, or suicide. Burnout, compassion fatigue, work-life balance, and other stressors like student debt all contribute to suicidal ideation.
Between long hours, the occasional irate client, and staffing shortages, the daily life of a veterinarian can be physically and emotionally exhausting. Let's take a look at some of the following unique factors that play into the psychological distress of the veterinary community:
Euthanasia
Veterinarians find themselves performing a lot more soul-crushing euthanasia services than expected. Often, vets must euthanize a patient with a treatable injury or illness because the pet owners can't afford treatment, especially if it involves costly surgery.
Then there are the overcrowded shelters. Sometimes veterinarians have to euthanize a whole group of otherwise healthy dogs and cats because animal shelters are simply out of space to care for them.
Finances
Education isn't cheap. According to the American Veterinary Medical Association (AVMA), veterinary students in the U.S. graduated in 2018 with an average of $150,000 in debt. Though veterinarians have much of the same medical training from veterinary school as human doctors do from medical school, there are huge pay disparities between professions, making it more difficult for younger veterinarians to pay off student loans.
Cyberbullying
Social media is a popular place for dissatisfied pet parents to air their grievances over an interaction they had at the vet, mostly over treatment costs. Veterinarians don't have much (if any) control over the cost of care. As a result, veterinary teams are easy punching bags for upset clients.
Mental Health Resources for Veterinary Professionals
Veterinarians can face an unprecedented amount of emotional distress from their chosen profession. All of the above and more can take a huge toll on the average human, regardless of their profession.
Animal health professionals can seek help and find various resources through the following:
Not One More Vet
Not One More Vet is an organization that offers support groups, financial support, and resources to veterinarians and their family members suffering from mental illness.
According to their website: "NOMV helps veterinary professionals through peer-to-peer support, financial support grants, education presentations, and by collaborating with partner agencies to extend services to the veterinary community. When we say veterinary professionals we mean everyone – veterinarians, veterinary technicians, veterinary students, and veterinary support staff."
To learn more, volunteer, or donate to the cause, visit nomv.org
AVMA
The AVMA has a list of resources for veterinarians in need of help on their Get help page. It includes a list of state well-being programs, social work programs, stress management techniques, and therapist locators.
If you are having thoughts of suicide:
Call or text 988 or text TALK to 741741.
Contact the National Suicide Prevention Lifeline at 1-800-273-8255 (TALK).