AP Rescue Partner Spotlight: K9 Kismet
An interview with Nici Daniels of K9 Kismet, the "little rescue with a big heart".
By Natalie Lykins
If you speak to anyone from K9 Kismet Dog Rescue, it is quickly evident just how dedicated they are. Their passion is so strong, it feels almost tangible. We had a conversation with one of those special individuals, Nici Daniels, about K9 Kismet and why they consider themselves to be "The little rescue with a big heart".
How did K9 Kismet come to be?
Our founders volunteered for other organizations for some time prior to thinking about starting K9 Kismet. Much like working in any field, you see what works, what doesn't, and what could be different. Sometimes, you have to start out on your own to try something new.
K9 Kismet was originally founded (in 2015) to address a part of rescue others didn't touch at the time: pet retention programs designed to help keep pets in homes and out of shelters. Eager to see what could be done, we branched out and started our own rescue.
Unfortunately, we quickly learned the public at large wasn't as passionate (at that time anyway) about intake diversion programs as we were. We shifted to start rescuing animals from over-capacity shelters and other at-risk situations while still maintaining a focus on helping pet owners keep their pets whenever possible.
What makes K9 Kismet unique?
K9 Kismet is unique in many ways. We are one of the only rescues that provide medical assistance to pet owners without requiring them to surrender their pets to us. Additionally, when fosters are available, we offer temp fostering for pet owners when they need help in situations like medical emergencies. It is our belief that if we can help keep pets with their families who love them, the overall shelter and rescue system will benefit. One less pet needing a kennel at the shelter means one less pet needing a new home.
Since we are a small team, we keep our numbers low (only 15-20 dogs in our rescue at a time) with the intentionality of providing quality of care over quantity of care. Staying small allows our team members to have a personal relationship with each dog, foster, adopter, and community outreach recipient.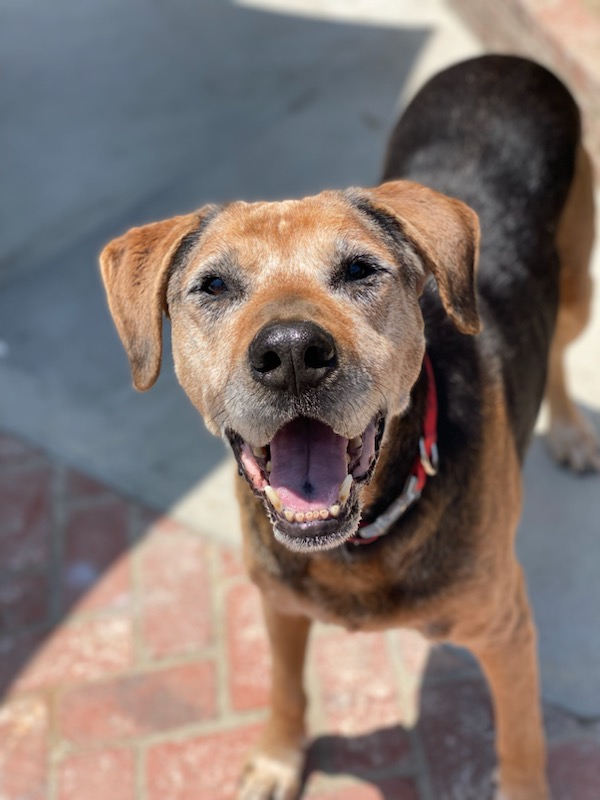 In a rescue landscape where dedicated fosters are hard to come by, what do you think has led to your success in creating such a committed foster network?
Finding committed fosters can be difficult. That's why it's important to take steps to ensure fostering is a positive experience. We believe our interview process is the key to pairing the right dog with the right human. Creating an open dialogue and being good listeners make us better matchmakers, which makes for a better experience.
Once a foster is approved, we provide all the support they need, even if it's just someone to vent to. Taking in a foster dog is a big commitment and often adjustments can be difficult. Fosters need to know that they can call the rescue just to vent when they're having a tough day without the rescue threatening to move the dog or shaming them. We listen because we genuinely care about making the experience a rewarding one for both the dog and the foster.
Additionally, we provide all the things the dog needs from toys, to training, to medical care. You name it, we're there. We've heard with increasing frequency that some other rescues are not providing this level of care to their animals and are requiring fosters to cover costs. That's a burden we strongly believe a foster should never incur.
You are an all-breed rescue, however, most of the dogs in your care are bully breeds. Have you seen an increase or decrease in the number of bully breeds and bully mixes over the last few years?
While we are an all-breed rescue, bully breeds do have a special place in our hearts. They are also the most likely to be unfairly discriminated against and need our help.
During Covid, many shelters in our region stopped altering dogs prior to leaving the shelter, which has exacerbated the homeless pet population and increased the load for themselves and their rescue partners. Every rescue and shelter are currently drowning in dogs. It's the worst we've ever seen. Right now, there are more people looking to re-home or surrender their dogs than adopt. Due to an increase in landlord and insurance restrictions, many of the dogs that are being surrendered or passed over by potential adopters are bully breeds.
We are doing what we can to help ease the strain on the shelters, but we feel it too. We'd love to find more fosters for small and medium breeds as well as experienced bully fosters!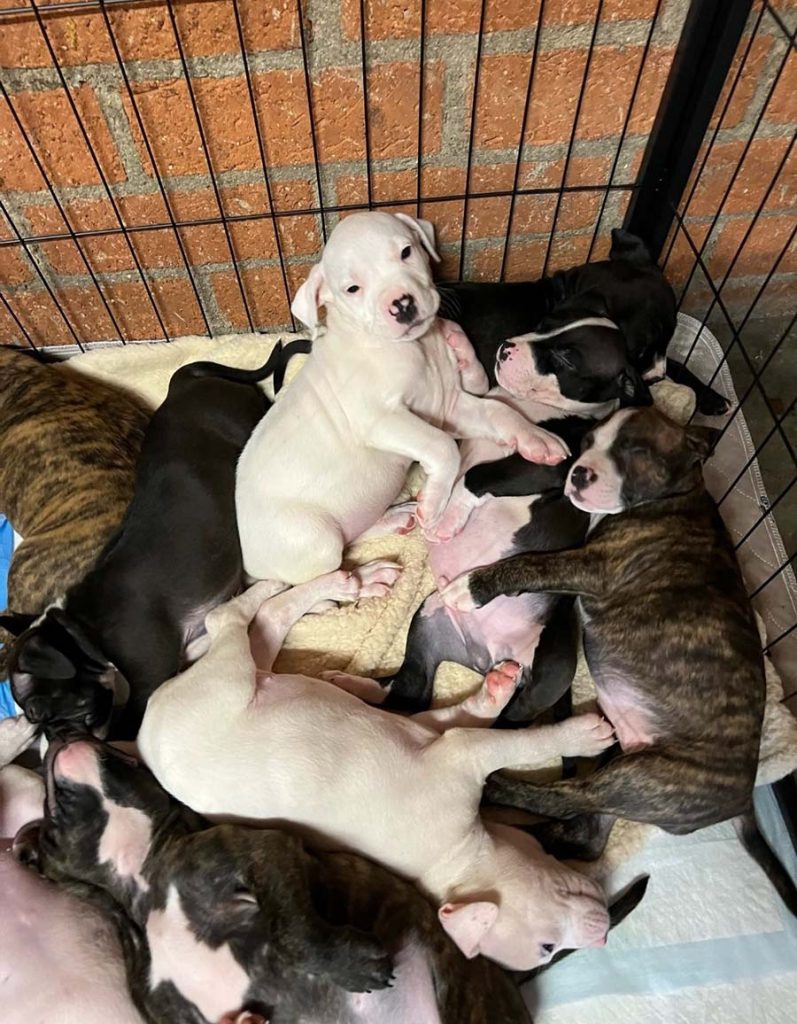 Are there special challenges that come with caring for and finding homes for dogs who fall into this breed category?
Bullies have lots of love to give, but prospective adopters need to be prepared to have a dog whose allergies may not be so kind. One of the ways we've been able to control flare-ups is through a healthy diet. Luckily, JustFoodForDogs provides so many different healthy options, making it easier to control allergies with proper nutrition. The second big issue is arthritis. Big dogs tend to have arthritis earlier and more often, especially in their knees. Maintaining a healthy weight and providing proper supplements help dogs maintain mobility and provide quality of life.
What difficulties do you face day to day?
One of our day-to-day challenges is staying on top of medical care. Because we tend to rescue dogs who need considerable physical rehabilitation, there are often frequent visits to the vet, which cost both time and money. Managing and funding their medical care takes resources. Since we rely solely on help from volunteers and donations from our supporters, having long-term dogs with long-term health needs can be strenuous.
Is there a particular rescue story that has stuck with you over time?
There are so many rescue stories that stick with us. Every dog has a story that breaks your heart and then fills you with renewed purpose. One story that comes to the forefront when thinking about it is Orla, the golden princess. Just a puppy. A funny, spunky, happy puppy, diagnosed with early onset epilepsy at just three months of age. Suffering multiple grand mal seizures each day, Orla was the youngest and most extreme case of early-onset epilepsy our neurologist had ever seen. Somehow, while dealing with all of that, she maintained her happy-go-lucky puppy demeanor and, in doing so, reminded us just how resilient these beautiful sentient beings are.
We had to say goodbye to Orla five months after we rescued her. In her time here, though, we learned many things that allowed us to help other dogs through our Amigo Program that had similar health issues. Through Orla, we became a better rescue.
What impact has the JustFoodForDogs Adoption Project partnership had on your organization?
Through the JustFoodForDogs Adoption Project partnership, we've been able to dramatically improve the overall health of the dogs in our care. We have always prided ourselves on making our budget stretch so we can feed our dogs quality food. The goal is to provide adopters with the healthiest dog we can; however, JFFD has enabled us to totally raise the bar. Our dogs love the food and feel better eating it.
The fact that the food is donated allows us to make our donations stretch even further. More funds in the bank means more dogs are rescued each year. Two additional bonuses: Orders are automatically scheduled, which frees us up to focus on other aspects of running a rescue, and JFFD provides dietary counseling along with two weeks of food to our adopters, which helps them see first-hand the benefits of a quality diet. We feel very fortunate to be included in this partnership.
What is one thing you wish the general public knew about the world of rescue in general?
We wish the general public would know that rescue doesn't end when the dog leaves the shelter. Many people look for the live outcome, maybe make a donation or pay a pledge, and then move on to the next shelter dog they want to help save. The dogs already in rescue still need the public's support. They need funds to be donated to their care and for people to share their stories across social media so they can be seen by their future families. Ongoing support of shelter survivors is critical to the rescue world's ability to save more lives.
For those who want to support the great work you do, how can they best help your organization?
We are a 100% volunteer-run organization, so we rely on volunteers with all types of skill sets and interests to do everything from transporting dogs to vet appointments to writing grants to running our website. Whether people have two hours a week or two hours a month, we are always looking for new volunteers that want to help us fulfill our mission.
As a small nonprofit, we also rely heavily on individual donations made by members of our community. Every dollar we receive goes directly to the dogs we serve, so when we say every dollar counts, we truly mean it. No amount is too small, and every dollar has an impact.
Additionally, spreading awareness is another great way to help us. Sharing our social media posts, encouraging people to consider fostering, and telling a friend who's looking to adopt about our rescue are just a few ways to help us achieve our goals.
We encourage people to visit our website (www.k9kismet.org) or follow us on Facebook and Instagram (@k9kismet) to learn more about what we do and how they can help.
Natalie Lykins is the manager of the Adoption Project. She has an extensive history in animal care, having volunteered with many rescue organizations since her early teens, and previously worked at a vet clinic. She has found her true mission at JustFoodForDogs and, according to her, would not want to be doing anything else.