Q&A with Kelsey Darragh
Kelsey Darragh talks fostering (and foster failing) and how feeding fresh dog food completely transformed her precious bully, Hippo.
By Natalie Lykins
Kelsey Darragh is one impressive woman. Not only is she a creator, author, director, and mental health advocate, but she is also an avid foster mom for Los Angeles based rescue organizations. I had the opportunity to chat with Kelsey about her one and only foster fail, Hippo, and how this little meatball has changed her life for the better.
Kelsey, you are a huge animal lover, and a big supporter of fostering. When did you first start fostering dogs?
I started fostering in college because I was very lonely and had no friends in a new state. Animals and dogs have always been my friends, so the first thing I did when I moved to my new town was sign up at my local rescue to do volunteer training and enrichment activities. Fostering naturally evolved from that.
Now, many of us are familiar with Hippo's story, but for those who may not know about him, can you give us a recap? How did he end up with you?
I follow a ton of rescues on Instagram. That's a really great way for rescues and dogs in need to be seen. A photographer named Rita who visits and photographs the dogs in local LA shelters had posted on her story about this tiny staffy that looked like a mess. She was putting out an SOS call because he was red listed to be euthanized that Friday. Something about seeing a dog that just speaks to you… you can't explain it. As soon as our eyes locked, I knew he had to be with me. I immediately started reaching out to all of the different rescues I knew to try and pull him. Unfortunately, right now, rescues are overrun and in desperate need of help and donations. Hippo was a big medical liability, so I found that a lot of rescues were actually turning him away because they just couldn't take on another medical dog. I finally found a great rescue called "I Stand With My Pack" and they were able to pull him. Their support, along with help from the JustFoodForDogs Adoption Project, allowed him to be pulled 24 hours before he was set to be euthanized. Then he ended up with me as, what was supposed to be, a foster.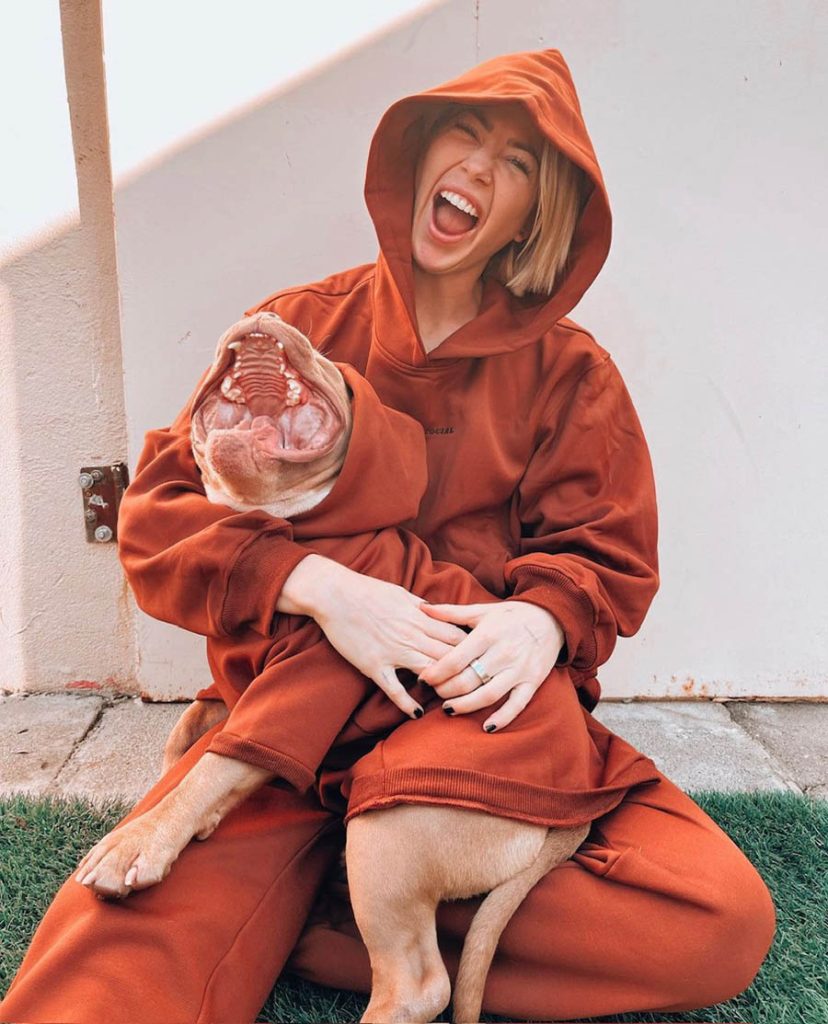 The video of your first afternoon with Hippo, in your backyard, basically broke the internet. I think that is when the world knew that Hippo would not be just "another foster" for you. Was there a moment where you knew Hippo was the one for you?
I was so blissfully ignorant about adopting Hippo, because I had been fostering all the time. The big difference here, besides how special he was, was that in my personal life I was going through a big breakup of five years. I had been so focused on that, so having Hippo was a great distraction and a place to put all my energy and love.
One night when I was sobbing on the floor over the breakup, Hippo came and curled up in between my knees and cuddled me. He didn't want anything from me, he just wanted to cuddle me. That's when I knew I could not give up this dog. I needed him just as much as he needed me. After seeing him transform medically and his personality coming out after about three months of fostering him, I then saw how much I had grown with him, too. That's when I knew it was too late. We were soul bonded. I was just as surprised as everyone else. I think you can see it in my face in the video, where I am starting to cry. I am just shocked that this dog is as open as he was. He has every right to hate people and not trust any humans, but the love he was immediately showing was so shocking to me. I was not used to a dog decompressing like that. I think we all knew there was something special about this guy.
Hippo came to you in very rough shape. Looking at him now, he does not even resemble the dog in the shelter photo. How has JustFoodForDogs impacted his healing journey? 
The JustFoodForDogs Adoption Project is responsible for 99.9% of Hippo's health turn-around. 1% is probably the amount of attention and love I have given him. His skin was in awful condition. He had bald patches, sores all over, burns underneath him, yeast overgrowth… just so much bacteria. When I connected with you at the Adoption Project, you helped me immediately put him on the Joint & Skin Support as well as the probiotics. The difference was so incredible. He didn't even look like the same dog. Plus, he lost a lot of unhealthy fat and became super lean and strong. Not only did his skin change, but his overall energy level changed too.
Hippo has become a little star in his own right. It seems like people all over the world have fallen in love with him online. Do you think he is helping to change the stigma around bully breeds?
He is the perfect example of how to treat dogs when you meet them. Treat them with the same respect and attention that they give you. Hippo is such a lover, and he is so trusting. He is great with babies, small dogs, puppies, senior citizens… there is not a single person Hippo has met that he doesn't like. He just wants to sit on their feet and get scratchies.
I think a lot of the stigma around bully breeds has to do with their prey drive and their training. I always like to say it's about the owner, not the dog. The dog can't help but just be a dog. I allow Hippo's enrichment activities to fulfill the needs of a lot of bully breeds without letting him become overactive or overstimulated. It's really just about knowing the breed. When people meet Hippo, it completely changes their mind about bullies. People assume they are supposed to be aggressive fighting dogs, while Hippo is the biggest loaf of love.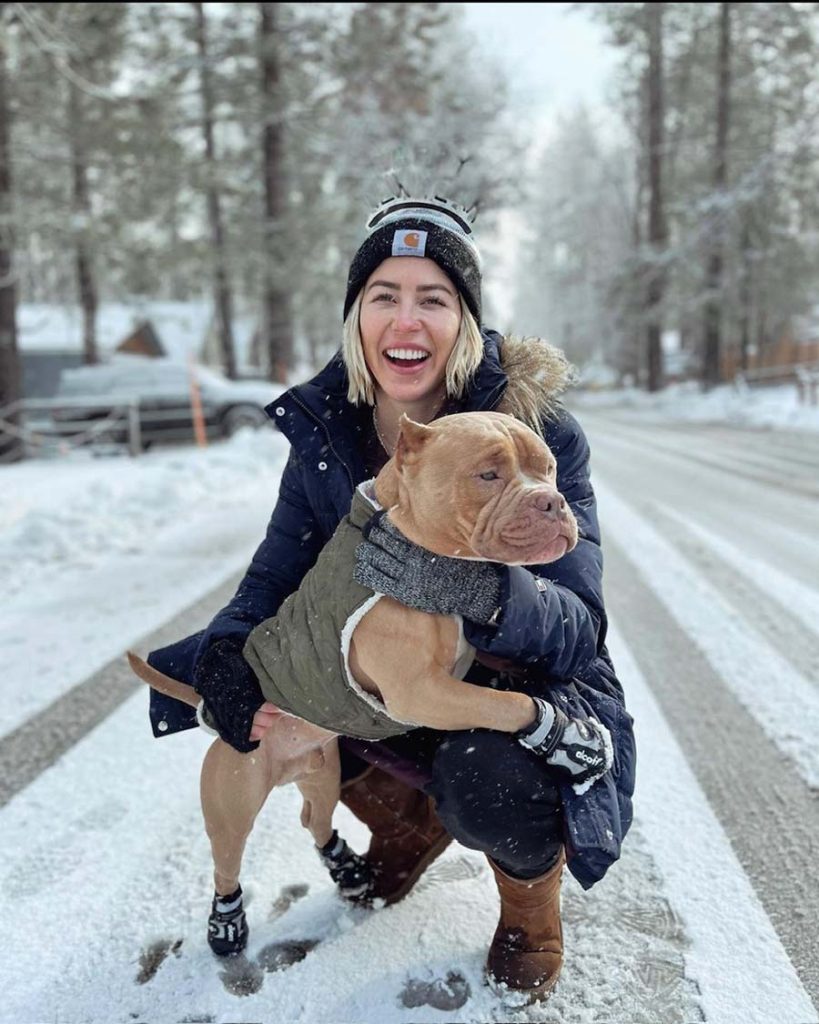 Right now, you have another very special little foster pup in your home! Tell us a bit about Yogi.
Yogi, my little ham sandwich, came to me the same way Hippo did. I saw him on social media. Rescues were begging for a foster. They are just so understaffed and under-fostered. He had some disabilities and medical issues that prevented a lot of rescues from taking him on. A rescue called "Road Dogs" agreed to cover his therapy costs and medical bills in order to get him into a safe and stable environment. Just like with Hippo, I saw him on Instagram, our eyes locked, and I just thought he was the funniest looking little dog I had ever seen. He needed to be in my arms. Crazily enough, we actually found out he is partly the same breed that Hippo is. He is learning so much. Even though he is disabled, he doesn't know it. Most people don't know it either.
What do you want more people to understand about fostering and rescue dogs in general?
I think there is a huge myth that people believe they can't foster because they will get too attached. That is the number one comment I hear. I always tell them it is about mindset. For me, I go into fostering every dog thinking of myself as sort of like an extended staycation, or a coach. When I change my mindset to me just being a small stop on their greater journey to a better life, it is so much easier to watch them go off to a new home with someone who will love them even more than I do. Changing your mindset to know that you were always only meant to be a part of that journey helps me not adopt every single one. You have to just know that the first one will always be the hardest to let go of. I always like to think that my first foster dog would want me to keep fostering so I could help more dogs. If I had kept them all, I would not be able to keep fostering. By fostering, you are actually helping more dogs than you will ever realize. I also believe it is a great way to get your dog fulfillment without fully committing. It's like being the dog aunt, instead of the dog parent.
What does the future hold for Hippo?
I am so excited to continue him on JustFoodForDogs. We are constantly trying out all the new treats and different recipes that come out. I want him to be an advocate and face of The Adoption Project to help other dogs like him gain visibility and love.
We have some exciting things happening with Hippo. We will be launching his first ever dog toy so we can help other dogs with the proceeds, as well as help pay for some of Hippo's ongoing eye issues. I am really excited for other dog owners to have a little piece of Hippo in their own homes.