PantryFresh Coming to Select SoCal Costcos
JustFoodForDogs shelf-stable fresh dog food coming to Costco locations in Southern California.
JustFoodForDogs' most popular fresh dog food diet, Beef & Russet Potato, is coming to select Southern California Costcos on July 26, making the #1 vet-recommended fresh dog food brand even more accessible to pets and their families.
The Beef & Russet potato recipe features human-edible ground beef, russet potatoes, carrots, sweet potatoes, green beans, apples, and green peas. The result is a wholesome, fully balanced diet that's ideal for adult dogs, active dogs, underweight dogs, and picky dogs.
As with all of our fresh food recipes for pets, PantryFresh Beef & Russet Potato has:
No Feed-Grade Ingredients
No Additives
No Preservatives
No Growth Hormones
If you feed your dog fresh dog food but need a travel-friendly option, look no further than PantryFresh. PantryFresh meals come in shelf-stable packaging that keeps food fresh for up to two years unopened.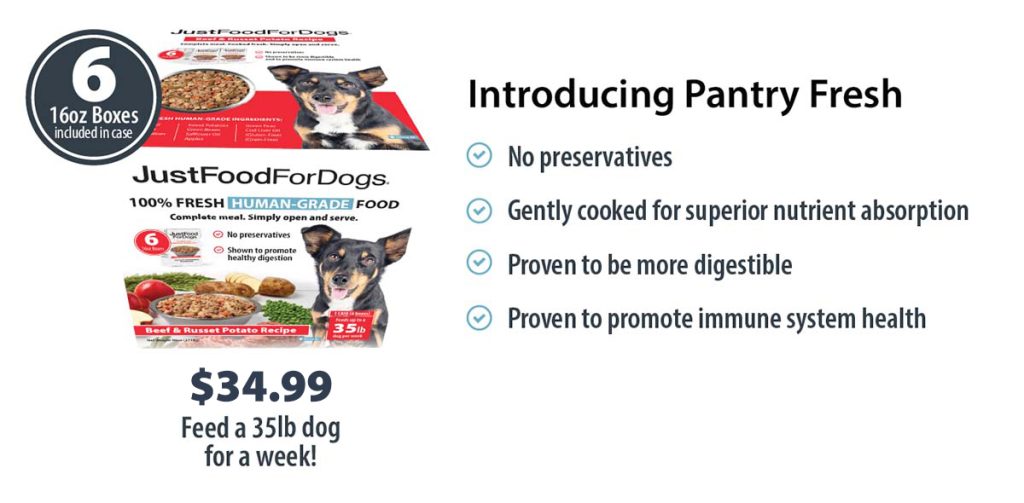 Dogs Before Dollars
Our mission is to improve the length and quality of life for as many pets as possible. We invest in the things that matter but also keep our prices lower than other brands so that more pet parents can afford the best nutrition available to give their pets. Bringing PantryFresh to Costco customers helps take this mission to new heights.
The 18 southern California Costco locations below will carry PantryFresh 6-packs for $34.99: