DIY Frozen Dog Treats: Keep Your Dog Cool This Summer
Keep your pup cool this summer with of these 5 simple, savory DIY frozen dog treats you can make at home.
Keep your pup cool this summer with these simple, savory frozen dog treats you can make at home.
When the summer sun hits the heat can be overwhelming for dogs. To keep your four-legged friend from turning into a total pupsicle, why not try making some DIY frozen dog treats at home? These recipes will help keep your dog cool as a cucumber on those hot summer days and have their mouth watering.
Which Human Foods Are Safe For Dogs?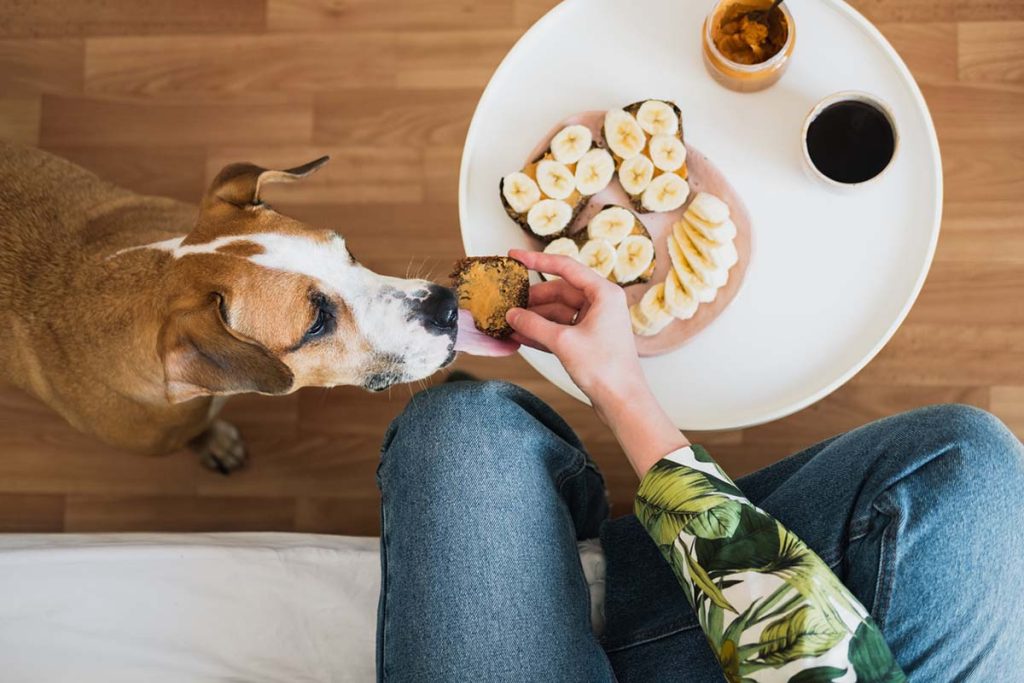 A lot of times when we humans think of summer we think of fruity, frozen treats. While there are plenty of human foods and fruits that are safe for dogs and many that are actually good for them, it will save you a lot of potential trouble and upset puppy tummies to know which foods are OK and which ones you should avoid sharing with your dog.
Foods That Are Safe To Share With Dogs:
Apples
Bananas
Blueberries
Watermelon
Carrots
Broccoli
Sweet Potatoes
Chicken
Beef
Turkey
Peanut Butter and Almond Butter (both in moderation)
Foods That Are NOT Safe To Share With Your Dog:
Avocados
Chocolate
Onions
Garlic
Grapes and Raisins
Macadamia nuts
Peaches, plums, and other fruit with pits
5 Recipes For Delicious DIY Frozen Dog Treats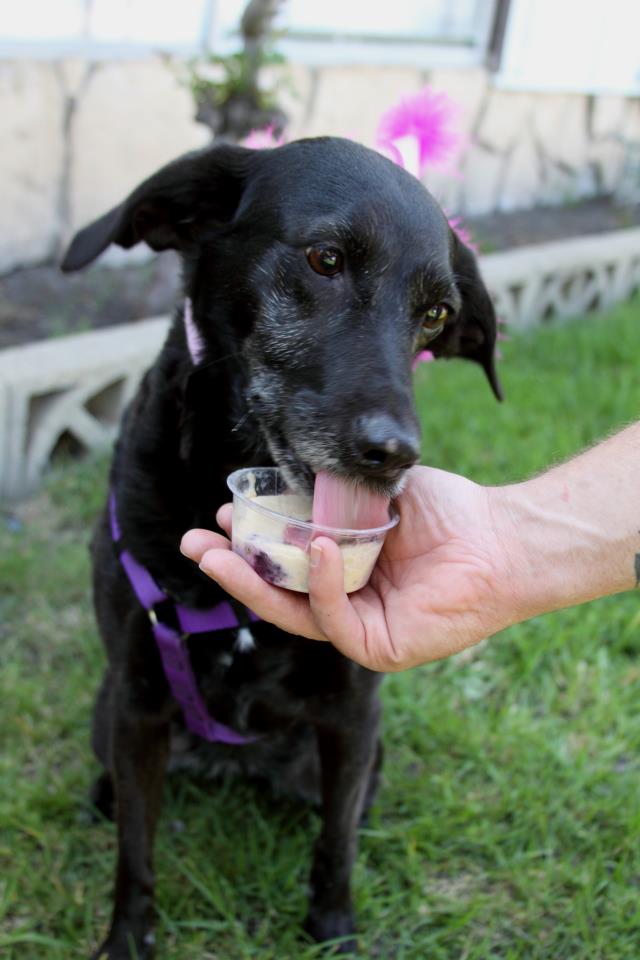 Tasty treats that will help keep your pup cool in the summer are just a few simple steps away. These homemade frozen dog treat recipes are beyond easy and can be thrown together with just a few ingredients to bring some relief to those hot afternoons that leave some pups panting in the heat.
1. Watermelon "Ice Cream"
Watermelon might be the ultimate summer fruit and also has a number of health benefits. Frozen and blended in a food processor with low-fat, sugar-free, plain yogurt it makes a great dog ice cream alternative and a cool, yummy treat for your dog filled with protein, calcium, and vitamins.
2. Chicken Broth Ice Cubes
Want a cool way to sneak in some lean protein in delicious chicken-flavored treats? Try freezing low-sodium chicken broth in ice cube trays and let your dog lap at this tasty, refreshing snack. If you want to add a little mental stimulation for your dog and make these treats extra enticing, place a small piece of chicken or a piece of fruit in the trays with the broth before freezing to give them something to work for.
3. Frozen Peanut Butter Banana Dog Treats
These blended treats are as easy as one, two, three! Simply blend a fresh banana with a couple of tablespoons of natural peanut butter (make sure it doesn't contain artificial sweeteners like xylitol which is toxic to dogs) until smooth. Spoon the mixture into ice cube trays or silicone molds for fun shapes. Pop them into the freezer and once solid, let your furry friend enjoy! If peanut butter fog treats are your dog's favorite, they are going to love this frozen take.
4. Blueberry Yogurt Dog Smoothies
If you're someone who always has frozen fruit in the fridge, it'll be even easier to throw together this frozen homemade dog treat recipe in the summertime!
For a dog-safe sweet, smooth summer treat, take a handful of frozen blueberries and blend them with low-fat unsweetened plain Greek yogurt until smooth. Scoop some of this yummy dog smoothie into their bowl (they probably won't need a straw) and let them enjoy the cooling sensation of a fruity summer treat made just for them.
5. Pumpkin Puree "Pupsicles"
There are actually a number of health benefits to pumpkin dog treats. Pumpkin is full of fiber that strengthens digestive health, and it's also rich in minerals like potassium and iron which support heart health.
To make these tasty frozen dog popsicles for your fur babies, spoon pumpkin puree (make sure the only ingredient is pumpkin) into popsicle molds, and use bone-shaped dog treats as the popsicle stick. Place the molds in the freezer until frozen solid, then pop them out for your pup when ready. They'll surely appreciate this chilly double treat.
More Ways To Keep Your Dog Cool In The Summer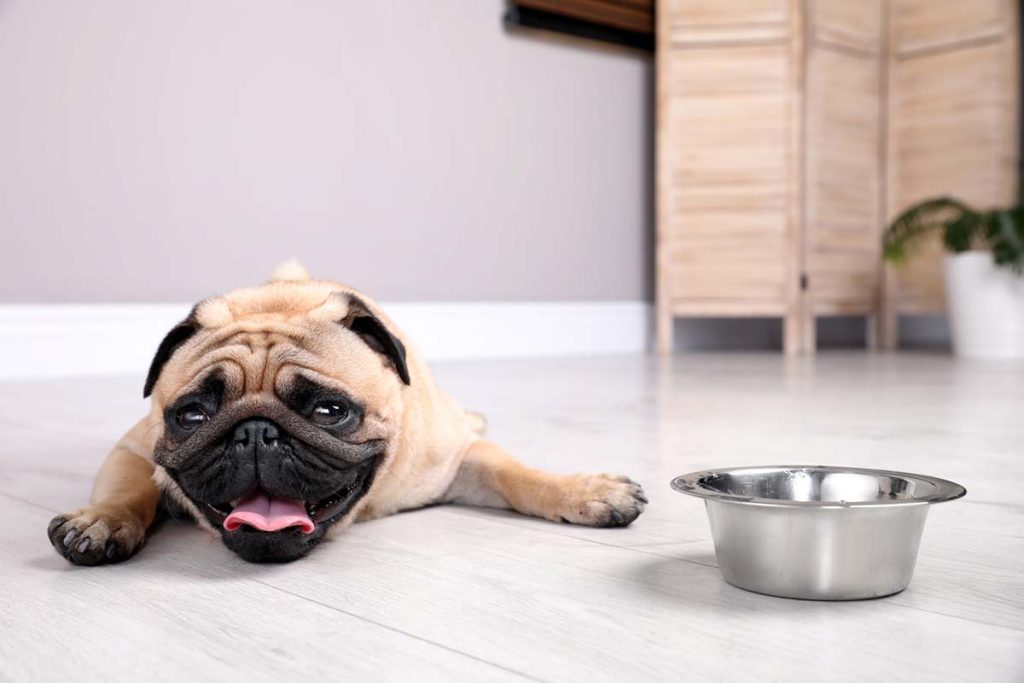 If you've exhausted your list of DIY frozen dog food to keep your dog cool, there are a handful of other ways you can keep your dog cool in the summer and help them beat the heat.
Add Ice Cubes To Their Water Bowl
Sometimes giving dogs water that's too cold can shock their system. Adding ice cubes to room-temperature water is a happy medium between hot and cold. This way your dog can enjoy cool, crisp water without it being too chilly.
Go For A Swim
Summer is the perfect time to hit up your local dog-friendly beach, lake, or reservoir! The chance to splash, play, and cool off in the water will be a fun summer activity for you and your dog. Make sure wherever you choose to swim is clean and safe, and that the weather and water temperature are appropriate for swimming.
Set Up a Fan For Them
A cool breeze on a hot summer day is sometimes just the thing. Setting up a fan that blows directly on your dog's bed or their favorite lounging spot will help keep the air moving around them, and the breeze blowing over their fur will certainly be a little relief from the heat.
Use A Cool, Wet Towel or Cooling Bed
Giving your dog a nice cool spot to lie down can be a big help in beating the heat on sweltering days. A cooling dog bed that plugs into the wall will surely help your dog regulate their internal temperature. A simple alternative to cooling beds is simply to get a towel nice and wet with cold water from the hose or the sink and put it down for them to lie on.
Make Sure They Have Plenty of Shade
Being cooped up in the house on hot days isn't much fun for dogs or humans. Outdoors you can at least catch a cool breeze now and then. For dogs who spend a lot of their summer days outdoors, the beating sun can be brutal on their thick coats. Make sure your dog has plenty of shade when hanging in the yard or at the beach on hot days to help keep them cool.