Dog Friendly Fall Activities
Try one of these dog-friendly fall activities this sweater weather season.
Autumn is one of the best times of year for pet parents and their best friends. There's cooler weather, there's beautiful fall foliage to see, and there are several fun activities that you and your furry friend can do together.
In short, the fall season is the perfect time of year for some dog-friendly fall activities. Here are a few fall fun ideas to consider.
Doggie Photo Shoot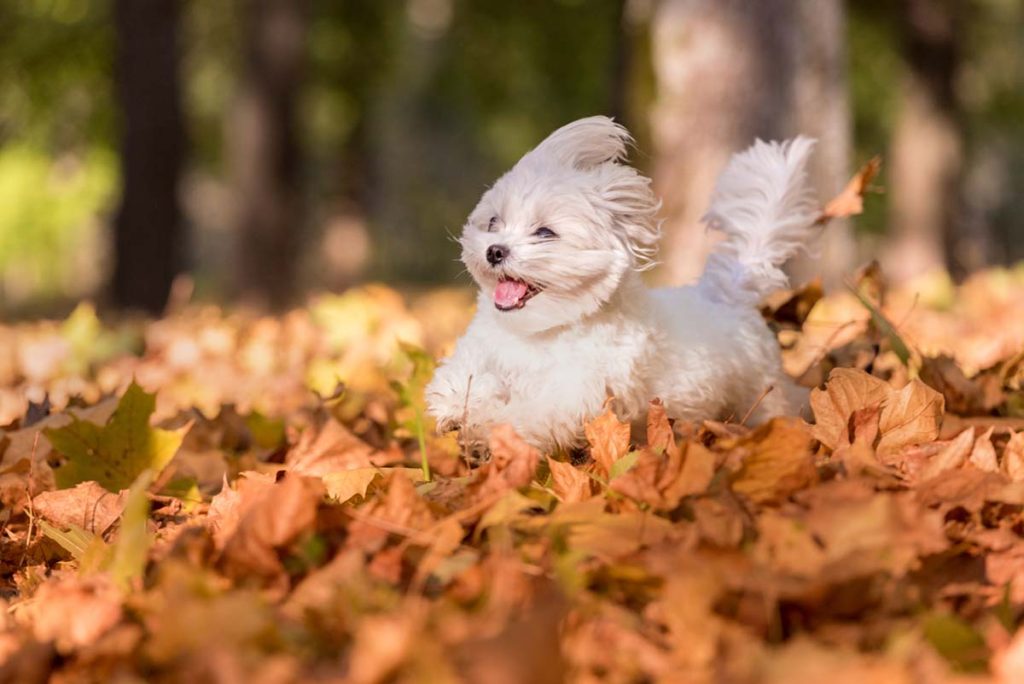 Fall is a good time to update your pooch's portrait. You could have a family portrait taken for your Christmas cards, to hang on your living room wall, or to share on social media.
Dog lovers the world over like showing off their four-legged friend, and fall is a good time for a new family portrait. You'll want to be sure to dress Fido in his favorite fall bandana for the picture.
Pet-Friendly Fall Getaways
The fall season is also a good time for a getaway. The fall leaves are beautiful, and it's a great time to take in the fall colors before the snow flies. Most dogs love scattering a pile of leaves, so they'll love it.
There are also plenty of friendly hotels that welcome pets these days, so you'll be able to find a place to accommodate you and your best buddy. There are numerous hiking trails that welcome hikers of the four-legged variety, and the fall season is usually drier than spring, cooler than summer, and warmer than winter for hiking.
Halloween Fun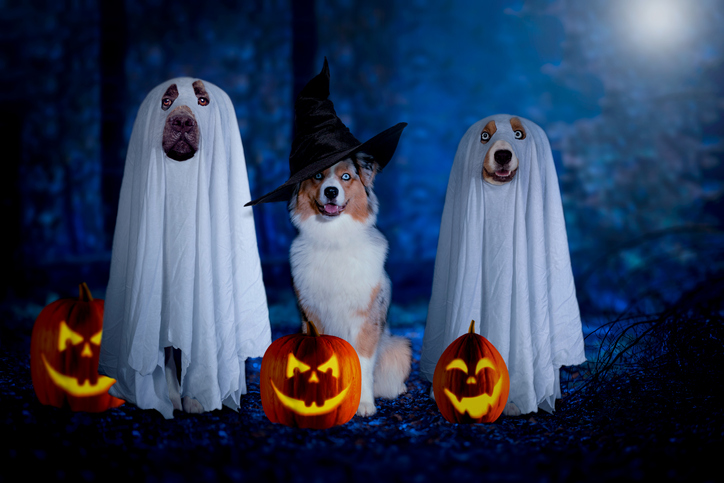 Fall fun also includes pumpkin spice, trick-or-treating, and plenty of other Halloween, or should I say Howl-o-ween, activities. There are pumpkin patches, spooky corn mazes, hayrides, and Halloween costume contests for you and your best buddy to enjoy. Let's take a look at a few of these fall bucket list ideas.
Pumpkin Patches for Your Pooch
There's nothing like a dog-friendly pumpkin patch to visit with your best friend. Your pooch will love helping to sniff out the perfect pumpkin. Some pumpkin patches even have an off-leash dog park where furry friends can gather to expend some energy.
There are, however, a few things to remember before heading out.
Make sure your pup potties before heading into the patch. You don't want to have to purchase a pumpkin he's peed on!
Check to make sure the pumpkin patch is dog-friendly before you go. Many pumpkin patches are working farms with other animals and crops to mind. They are not all dog-friendly, so call first or check their website or social media page to make sure that bringing your pooch along isn't against the rules.
Make sure your pooch is up for it. Fearful dogs might be put off by the activity and people at the pumpkin patch. Remember, there will be lots of children and other animals, so if your dog is not properly socialized for that, it might be best to leave him at home.
Dog Costume Contests
Costume contests aren't just for humans! Your pooch can also vie for the best dog costume at the ball. There are very few things cuter than a pooch dressed up for Halloween!
You and your best friend can even dress up according to a costume theme, perhaps Scooby-Doo and the gang or Dorothy and Toto from The Wizard of Oz. Maybe he'll win a bag of dog treats for his costume!
Pumpkin Carving
While vets don't recommend feeding your pooch raw pumpkin, once you've removed the pumpkin guts, your pooch can join in on the fun. You might even consider carving your best friend's face in the pumpkin — who's a scary puppy!!
Puppy Trick-or-Treaters
Many people who love the season like to take their best friends along for some trick-or-treating fun. That can work well, but there are a few things to do to ensure your pooch has a safe and happy Halloween.
Make sure your furry friend is wearing a reflective costume or harness so that he can be seen by drivers and people roaming around.
Don't forget the poop bags so you can clean up after your doggie's doo-doo.
Don't let him eat candy. Stick to dog treats since candy can be toxic for your pup. Don't forget, that there may be candy dropped on the ground.
Don't push it. If your dog seems stressed by all the people and activity around him, get him back to the comfort of home.
Apple Picking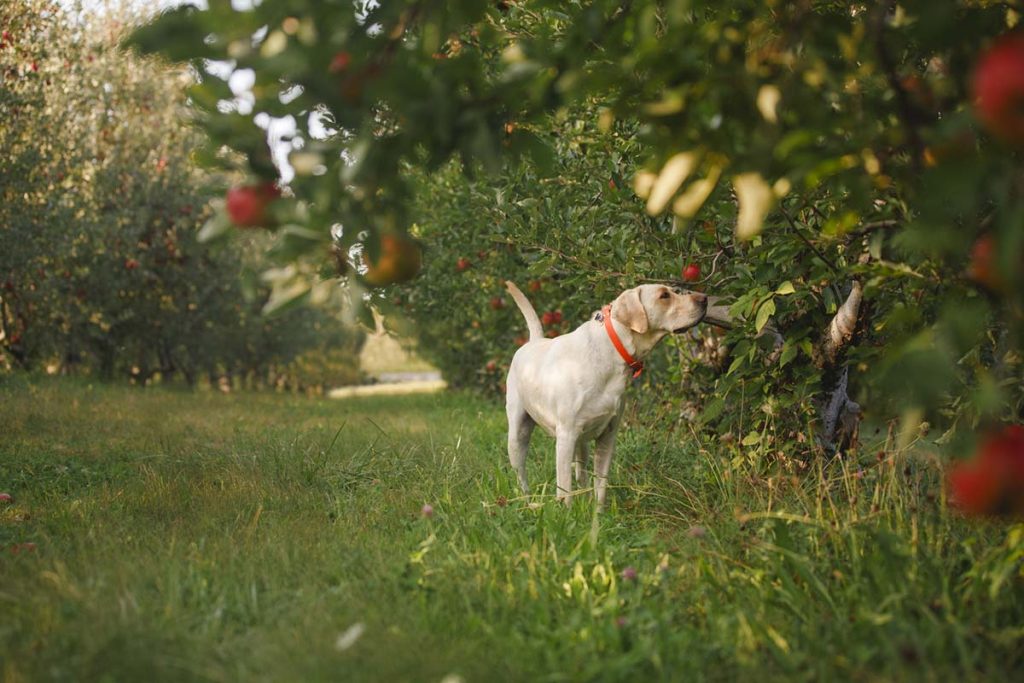 Another dog-friendly activity for the fall is apple picking. There are many dog-friendly apple orchards where you and your buddy can walk through the rows of trees.
Of course, you'll want to take plenty of pictures, and you can even share some of the apples with your dog. As long as you don't feed him the cores and the seeds, apples are safe for your dog.
Corn Maze Craziness
Fall is harvest season, and there are plenty of corn mazes you and your dog can visit together. Of course, just as with the pumpkin patches, you'll want to make sure the corn maze is dog-friendly before heading out.
Once you're there, however, you and your buddy can explore the corn maze together. As mentioned above, some of them even have a spooky Halloween theme to make it even more fun. Also, some of the larger ones even have miles of trails, so you can be sure you'll both sleep well that night.
Are You Ready for Some Football?
Fall is also football season, and if you're a football fan, there are few things you like more than watching the game. But you don't have to leave your best friend on the sidelines to do that.
Your pup can join you at home, and you can even take him tailgating with you, but the American Kennel Club has a few tips for doing that.
Make sure the venue is dog-friendly before you head out.
Make sure your dog is crowd-friendly. Remember, there will be a lot of other people tailgating too, and a dog who isn't well-socialized can be dangerous to himself and other people.
Bring dog food, water, and bowls. You don't want to share too much human food with your best friend as that can cause health problems.
Make sure the weather is good for your pooch. Check the weather forecast to make sure your dog won't be too hot or too cold.
Bring supplies to make sure your dog is comfortable. This means toys, a travel bed to lie on, and maybe a cooling vest if it is hot or a doggie sweater if it is cold.
Don't forget the leash. Even though this may be a pet-friendly event, you always want to keep your pooch on a leash. There will be lots of distractions and temptations, so keep your pooch by your side.
Don't forget the pooper scooper. Just like anywhere else, it is your responsibility to clean up after your best friend.
Avoid obnoxious people and overwhelming situations. Your dog can easily become stressed by people who are drunk and loud. If he is showing signs of being stressed, give him a break.
Thanksgiving Day Charity Race
One pet-friendly Thanksgiving Day event is the Turkey Trot. These usually support a worthy cause, and it's a great way to work off that Thanksgiving feast. Just check with the race organizer to ensure pets are welcome, and then, you and your pet can get that much-needed exercise!
Healthy Goodies for Every Season
At JustFoodForDogs, we believe your furry friend should have healthy options all year round. We've got healthy, fresh food meal options with fresh ingredients you can pronounce. We've also got pumpkin treats for trick-or-treating or just rewarding your best friend for a job well done!
We know that you want to share your life with your buddy, and we want to make sure you can do that in a healthy way.