Instant Pot Recipe: Chicken & White Rice Dog Food
How to make JustFoodForDogs Chicken and White Rice dog food in an Instant Pot
Welcome to our blog post where we share a delicious and nutritious dog food recipe for chicken and white rice prepared in an Instant Pot. This classic combination is not only a favorite among dogs but also provides essential nutrients for their overall well-being.
Whether you're looking to switch up your dog's meal routine or provide them with a comforting and easily digestible option, this recipe is sure to satisfy their taste buds. Join us as we guide you through the steps to prepare a wholesome meal that your dog will love.
Ingredients List
(Makes Approximately 9 lbs)*
2 lbs 4 oz Chicken Thighs

Meat only, boneless, skinless, diced or ground

1 lb 4 oz Chicken Thighs

Meat with skin, boneless, diced or ground

6 oz Chicken Gizzards
5 oz Chicken Liver
24 oz Long-Grain White Rice
8 oz Spinach
8 oz Carrots
8 oz Green or Red Apples

Cored, seeds removed, finely chopped
---
Note: As with any dog food recipe, it is essential that it is complete and balanced. This recipe is nothing without the DIY Nutrient Blend, which is formulated specifically for each recipe to meet AAFCO recommendations. The blend is compounded from 100% human-grade nutraceuticals regulated by the FDA. As such, it is vital that you follow this recipe exactly as it is written.
---
Preparation Instructions
1. Wash all vegetables thoroughly.
2. Finely chop or dice all vegetables.
3. Use fresh fruits and vegetables whenever possible, but if 1 or 2 items must be frozen, make sure there are no added ingredients such as salt or sugar.
4. Make sure that all apples are cored and all seeds are removed. Apple cores/seeds can be toxic to dogs.
Instant Pot Cooking Instructions
1. Add chicken thighs, chicken gizzards, chicken liver, carrots, and spinach to the Instant Pot. Use the "Sautee" setting at 7 minutes with the lid removed to begin browning the protein and stirring to break up larger chunks of meat. After 7 minutes, turn off Instant Pot.
2. Add white rice and apples to the pot along with 1 cup of water. To avoid a "Burn Error," be sure to mix well and scrape the bottom of the pot after adding water. Use "Pressure Cook" setting on "High" for 5 minutes. Once the timer goes off, allow rice to simmer for 3-5 minutes before releasing pressure.
3. Check to ensure ingredients are cooked thoroughly (soft to the touch).
4. Once all ingredients are cooked, allow food to cool.
5. After it has completely cooled to the touch, place the food in a large mixing bowl and slowly sprinkle in the Chicken & White Rice DIY Nutrient Blend along with the oils required in the recipe. Mix these in thoroughly.
6. Portion into individual serving sizes and store in the refrigerator or freezer. This recipe will remain fresh in your refrigerator for 3-5 days and up to one year in the freezer.
Instant Pot Serving Size Instructions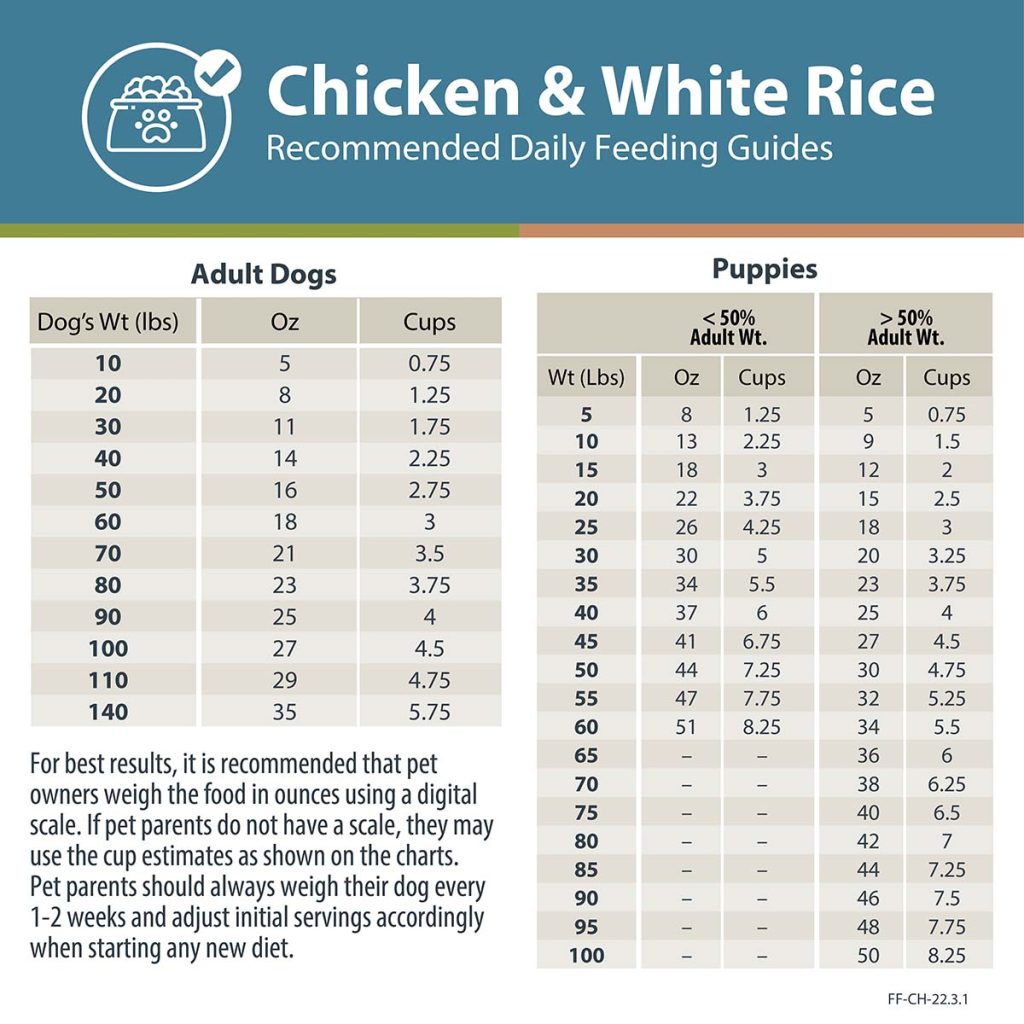 Our Takeaway
Incorporating homemade meals into your dog's diet is a wonderful way to ensure they receive high-quality ingredients and the necessary nutrients they need to thrive. This chicken and white rice dog food recipe prepared in an Instant Pot offers convenience and a balanced meal for your pet.
By following our easy-to-follow instructions, you can provide your dog with a delicious and nourishing meal that will leave their tail wagging with joy. Remember, always consult with your veterinarian to ensure the recipe aligns with your dog's dietary needs.
*All weights indicated are raw or dry weight.
Prefer to make a smaller batch? This printable PDF includes instructions for full and half batches of food.