Instant Pot Recipe: Turkey & Whole Wheat Macaroni Dog Food
How to prepare homemade Turkey and Whole Wheat Macaroni dog food in an Instant Pot.
Looking for a homemade, nutritious dog food recipe that can be made quickly and easily in an Instant Pot? Look no further than this delicious Turkey & Whole Wheat Macaroni Dog Food recipe from JustFoodForDogs. Made with ground turkey, fresh vegetables, and a special nutrient blend, this recipe is sure to keep your furry friend happy and healthy.
Ingredients List
Makes approximately 13 lbs*
5 lbs Ground Turkey
2.5 oz Turkey Liver
2 lbs 8 oz Whole Wheat Macaroni
5 oz Carrots
5 oz Zucchini
5 oz Broccoli
2.5 oz Cranberries
Preparation Instructions
1. Wash all vegetables thoroughly.
2. Finely chop or dice all vegetables.
Tip: Use fresh fruits and vegetables whenever possible, but if 1 or 2 items must be frozen, make sure there are no added ingredients such as salt or sugar.
Instant Pot Cooking Instructions
1. Add turkey, turkey liver, carrots, broccoli, and zucchini to the Instant Pot. Use the "sautee" setting at 5 minutes with the lid removed to begin browning the turkey. Make sure to stir the food in order to break up any larger chunks of meat. After 5 minutes, turn off Instant Pot.
2. Add the macaroni and cranberries along with 3 cups of water. To avoid a "Burn Error," be sure to mix well and scrape the bottom of the pot after adding water.
3. Use the "Pressure Cook" setting on high for 5 minutes. Once the timer goes off, allow the mixture to naturally release pressure for 5 minutes before releasing manually.
4. Once all ingredients are cooked thoroughly (soft to the touch), allow the food to cool.
5. After it has completely cooled to the touch, place the food in a large mixing bowl and slowly sprinkle in the Turkey & Whole Wheat Macaroni DIY Nutrient Blend along with the oils required in the recipe. Mix these in thoroughly.
6. Portion into individual serving sizes and store in the refrigerator or freezer. This recipe will remain fresh in your refrigerator for 3-5 days and up to one year in the freezer.
Instant Pot Serving Size Instructions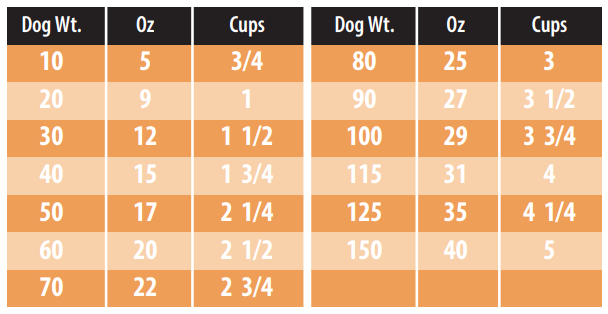 Your dog deserves the best, and with this Turkey & Whole Wheat Macaroni Dog Food recipe, you can give them just that. Packed with protein, fiber, and essential nutrients, this recipe is a great way to ensure your dog is getting the nutrition they need to thrive. Plus, with the convenience of an Instant Pot, it's easy to make and perfect for busy pet owners. Give it a try and see the difference it can make in your dog's health and happiness!
*All weights indicated are raw or dry weight.
Prefer to make a smaller batch? This printable PDF includes instructions for full and half batches of food.
Shop This Recipe's Ingredients