Slow Cooker Recipe: Chicken & Rice Dog Food
How to make JustFoodForDogs Chicken & White rice recipe in a slow cooker.
Welcome to our blog post where share a nourishing and delicious slow cooker chicken and rice dog food recipe that can be effortlessly prepared in a slow cooker. This recipe provides the perfect balance of nutrients and flavors to keep your dog healthy and satisfied.
With the convenience of a crockpot, you can easily prepare a batch of this nutritious meal for your dog. Join us as we guide you through the simple steps to create a wholesome chicken and rice dish that your dog will love.
Ingredients List
(Makes Approximately 9 lbs)*
2 lbs 4 oz Chicken Thighs

Meat only, boneless, skinless, diced or ground

1 lb 4 oz Chicken Thighs

Meat with skin, boneless, diced or ground

6 oz Chicken Gizzards
5 oz Chicken Liver
24 oz Long-Grain White Rice
8 oz Spinach
8 oz Carrots
8 oz Green or Red Apples

Cored, seeds removed, finely chopped
Preparation Instructions
1. Wash all vegetables thoroughly.
2. Finely chop or dice all vegetables.
3. Use fresh fruits and vegetables whenever possible, but if 1 or 2 items must be frozen, make sure there are no added ingredients such as salt or sugar.
4. Make sure that all apples are cored and all seeds are removed. Apple cores/seeds can be toxic to dogs.
Crockpot Cooking Instructions
Add chicken thighs, chicken gizzards, chicken liver, carrots, and spinach to the slow cooker along with ½ cup of water. Slow-cook on high heat for approximately 2 hours, occasionally stirring to break up the chicken.
Check to see if ingredients are cooking thoroughly (becoming soft to the touch).
Add white rice and apples along with another 1 ½ cups of water. Cook on high heat for an additional 1 ½ to 2 hours.
Periodically check to ensure water level is sufficient, and reduce heat to low once the majority of the water is absorbed. Allow rice to simmer until grains are soft. Then turn off the heat.
After it has completely cooled to the touch, place the food in a large mixing bowl and slowly sprinkle in the Chicken & White Rice DIY Nutrient Blend along with the oils required in the recipe. Mix these in thoroughly.
Portion into individual serving sizes and store in the refrigerator or freezer. This recipe will remain fresh in your refrigerator for 3-5 days and up to one year in the freezer.
Crockpot Serving Size Instructions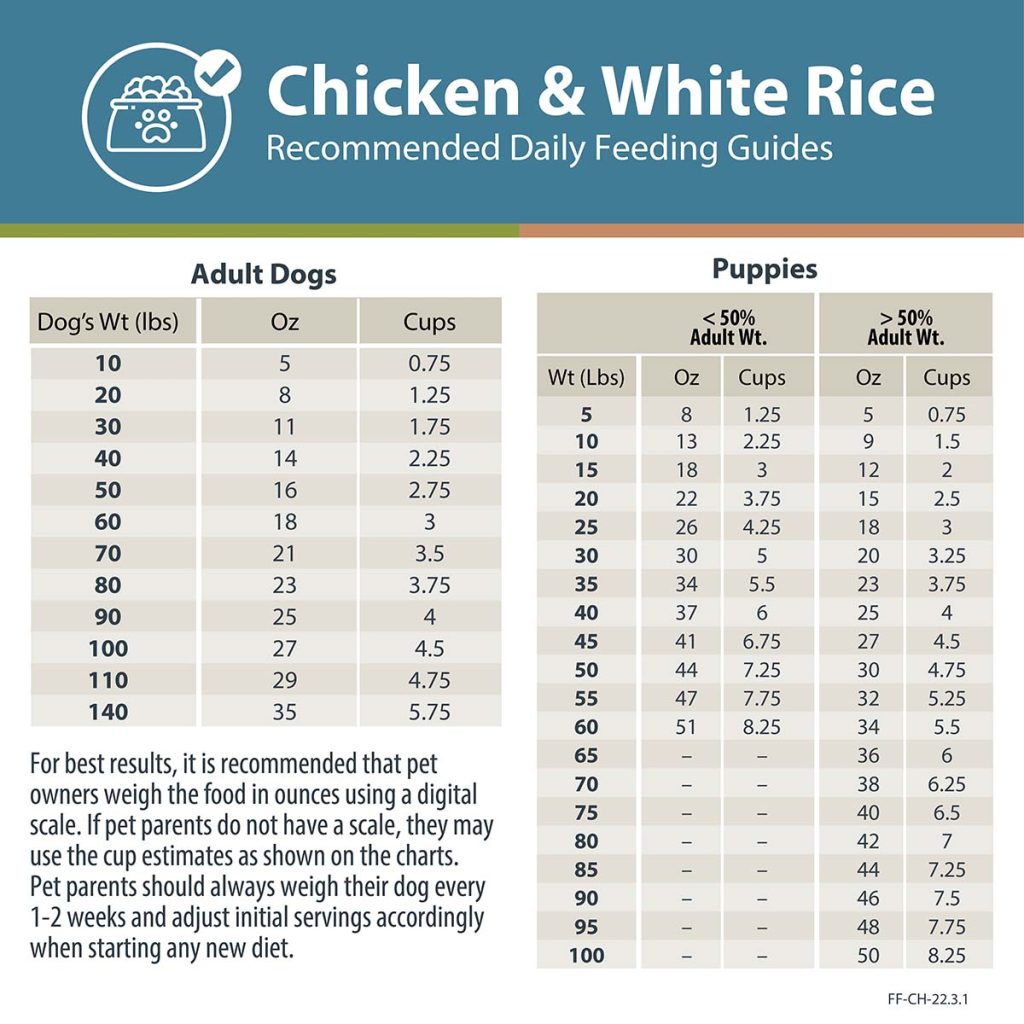 Summary
Now you have the recipe to create nutritious and flavorful chicken and rice dog food using your crockpot. By following the instructions and using high-quality ingredients, you can provide your beloved pet with a homemade meal that is both delicious and healthy. Once cooked, portion the food and store it properly to maintain its freshness.
Treat your dog to the love and care they deserve by serving them this homemade meal. Enjoy the satisfaction of knowing that you are nourishing your pet with a wholesome and balanced diet. Give them the joy of a tasty meal that will keep their tail wagging with delight.
*All weights indicated are raw or dry weight.
Prefer to make a smaller batch? This printable PDF includes instructions for full and half batches of food.