What to Look for in Large Breed Dog Food
Everything you need to know about large breed dog food for large and giant breed dogs.
We want dogs of all sizes to live happy and healthy lives. Large breed dogs (dogs over 50 pounds) generally require different nutrients than a typical, smaller breed dog. This means your large breed puppy will likely need pet food specific to its size.
In this blog post, we dive into why your big pup may need large-breed dog food as well as recommendations for what to look for in the best dog food for big dogs.
Nutritional Differences Between Small Breeds and Large Breeds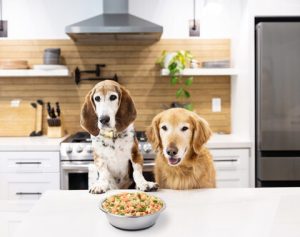 Because they have relatively longer intestinal tracts than small breeds, large dogs need a diet that's richer in insoluble fiber so that they can have healthy stools. Large dogs also need additional support to help maintain healthy joints.
According to Caninearthritis.org, large-breed dogs are at greater risk for joint problems and arthritis.
In addition to meeting their nutritional needs, it is vital to take measures to avoid weight gain. Obesity makes joint and arthritis pain worse and more difficult to treat. Maintain a consistent feeding schedule and portion your dog's food according to their size, activity level, and age. You may use our dog food calculator if you aren't sure where to start.
What to Look for in Large Breed Dog Food
Tufts Clinical Nutrition Service recommends looking for this nutritional adequacy statement on dog food products: "'[Pet Food Name] is formulated to meet the nutritional levels established by the AAFCO Dog Food Nutrient Profiles for growth/all life stages including growth of large-size dogs.' These foods are designed to have a lower calcium level and usually are lower in calories than typical puppy foods."
As mentioned, large and giant breeds are prone to joint problems, so it's important to ensure they get the right amount of vitamins and minerals that support joint health. Flaxseed and fish oils, for example, are great sources of joint-friendly omega-3 fatty acids your big dog needs.
Large Breed Puppy Food
As with adult dog food, look for large-breed puppy food that is specifically formulated for the nutritional needs of large/giant-breed puppies. These foods will have appropriate calcium and phosphorus levels to ensure healthy growth. They will also have dha, a fatty acid that is essential for central nervous system function.
Fresh Dog Food for Large Breeds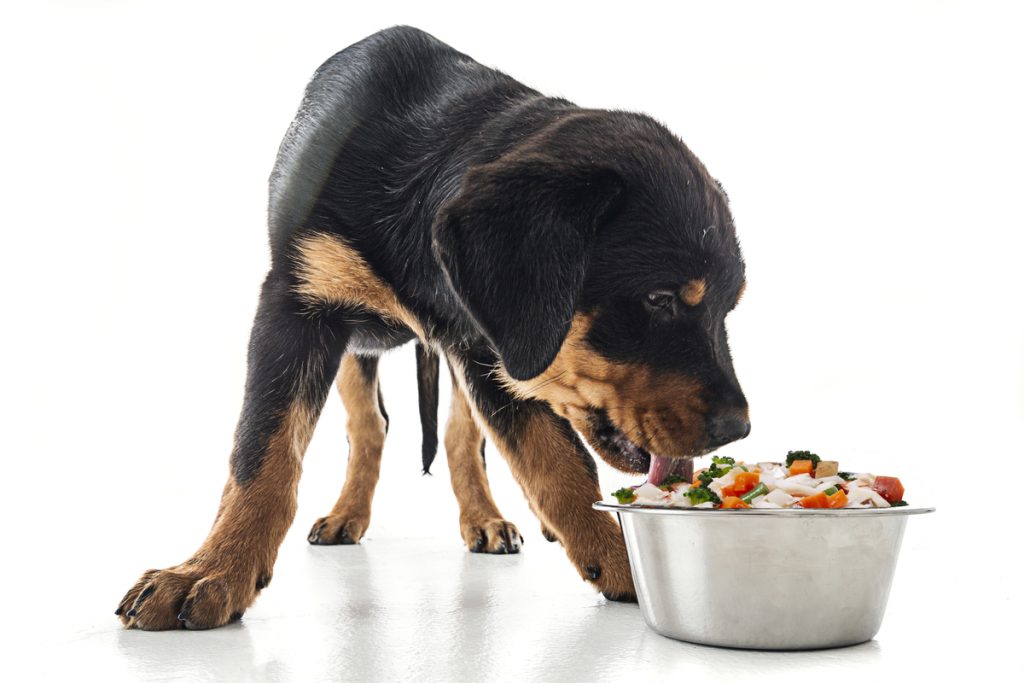 While large and giant breed-specific dry dog food exists, it typically contains preservatives, fillers, and by-products. Instead of kibble, we recommend looking for a fresh food alternative. Our Large Breed formula recipe delivers everything that large dogs need. We've designed this recipe to have a higher insoluble-to-soluble fiber ratio, which helps promote digestive health and wellness. It's also fortified with glucosamine and chondroitin to support healthy joint health.
The two big ingredients in our recipe are beef and long-grain brown rice. Beef is high-quality protein dogs love the taste of. It is rich in iron and zinc, which are beneficial for healthy skin and immune function, and B vitamins, which help support metabolism and healthy weight.
Brown rice is a whole grain with an excellent source of dietary fiber and carbohydrates, which are great for digestion. Brown rice is also loaded with B vitamins and minerals, such as magnesium, which are needed for healthy muscle and nerve function.
Note that this adult dog food beef and rice recipe is not ideal for all life stages. Only feed to large breed adult dogs over 50 lbs.
Additional fresh dog food options for large breeds
If you want to try other recipes suited to large-breed dogs, our Large Breed Variety Pack is a great option. It comes with one Large Breed Support recipe, one Beef & Russet Potato recipe, and one Turkey & Whole Wheat Macaroni recipe.
The beef and russet potato recipe is a grain-free option that includes sweet potato. Sweet potato is a great source of antioxidants for the immune system, vitamin A, vitamin e, dietary fiber, vitamins B6 and C, manganese, and potassium, which aid in maintaining healthy digestion.
You can find large breed fresh dog food, real chicken treats, joint supplements, probiotic supplements, and fish oil on our website, Chewy, Amazon, Petco, and in our standalone kitchens.