The Beef & Russet Potato is one of our most popular diets! This high-calorie diet incorporates restaurant-grade ground beef, russet and sweet potatoes, as well as an assortment of fruits and vegetables. The result is a wholesome, fully balanced diet that's perfect for active adult dogs and/or underweight dogs.
Nutrition Facts
Calorie Content

Per KG

ME as fed (kcals)

1517

Crude Protein (min)

8.5%

Crude Fat (min)

7%

Crude Fiber (max)

1.5%

Moisture (max)

75%

Calcium:Phosphorus Ratio

1.3:1

Omega 6: Omega 3 Ratio

5:1
Feeding trials using AAFCO procedures substantiate that the JustFoodForDogs Beef & Russet Potato recipe provides complete and balanced nutrition for maintenance.
Real Ingredients
Completely Transparent. We have no secrets about the things that matter to pets and their parents, not even our coveted recipes.
USDA-Certified Ground Beef
We only use the finest USDA-inspected and approved, restaurant-grade ground beef in this healthy dog recipe. Beef is considered a prime source of high-quality, complete protein and is also rich in iron, selenium, and zinc, as well as vitamins B6 and B12.
Russet potatoes are high in potassium and contain substantial amounts of vitamins C and B6. They are also a good source of niacin, dietary fiber, magnesium, and thiamine.
Sweet potatoes are an excellent source of vitamins B6 and C, as well as manganese, beta-carotene as a source of vitamin A, dietary fiber, and potassium.
Carrots are a great source of vitamins C and K, potassium, and beta-carotene as a source of vitamin A.
Green beans are rich in vitamin K, riboflavin, omega-3 fatty acids, dietary fiber and niacin.
USDA-Certified Beef Liver
Our USDA-inspected and approved beef liver is a nutrient-dense food. Ounce for ounce, beef liver contains the highest concentration of protein and vitamin A and is a rich source of highly absorbable heme iron.
Green peas are a very good source of folate, manganese, magnesium, and thiamine.
We always core our apples for dogs before including them in our fresh recipes. Apples are high in antioxidants and dietary fiber.
Safflower oil contains the essential omega-6 fatty acid, linoleic acid.
Our Omega Plus Fish Oil is sourced directly from the world's cleanest, purest, and greenest sources. This exclusive supplement is pure, potent, natural and detoxified, and provides omega-3 fatty acids in highly biologically available forms of EPA and DHA. It is also available for purchase to use with our DIY homemade recipe kit.
Multi-Vitamin & Mineral Blend
JFFD Nutrient Blend is formulated specifically for each recipe to meet NRC RA recommendations. The blend is compounded from 100% human-grade nutraceuticals regulated by the FDA. It is also available for purchase as a DIY homemade recipe kit.
All of our daily diets for dogs have passed AAFCO protocol feeding trials at Cal Poly Pomona. In fact, the trials conducted at the university were much more stringent than the AAFCO protocol standards, as the Animal Care and Use Committee (ACUC) of the university found the AAFCO feeding trial to be too rudimentary. The reality is our diets have passed trials that exceed AAFCO standards. JFFD is the first pet food company ever to conduct humane feeding trials at a major university using faculty and student dogs living happily in their own homes. Most pet food companies do not run trials at all and those that do tend to use laboratories that house beagles that live their lives for animal testing. Like everything we do at JFFD — we did it a better way! Learn more about our feeding trials here: A One of A Kind Partnership.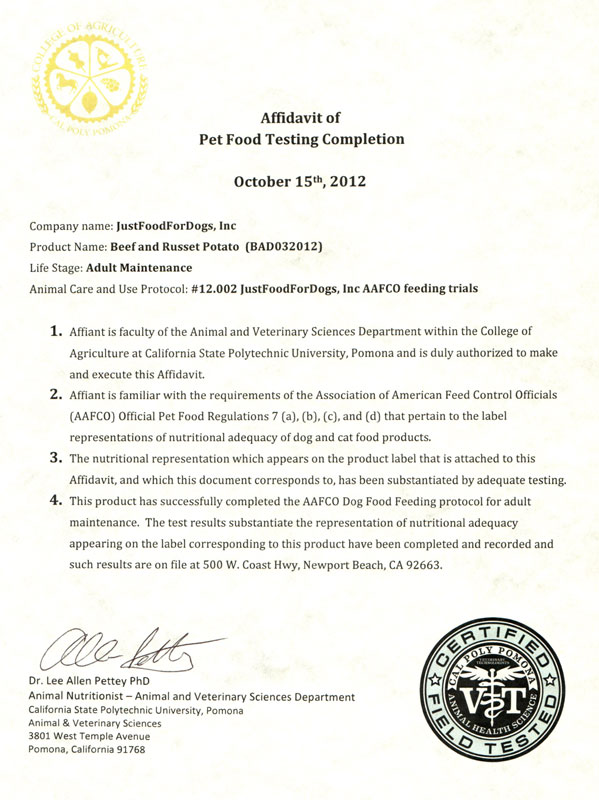 <div class="main-widget yotpo-display-wrapper " style="visibility: hidden;" data-source="default"> <div class="yotpo-label-container "> <a href="http://my.yotpo.com/landing_page?redirect=https%3A%2F%2Fwww.yotpo.com%2Fpowered-by-yotpo%2F&utm_campaign=branding_link_reviews_widget_v2&utm_medium=widget&utm_source=justfoodfordogs.com" class="yotpo-logo-link-new" aria-label="Powered by Yotpo link to their homepage" tabindex="0" target="_blank"> <span class="yotpo-logo-title yotpo-powered "> Powered by </span> <div class="yotpo-icon-btn-big transparent-color-btn yotpo-logo-btn yotpo-icon yotpo-icon-yotpo-logo yotpo-logo-icon-new yotpo-icon yotpo-icon-yotpo-logo "> </div> </a> <div class="yotpo-logo-line"> </div> </div> <span class="yotpo-display-wrapper" style="visibility: hidden;"> <div class="yotpo-regular-box yotpo-bottomline bottom-line-items-container"> <div class="bottom-line-items"> <span class="avg-score font-color-gray-darker" aria-label="4.6 star rating">4.6</span> <p class="sr-only">4.6 star rating</p> <span class="yotpo-filter-stars rating-stars-container "> <span class="yotpo-icon yotpo-icon-star rating-star pull-left"></span><span class="yotpo-icon yotpo-icon-star rating-star pull-left"></span><span class="yotpo-icon yotpo-icon-star rating-star pull-left"></span><span class="yotpo-icon yotpo-icon-star rating-star pull-left"></span><span class="yotpo-icon yotpo-icon-half-star rating-star pull-left"></span><span class="sr-only">4.6 star rating</span> </span> <span class="reviews-qa-labels-container "> <span class="reviews-qa-label font-color-gray">284 Reviews, 7 Q&amp;As</span> </span> </div> <div class="yotpo-clr"></div> </div> <div class="yotpo-clr"></div> </span> <div class="write-question-review-buttons-container" role="tablist"> <div class="yotpo-default-button yotpo-icon-btn write-question-review-button write-button write-review-button" role="button" aria-controls="write-review-tabpanel" aria-expanded="false" tabindex="0"> <span class="yotpo-icon yotpo-icon-write-no-frame write-question-review-button-icon yotpo-hidden-mobile"></span> <span class="write-question-review-button-text font-color-gray-darker">Write A Review</span> </div> <div class="yotpo-default-button yotpo-icon-btn write-question-review-button write-button mL5 write-question-button" role="button" aria-controls="write-question-tabpanel" aria-expanded="false" tabindex="0"> <span class="yotpo-icon yotpo-icon-dialog write-question-review-button-icon yotpo-hidden-mobile"></span> <span class="write-question-review-button-text font-color-gray-darker">Ask A Question</span> </div> </div> <form aria-label="Write A Review Form"> <div class="write-review-wrapper write-form"> <div class="write-review yotpo-regular-box" id="write-review-tabpanel" role="tabpanel"> <div class="yotpo-header"> <div> <h2 class="y-label yotpo-header-title">WRITE A REVIEW</h2> </div> <div class="yotpo-mandatory-explain"> <span class="yotpo-mandatory-mark">*</span> Indicates a required field </div> <br> <span class="yotpo-mandatory-mark">* </span> <span class="y-label" id="write-review-score">Score: <span class="form-input-error yotpo-hidden" id="yotpo_score_message"></span></span> <div aria-describedby="yotpo_score_message" aria-labelledby="write-review-score" role="radiogroup" tabindex="1"> <span class="stars-wrapper"> <span class="yotpo-icon yotpo-icon-empty-star pull-left review-star" data-score="1" aria-label="score 1" role="radio" tabindex=0 aria-checked="false" aria-required="true"></span> <span class="yotpo-icon yotpo-icon-empty-star pull-left review-star" data-score="2" aria-label="score 2" role="radio" tabindex=-1 aria-checked="false" aria-required="true"></span> <span class="yotpo-icon yotpo-icon-empty-star pull-left review-star" data-score="3" aria-label="score 3" role="radio" tabindex=-1 aria-checked="false" aria-required="true"></span> <span class="yotpo-icon yotpo-icon-empty-star pull-left review-star" data-score="4" aria-label="score 4" role="radio" tabindex=-1 aria-checked="false" aria-required="true"></span> <span class="yotpo-icon yotpo-icon-empty-star pull-left review-star" data-score="5" aria-label="score 5" role="radio" tabindex=-1 aria-checked="false" aria-required="true"></span> </span> </div> </div> <div class="write-review-content"> <div class="form-group" > <div class="form-element"> <span class="yotpo-mandatory-mark">* </span> <label class="y-label" for="yotpo_input_review_title"> Title: <span class="form-input-error yotpo-hidden" id="yotpo_input_review_title_error"></span> </label> <input id="yotpo_input_review_title" class="y-input" autocomplete="review-title" name="review_title" maxlength="150" aria-required="true" placeholder="" aria-describedby="yotpo_input_review_title_error"/> </div> <div class="form-element"> <span class="yotpo-mandatory-mark">* </span> <label class="y-label" for="yotpo_input_review_content"> Review: <span class="form-input-error yotpo-hidden" id="yotpo_input_review_content_error"></span> </label> <textarea id="yotpo_input_review_content" class="y-input yotpo-text-box" name="review_content" aria-required="true" placeholder="" autocomplete="review-content" aria-describedby="yotpo_input_review_content_error"></textarea> </div> </div> </div> <div class="yotpo-footer yotpo-animation-opacity visible" style="display: inherit;"> <div class="socialize-wrapper"> <div class="connected">You are connected as <span class="username"></span></div> <div class="socialize"> <span class="y-label">Connect with:</span> <div> <div class="yotpo-default-button yotpo-icon-btn" data-network="linkedin" aria-label="connect with linkedIn" role="link" tabindex="0"><span class="yotpo-icon yotpo-icon-linkedin pull-left"></span></div> <div class="yotpo-default-button yotpo-icon-btn" data-network="twitter" aria-label="connect with twitter" role="link" tabindex="0"><span class="yotpo-icon yotpo-icon-twitter pull-left"></span></div> <div class="yotpo-default-button yotpo-icon-btn" data-network="facebook" aria-label="connect with facebook" role="link" tabindex="0"><span class="yotpo-icon yotpo-icon-facebook pull-left"></span></div> </div> </div> <div class="yotpo-or"> -OR- </div> </div> <div class="connect-wrapper visible " style="display: inherit;"> <div class="form-element name-input visible" style="display: inherit;"> <span class="yotpo-mandatory-mark">* </span> <label class="y-label" for="yotpo_input_review_username">Use your name: <span class="form-input-error yotpo-hidden" id="yotpo_input_review_username_error"></span></label> <input id="yotpo_input_review_username" class="y-input" autocomplete="user-your-name" name="display_name" maxlength="40" aria-required="true" placeholder="" aria-describedby="yotpo_input_review_username_error"/> </div> <div class="form-element email-input visible" style="display: inherit;"> <span class="yotpo-mandatory-mark">* </span> <label class="y-label" for="yotpo_input_review_email">Email: <span class="form-input-error yotpo-hidden" id="yotpo_input_review_email_error"></span></label> <input id="yotpo_input_review_email" class="y-input" autocomplete="your-email" name="email" aria-required="true" placeholder="" aria-describedby="yotpo_input_review_email_error"/> </div> <div class="yotpo-clr"></div> </div> </div> <div class="error-box yotpo-hidden"> <div class="text-wrapper"> <span class="error-text empty yotpo-hidden">Review&#39;s title &amp; body can&#39;t be empty</span> <span class="error-text empty_question yotpo-hidden">Question&#39;s body can&#39;t be empty</span> <span class="error-text score yotpo-hidden">Please enter a star rating for this review</span> <span class="error-text display_name_empty yotpo-hidden">Name field cannot be empty</span> <span class="error-text email yotpo-hidden">Invalid email</span> <span class="error-text user-already-reviewed yotpo-hidden">Your review has already been submitted.</span> <span class="error-text max_length yotpo-hidden">Max length was exceeded</span> <span class="error-text mandatory_field yotpo-hidden">Please fill out all of the mandatory (*) fields</span> <span class="error-text open_question_answer_length yotpo-hidden">One or more of your answers does not meet the required criteria</span> </div> <div class="yotpo-icon-btn-small transparent-color-btn"><span class="yotpo-icon yotpo-icon-cross" role='button' tabindex='0' aria-label="close error message"></span></div> </div> <div class="form-element submit-button"> <span class="form-input-error yotpo-hidden"></span> <input type="button" class="yotpo-default-button primary-color-btn yotpo-submit" aria-disabled="true" data-button-type="submit" value="Post"/> </div> <div class="yotpo-preloader-wrapper"> <div class="yotpo yotpo-pre-loader"> <span class="yotpo-empty-stars"> <span class="yotpo-icon yotpo-icon-empty-star"></span> <span class="yotpo-icon yotpo-icon-empty-star"></span> <span class="yotpo-icon yotpo-icon-empty-star"></span> <span class="yotpo-icon yotpo-icon-empty-star"></span> <span class="yotpo-icon yotpo-icon-empty-star"></span> </span> <span class="yotpo-full-stars"> <span class="yotpo-icon yotpo-icon-star"></span> <span class="yotpo-icon yotpo-icon-star"></span> <span class="yotpo-icon yotpo-icon-star"></span> <span class="yotpo-icon yotpo-icon-star"></span> <span class="yotpo-icon yotpo-icon-star"></span> </span> </div> </div> <div class="yotpo-clr"></div> </div> </div> </form> <div class="yotpo-messages"> <div class="yotpo-thank-you yotpo-hidden" data-type="share" aria-label="Thank you for posting a review" tabindex="-1"> <div class="yotpo-icon-btn transparent-color-btn"><span class="yotpo-icon yotpo-icon-cross"></span></div> <div class="yotpo-thankyou-header text-3xl"> <span class="yotpo-icon yotpo-icon-heart"></span> <span>Thank you for posting a review!</span> </div> <div class="yotpo-thankyou-content"> <span>We value your input. Share your review so everyone else can enjoy it too.</span> </div> <div class="yotpo-thankyou-footer" role="list"> <div class="yotpo-default-button yotpo-icon-btn" role="list-item"> <a class="social-link popup-link" href="#" target="_blank" data-network="facebook"> <span class="yotpo-icon yotpo-icon-facebook"></span> <span class="yotpo-icon-button-text">share</span> </a> </div> <div class="yotpo-default-button yotpo-icon-btn" role="list-item"> <a class="social-link popup-link" href="#" target="_blank" data-network="twitter"> <span class="yotpo-icon yotpo-icon-twitter"></span> <span class="yotpo-icon-button-text">share</span> </a> </div> <div class="yotpo-default-button yotpo-icon-btn" role="list-item"> <a class="social-link popup-link" href="#" target="_blank" data-network="linkedin"> <span class="yotpo-icon yotpo-icon-linkedin"></span> <span class="yotpo-icon-button-text">share</span> </a> </div> </div> </div> <div class="yotpo-thank-you yotpo-hidden" data-type="pending-for-review-approval"> <div class="yotpo-icon-btn transparent-color-btn"><span class="yotpo-icon yotpo-icon-cross"></span></div> <div class="yotpo-thankyou-header text-3xl"> <span class="yotpo-icon yotpo-icon-heart"></span> <span>Thank you for posting a review!</span> </div> <div class="yotpo-thankyou-content"> <span>Your review was sent successfully and is now waiting for our staff to publish it.</span> </div> </div> </div> <form aria-label="Ask A Question Form"> <div class="write-question-wrapper write-form"> <div class="write-review yotpo-regular-box" id="write-question-tabpanel" role="tabpanel"> <div> <h2 class="y-label yotpo-header-title">ASK A QUESTION</h2> </div> <div class="yotpo-mandatory-explain"> <span class="yotpo-mandatory-mark">* </span> Indicates a required field </div> <br/> <div class="write-question-content"> <div class="form-group"> <div class="form-element"> <label class="y-label" for="yotpo_input_question_content"><span class="yotpo-mandatory-mark">* </span>Question: <span class="form-input-error yotpo-hidden"></span></label> <textarea id="yotpo_input_question_content" class="y-input yotpo-text-box" name="review_content" maxlength="1000" aria-required="true" placeholder=""></textarea> </div> </div> </div> <div class="error-box yotpo-hidden"> <div class="text-wrapper"> <span class="error-text empty yotpo-hidden">Review&#39;s title &amp; body can&#39;t be empty</span> <span class="error-text empty_question yotpo-hidden">Question&#39;s body can&#39;t be empty</span> <span class="error-text score yotpo-hidden">Please enter a star rating for this review</span> <span class="error-text display_name_empty yotpo-hidden">Name field cannot be empty</span> <span class="error-text email yotpo-hidden">Invalid email</span> <span class="error-text user-already-reviewed yotpo-hidden">Your review has already been submitted.</span> <span class="error-text max_length yotpo-hidden">Max length was exceeded</span> <span class="error-text mandatory_field yotpo-hidden">Please fill out all of the mandatory (*) fields</span> <span class="error-text open_question_answer_length yotpo-hidden">One or more of your answers does not meet the required criteria</span> </div> <div class="yotpo-icon-btn-small transparent-color-btn"><span class="yotpo-icon yotpo-icon-cross"></span></div> </div> <div class="yotpo-footer yotpo-animation-opacity visible" style="display: inherit;"> <div class="connect-wrapper"> <div class="form-element name-input"> <label class="y-label" for="yotpo_input_question_username"><span class="yotpo-mandatory-mark">* </span>Use your name: <span class="form-input-error yotpo-hidden"></span></label> <input id="yotpo_input_question_username" class="y-input" autocomplete="your-user-name" name="display_name" maxlength="40" aria-required="true" placeholder=""/> </div> <div class="form-element email-input visible" style="display: inherit;"> <label class="y-label" for="yotpo_input_question_email"><span class="yotpo-mandatory-mark">* </span>Email: <span class="form-input-error yotpo-hidden"></span></label> <input id="yotpo_input_question_email" class="y-input" autocomplete="your-email" name="email" aria-required="true" placeholder=""/> </div> <div class="yotpo-clr"></div> </div> </div> <div class="form-element submit-button"> <span class="form-input-error yotpo-hidden"></span> <input type="button" class="yotpo-default-button primary-color-btn yotpo-submit" aria-disabled="true" data-button-type="submit" value="Post"/> </div> <div class="yotpo-clr"></div> </div> </div> </form> <div class="yotpo-messages"> <div class="yotpo-thank-you yotpo-hidden" data-type="pending-for-question-approval"> <div class="yotpo-icon-btn transparent-color-btn"><span class="yotpo-icon yotpo-icon-cross"></span></div> <div class="yotpo-thankyou-header text-3xl"> <span class="yotpo-icon yotpo-icon-heart"></span> <span>Thank you for posting a question!</span> </div> <div class="yotpo-thankyou-content"> <span class="yotpo-thankyou-confirmation" data-type="question-approval">Please click on the link in the confirmation email we just sent you to submit your question.<br/></br/></span> <span class="yotpo-thankyou-publish">Your question will appear on the site once someone answers it.</span> </div> </div> </div> <div class="new-yotpo-small-box reviews 0"> <div class="yotpo-nav yotpo-nav-primary" role="tablist" tabindex="-1"> <ul> <li class="yotpo-nav-tab yotpo-active" data-type="reviews" data-content="yotpo-reviews-4bc260c8-b749-4a2c-a582-98900d9ef4d2 yotpo-reviews-header-4bc260c8-b749-4a2c-a582-98900d9ef4d2 yotpo-reviews-filters-4bc260c8-b749-4a2c-a582-98900d9ef4d2" aria-controls="yotpo-reviews-4bc260c8-b749-4a2c-a582-98900d9ef4d2 yotpo-reviews-header-4bc260c8-b749-4a2c-a582-98900d9ef4d2 yotpo-reviews-filters-4bc260c8-b749-4a2c-a582-98900d9ef4d2" role="tab" tabindex="0" aria-selected="true"> <div class="yotpo-nav-wrapper"> <span>REVIEWS</span> </div> </li> <li class="yotpo-nav-tab " data-type="questions" data-content="yotpo-questions-4bc260c8-b749-4a2c-a582-98900d9ef4d2" aria-controls="yotpo-questions-4bc260c8-b749-4a2c-a582-98900d9ef4d2" role="tab" tabindex="0" aria-selected="false"> <div class="yotpo-nav-wrapper"> <span>QUESTIONS</span> </div> </li> </ul> <span class="mobile-clear-filters-btn yotpo-hidden">Clear All</span> <div class="yotpo-clr"></div> </div> </div> <div class="yotpo-nav-content"> <div class="yotpo-reviews-filters yotpo-active" id="yotpo-reviews-filters-4bc260c8-b749-4a2c-a582-98900d9ef4d2" role="tabpanel"> <div class="filters-container"> <div class="filters-container-title" role="heading" aria-level="2"> Filter Reviews </div> <div class="free-text-search"> <span class="yotpo-icon yotpo-icon-magnifying-glass magnifying-glass-icon"></span> <input type="search" placeholder="Search Reviews" class="free-text-search-input" maxlength="120" id="yotpo_input_free_text_search"> <label class="sr-only" for="yotpo_input_free_text_search">Search Reviews</label> <span class="yotpo-icon yotpo-icon-clear-text-search clear-text-icon"></span> </div> <div class="suggested-topics"> <div id="suggested-topics-desktop-layout"> <div class="suggested-topics-component"> <div class="suggested-topics-row " role="radiogroup"> <span class="suggested-topic " aria-checked="false" aria-label="Quality Filter" role="radio" tabindex="0"> <span class="suggested-topic-text"> Quality </span> </span> <span class="suggested-topic " aria-checked="false" aria-label="Shipping Filter" role="radio" tabindex="0"> <span class="suggested-topic-text"> Shipping </span> </span> <span class="suggested-topic " aria-checked="false" aria-label="Customer Service Filter" role="radio" tabindex="0"> <span class="suggested-topic-text"> Customer Service </span> </span> <span class="suggested-topic " aria-checked="false" aria-label="Allergies Filter" role="radio" tabindex="0"> <span class="suggested-topic-text"> Allergies </span> </span> <span class="suggested-topic " aria-checked="false" aria-label="Box Filter" role="radio" tabindex="0"> <span class="suggested-topic-text"> Box </span> </span> <span class="suggested-topic " aria-checked="false" aria-label="Looks Filter" role="radio" tabindex="0"> <span class="suggested-topic-text"> Looks </span> </span> </div> <div class="suggested-topics-row " role="radiogroup"> <span class="suggested-topic " aria-checked="false" aria-label="Packaging Filter" role="radio" tabindex="0"> <span class="suggested-topic-text"> Packaging </span> </span> <span class="suggested-topic " aria-checked="false" aria-label="Dog Filter" role="radio" tabindex="0"> <span class="suggested-topic-text"> Dog </span> </span> <span class="suggested-topic " aria-checked="false" aria-label="Stools Filter" role="radio" tabindex="0"> <span class="suggested-topic-text"> Stools </span> </span> <span class="suggested-topic " aria-checked="false" aria-label="Issues Filter" role="radio" tabindex="0"> <span class="suggested-topic-text"> Issues </span> </span> <span class="suggested-topic " aria-checked="false" aria-label="Ingredients Filter" role="radio" tabindex="0"> <span class="suggested-topic-text"> Ingredients </span> </span> <span class="suggested-topic yotpo-hidden" aria-checked="false" aria-label="Skin Filter" role="radio" tabindex="0"> <span class="suggested-topic-text"> Skin </span> </span> <span class="suggested-topic-expand suggested-topic" role="button" tabindex="0" aria-label="More Topics" aria-expanded="false"> <span class="suggested-topic-text">...</span> </span> </div> <div class="suggested-topics-row yotpo-hidden" role="radiogroup"> <span class="suggested-topic " aria-checked="false" aria-label="Puppy Filter" role="radio" tabindex="0"> <span class="suggested-topic-text"> Puppy </span> </span> <span class="suggested-topic " aria-checked="false" aria-label="Brand Filter" role="radio" tabindex="0"> <span class="suggested-topic-text"> Brand </span> </span> <span class="suggested-topic " aria-checked="false" aria-label="Bowl Filter" role="radio" tabindex="0"> <span class="suggested-topic-text"> Bowl </span> </span> <span class="suggested-topic " aria-checked="false" aria-label="Energy Filter" role="radio" tabindex="0"> <span class="suggested-topic-text"> Energy </span> </span> <span class="suggested-topic " aria-checked="false" aria-label="Pup Filter" role="radio" tabindex="0"> <span class="suggested-topic-text"> Pup </span> </span> <span class="suggested-topic " aria-checked="false" aria-label="System Filter" role="radio" tabindex="0"> <span class="suggested-topic-text"> System </span> </span> </div> <div class="suggested-topics-row yotpo-hidden" role="radiogroup"> <span class="suggested-topic " aria-checked="false" aria-label="Price Filter" role="radio" tabindex="0"> <span class="suggested-topic-text"> Price </span> </span> <span class="suggested-topic " aria-checked="false" aria-label="Help Filter" role="radio" tabindex="0"> <span class="suggested-topic-text"> Help </span> </span> <span class="suggested-topic " aria-checked="false" aria-label="Flavor Filter" role="radio" tabindex="0"> <span class="suggested-topic-text"> Flavor </span> </span> <span class="suggested-topic " aria-checked="false" aria-label="Variety Filter" role="radio" tabindex="0"> <span class="suggested-topic-text"> Variety </span> </span> <span class="suggested-topic " aria-checked="false" aria-label="Recipe Filter" role="radio" tabindex="0"> <span class="suggested-topic-text"> Recipe </span> </span> <span class="suggested-topic " aria-checked="false" aria-label="Option Filter" role="radio" tabindex="0"> <span class="suggested-topic-text"> Option </span> </span> </div> </div> </div> <div id="suggested-topics-mobile-layout"> <div class="suggested-topics-component"> <div class="suggested-topics-row " role="radiogroup"> <span class="suggested-topic " aria-checked="false" aria-label="Quality Filter" role="radio" tabindex="0"> <span class="suggested-topic-text"> Quality </span> </span> <span class="suggested-topic " aria-checked="false" aria-label="Shipping Filter" role="radio" tabindex="0"> <span class="suggested-topic-text"> Shipping </span> </span> <span class="suggested-topic yotpo-hidden" aria-checked="false" aria-label="Customer Service Filter" role="radio" tabindex="0"> <span class="suggested-topic-text"> Customer Service </span> </span> <span class="suggested-topic-expand suggested-topic" role="button" tabindex="0" aria-label="More Topics" aria-expanded="false"> <span class="suggested-topic-text">...</span> </span> </div> <div class="suggested-topics-row yotpo-hidden" role="radiogroup"> <span class="suggested-topic " aria-checked="false" aria-label="Allergies Filter" role="radio" tabindex="0"> <span class="suggested-topic-text"> Allergies </span> </span> <span class="suggested-topic " aria-checked="false" aria-label="Box Filter" role="radio" tabindex="0"> <span class="suggested-topic-text"> Box </span> </span> <span class="suggested-topic " aria-checked="false" aria-label="Looks Filter" role="radio" tabindex="0"> <span class="suggested-topic-text"> Looks </span> </span> </div> </div> </div> </div> <div class="yotpo-visible-mobile mobile-more-filters-container"> <div class="yotpo-icon-btn more-filters-btn"> <span class="more-filters-icon yotpo-icon yotpo-icon-fine-tune"></span> <span class="more-filters-text">More Filters</span> </div> <div class="yotpo-filter-tag yotpo-icon-btn yotpo-hidden"> <span class="yotpo-icon yotpo-icon-cross"></span> <span class="filter-tag-text"></span> </div> <div class="yotpo yotpo-display-wrapper mobile-filters-modal"> <div class="yotpo-modal-base"> <div class="yotpo-modal-mask"></div> <div class="yotpo-modal-dialog"> <div class="yotpo-modal-content"> <div class="yotpo-display-wrapper"> <div class="mobile-filters-modal-title"> <span class="yotpo-icon yotpo-icon-cross"></span> <span class="title-text">FILTERS</span> <span class="mobile-clear-all-btn">Clear All</span> </div> <div class="mobile-filters-container"> <div class="mobile-single-filter" name="radio-score-19472ffb-86d4-44d7-83a1-c1354469425e" data-type="scores"> <div class="mobile-filter-title">Rating</div> <div class="mobile-filter-radio-buttons"> <fieldset> <legend>Scores filter</legend> <div class="mobile-filter-radio-button"> <input id="radio-score-all" name="radio-score-19472ffb-86d4-44d7-83a1-c1354469425e" type="radio" data-value="All" checked> <span for="radio-score-all" class="radio-label radio-text-option radio-selected-color">All</span> <label class="sr-only" for="radio-score-all">Score all</label> </div> <div class="mobile-filter-radio-button"> <input id="radio-score-5" name="radio-score-19472ffb-86d4-44d7-83a1-c1354469425e" type="radio" data-value="5"> <span for="radio-score-5" class="radio-label"> <span class="yotpo-filter-stars"> <span class="yotpo-icon yotpo-icon-star rating-star radio-non-selected-color"></span><span class="yotpo-icon yotpo-icon-star rating-star radio-non-selected-color"></span><span class="yotpo-icon yotpo-icon-star rating-star radio-non-selected-color"></span><span class="yotpo-icon yotpo-icon-star rating-star radio-non-selected-color"></span><span class="yotpo-icon yotpo-icon-star rating-star radio-non-selected-color"></span><span class="sr-only">5.0 star rating</span> </span> </span> <label class="sr-only" for="radio-score-5">Score 5</label> </div> <div class="mobile-filter-radio-button"> <input id="radio-score-4" name="radio-score-19472ffb-86d4-44d7-83a1-c1354469425e" type="radio" data-value="4"> <span for="radio-score-4" class="radio-label"> <span class="yotpo-filter-stars"> <span class="yotpo-icon yotpo-icon-star rating-star radio-non-selected-color"></span><span class="yotpo-icon yotpo-icon-star rating-star radio-non-selected-color"></span><span class="yotpo-icon yotpo-icon-star rating-star radio-non-selected-color"></span><span class="yotpo-icon yotpo-icon-star rating-star radio-non-selected-color"></span><span class="yotpo-icon yotpo-icon-empty-star rating-star radio-non-selected-color"></span><span class="sr-only">4.0 star rating</span> </span> </span> <label class="sr-only" for="radio-score-4">Score 4</label> </div> <div class="mobile-filter-radio-button"> <input id="radio-score-3" name="radio-score-19472ffb-86d4-44d7-83a1-c1354469425e" type="radio" data-value="3"> <span for="radio-score-3" class="radio-label"> <span class="yotpo-filter-stars"> <span class="yotpo-icon yotpo-icon-star rating-star radio-non-selected-color"></span><span class="yotpo-icon yotpo-icon-star rating-star radio-non-selected-color"></span><span class="yotpo-icon yotpo-icon-star rating-star radio-non-selected-color"></span><span class="yotpo-icon yotpo-icon-empty-star rating-star radio-non-selected-color"></span><span class="yotpo-icon yotpo-icon-empty-star rating-star radio-non-selected-color"></span><span class="sr-only">3.0 star rating</span> </span> </span> <label class="sr-only" for="radio-score-3">Score 3</label> </div> <div class="mobile-filter-radio-button"> <input id="radio-score-2" name="radio-score-19472ffb-86d4-44d7-83a1-c1354469425e" type="radio" data-value="2"> <span for="radio-score-2" class="radio-label"> <span class="yotpo-filter-stars"> <span class="yotpo-icon yotpo-icon-star rating-star radio-non-selected-color"></span><span class="yotpo-icon yotpo-icon-star rating-star radio-non-selected-color"></span><span class="yotpo-icon yotpo-icon-empty-star rating-star radio-non-selected-color"></span><span class="yotpo-icon yotpo-icon-empty-star rating-star radio-non-selected-color"></span><span class="yotpo-icon yotpo-icon-empty-star rating-star radio-non-selected-color"></span><span class="sr-only">2.0 star rating</span> </span> </span> <label class="sr-only" for="radio-score-2">Score 2</label> </div> <div class="mobile-filter-radio-button"> <input id="radio-score-1" name="radio-score-19472ffb-86d4-44d7-83a1-c1354469425e" type="radio" data-value="1"> <span for="radio-score-1" class="radio-label"> <span class="yotpo-filter-stars"> <span class="yotpo-icon yotpo-icon-star rating-star radio-non-selected-color"></span><span class="yotpo-icon yotpo-icon-empty-star rating-star radio-non-selected-color"></span><span class="yotpo-icon yotpo-icon-empty-star rating-star radio-non-selected-color"></span><span class="yotpo-icon yotpo-icon-empty-star rating-star radio-non-selected-color"></span><span class="yotpo-icon yotpo-icon-empty-star rating-star radio-non-selected-color"></span><span class="sr-only">1.0 star rating</span> </span> </span> <label class="sr-only" for="radio-score-1">Score 1</label> </div> </fieldset> </div> </div> <div class="mobile-single-filter" name="radio-images-19472ffb-86d4-44d7-83a1-c1354469425e" data-type="images"> <div class="mobile-filter-title">Reviews</div> <div class="mobile-filter-radio-buttons"> <fieldset> <legend>Images filter</legend> <div class="mobile-filter-radio-button"> <input id="radio-images-all-reviews" name="radio-images-19472ffb-86d4-44d7-83a1-c1354469425e" type="radio" data-value="All" checked> <span for="radio-images-all-reviews" class="radio-label radio-text-option radio-selected-color">All</span> <label class="sr-only" for="radio-images-all-reviews">All reviews</label> </div> <div class="mobile-filter-radio-button"> <input id="radio-images-only" name="radio-images-19472ffb-86d4-44d7-83a1-c1354469425e" type="radio" data-value="With Images &amp; Videos"> <span for="radio-images-only" class="radio-label radio-text-option radio-non-selected-color">With Images &amp; Videos</span> <label class="sr-only" for="radio-images-only">Images only</label> </div> </fieldset> </div> </div> </div> <div class="mobile-filters-footer-btn"> <div class="footer-text"> Show 284 Reviews </div> </div> </div> </div> </div> </div> </div> </div> <div class="yotpo-hidden-mobile"> <div class="dropdown-filters-container yotpo-drop-down-layout"> <span class="filters-dropdown" data-type="scores" data-value="All" data-default-button-display-value="Rating" data-default-sort-name="All" data-question-id="" data-analytic-category="reviews" data-analytic-label="scores"> <div class="yotpo-dropdown-button" tabindex="0" aria-expanded="false" role="button" aria-haspopup="true" aria-label="Rating Filter"> <span class="selected " data-selected-key="All">Rating</span> <span class="yotpo-icon yotpo-icon-down-triangle"></span> </div> <ul class="yotpo-dropdown list-categories" role="listbox"> <li class="list-category" role="option" aria-selected="false" data-value="All" data-answer-id="101b95ff-6be9-4b0c-a2c3-b687f238a9fd" data-type="scores" sort-name="All" data-is-default-answer="true" data-analytic-property="All"> <a class="selected-item" tabindex="0">All</a> </li> <li class="list-category" role="option" aria-selected="false" data-value="5" data-answer-id="57f8e629-c259-45d1-adc3-6c3a857ed473" data-type="scores" sort-name="5" data-is-default-answer="false" data-analytic-property="5"> <span class='yotpo-filter-stars' tabindex="0"> <span class="yotpo-icon yotpo-icon-star rating-star non-selected-star pull-left"></span><span class="yotpo-icon yotpo-icon-star rating-star non-selected-star pull-left"></span><span class="yotpo-icon yotpo-icon-star rating-star non-selected-star pull-left"></span><span class="yotpo-icon yotpo-icon-star rating-star non-selected-star pull-left"></span><span class="yotpo-icon yotpo-icon-star rating-star non-selected-star pull-left"></span><span class="sr-only">5.0 star rating</span> </span> </li> <li class="list-category" role="option" aria-selected="false" data-value="4" data-answer-id="27fbe80d-808a-4410-a51b-7a8dac56d0e1" data-type="scores" sort-name="4" data-is-default-answer="false" data-analytic-property="4"> <span class='yotpo-filter-stars' tabindex="0"> <span class="yotpo-icon yotpo-icon-star rating-star non-selected-star pull-left"></span><span class="yotpo-icon yotpo-icon-star rating-star non-selected-star pull-left"></span><span class="yotpo-icon yotpo-icon-star rating-star non-selected-star pull-left"></span><span class="yotpo-icon yotpo-icon-star rating-star non-selected-star pull-left"></span><span class="yotpo-icon yotpo-icon-empty-star rating-star non-selected-star pull-left"></span><span class="sr-only">4.0 star rating</span> </span> </li> <li class="list-category" role="option" aria-selected="false" data-value="3" data-answer-id="02474834-1dbd-44f5-b7a4-a588c0ffc50a" data-type="scores" sort-name="3" data-is-default-answer="false" data-analytic-property="3"> <span class='yotpo-filter-stars' tabindex="0"> <span class="yotpo-icon yotpo-icon-star rating-star non-selected-star pull-left"></span><span class="yotpo-icon yotpo-icon-star rating-star non-selected-star pull-left"></span><span class="yotpo-icon yotpo-icon-star rating-star non-selected-star pull-left"></span><span class="yotpo-icon yotpo-icon-empty-star rating-star non-selected-star pull-left"></span><span class="yotpo-icon yotpo-icon-empty-star rating-star non-selected-star pull-left"></span><span class="sr-only">3.0 star rating</span> </span> </li> <li class="list-category" role="option" aria-selected="false" data-value="2" data-answer-id="3266daab-dab8-47a0-b28c-9cd94cafc75c" data-type="scores" sort-name="2" data-is-default-answer="false" data-analytic-property="2"> <span class='yotpo-filter-stars' tabindex="0"> <span class="yotpo-icon yotpo-icon-star rating-star non-selected-star pull-left"></span><span class="yotpo-icon yotpo-icon-star rating-star non-selected-star pull-left"></span><span class="yotpo-icon yotpo-icon-empty-star rating-star non-selected-star pull-left"></span><span class="yotpo-icon yotpo-icon-empty-star rating-star non-selected-star pull-left"></span><span class="yotpo-icon yotpo-icon-empty-star rating-star non-selected-star pull-left"></span><span class="sr-only">2.0 star rating</span> </span> </li> <li class="list-category" role="option" aria-selected="false" data-value="1" data-answer-id="a5693e51-382a-4e37-b4be-3eccd78064b4" data-type="scores" sort-name="1" data-is-default-answer="false" data-analytic-property="1"> <span class='yotpo-filter-stars' tabindex="0"> <span class="yotpo-icon yotpo-icon-star rating-star non-selected-star pull-left"></span><span class="yotpo-icon yotpo-icon-empty-star rating-star non-selected-star pull-left"></span><span class="yotpo-icon yotpo-icon-empty-star rating-star non-selected-star pull-left"></span><span class="yotpo-icon yotpo-icon-empty-star rating-star non-selected-star pull-left"></span><span class="yotpo-icon yotpo-icon-empty-star rating-star non-selected-star pull-left"></span><span class="sr-only">1.0 star rating</span> </span> </li> </ul> </span> <span class="filters-dropdown" data-type="images" data-value="All" data-default-button-display-value="Images &amp; Videos" data-default-sort-name="All" data-question-id="" data-analytic-category="reviews" data-analytic-label="images"> <div class="yotpo-dropdown-button" tabindex="0" aria-expanded="false" role="button" aria-haspopup="true" aria-label="Images &amp; Videos Filter"> <span class="selected " data-selected-key="All">Images &amp; Videos</span> <span class="yotpo-icon yotpo-icon-down-triangle"></span> </div> <ul class="yotpo-dropdown list-categories" role="listbox"> <li class="list-category" role="option" aria-selected="false" data-value="All" data-answer-id="c14daecb-4e0e-4505-b35e-a3dd8c4fad07" data-type="images" sort-name="All" data-is-default-answer="true" data-analytic-property="All"> <a class="selected-item" tabindex="0">All</a> </li> <li class="list-category" role="option" aria-selected="false" data-value="With Images &amp; Videos" data-answer-id="f1011961-c277-4aea-86c4-86db9b58f0e0" data-type="images" sort-name="With Images &amp; Videos" data-is-default-answer="false" data-analytic-property="With Images &amp; Videos"> <a class="non-selected-item" tabindex="0">With Images &amp; Videos</a> </li> </ul> </span> </div> </div> <div class="yotpo-default-button yotpo-icon-btn desktop-clear-all-btn yotpo-hidden" role="button" tabindex="0"> <span class="desktop-clear-btn-text">Clear All</span> </div> </div> </div> <div class="yotpo-reviews-header yotpo-active" id="yotpo-reviews-header-4bc260c8-b749-4a2c-a582-98900d9ef4d2" role="tabpanel"> <div class="reviews-header"> <span class="reviews-amount" aria-level="2"> 284 Reviews </span> <div class="yotpo-drop-down-layout"> <div class="sort-drop-down yotpo-nav-dropdown sorting" data-default-button-display-value="Select" data-type="sort direction" data-value="reviewer_type desc" data-analytic-category="reviews" data-analytic-label="sort_dropdown"> <div class="yotpo-dropdown-button" tabindex="0" aria-haspopup="true" aria-expanded="false"> <span>Sort:</span> <span class="selected-bold selected pL0" data-selected-key="Select">Select</span> <span class="yotpo-icon yotpo-icon-down-triangle bold-black-arrow pL0"></span> </div> <ul class="yotpo-dropdown list-categories"> <li class="list-category default-option" data-type="sorts" data-value="Select" data-ascending="false" sort-name="Select" data-is-default-answer="true" data-analytic-property="default" tabindex="0"> <a class="selected-item" tabindex="0">Select</a> </li> <li class="list-category " data-type="sorts" data-value="date" data-ascending="false" sort-name="newest" data-is-default-answer="false" data-analytic-property="newest" tabindex="0"> <a class="non-selected-item" tabindex="0">Newest</a> </li> <li class="list-category " data-type="sorts" data-value="score" data-ascending="false" sort-name="highest_rating" data-is-default-answer="false" data-analytic-property="highest_rating" tabindex="0"> <a class="non-selected-item" tabindex="0">Highest Rating</a> </li> <li class="list-category " data-type="sorts" data-value="score" data-ascending="true" sort-name="lowest_rating" data-is-default-answer="false" data-analytic-property="lowest_rating" tabindex="0"> <a class="non-selected-item" tabindex="0">Lowest Rating</a> </li> <li class="list-category " data-type="sorts" data-value="votes_up" data-ascending="false" sort-name="most_helpful" data-is-default-answer="false" data-analytic-property="most_helpful" tabindex="0"> <a class="non-selected-item" tabindex="0">Most Votes</a> </li> <li class="list-category " data-type="sorts" data-value="votes_down" data-ascending="false" sort-name="least_helpful" data-is-default-answer="false" data-analytic-property="least_helpful" tabindex="0"> <a class="non-selected-item" tabindex="0">Least Votes</a> </li> </ul> </div> </div> </div> </div> <div class="search-in-progress"> <div class="search-in-progress-text font-color-gray" role="status" aria-live="polite"> Updating Results </div> <div class="yotpo-spinner"> <div class="sk-spinner sk-spinner-three-bounce"> <div class="sk-bounce1"></div> <div class="sk-bounce2"></div> <div class="sk-bounce3"></div> </div> </div> </div> <div class="yotpo-reviews yotpo-active" id="yotpo-reviews-4bc260c8-b749-4a2c-a582-98900d9ef4d2" data-host-widget="main_widget" role="tabpanel"> <div class="yotpo-preloader-wrapper"> <div class="yotpo yotpo-pre-loader"> <span class="yotpo-empty-stars"> <span class="yotpo-icon yotpo-icon-empty-star"></span> <span class="yotpo-icon yotpo-icon-empty-star"></span> <span class="yotpo-icon yotpo-icon-empty-star"></span> <span class="yotpo-icon yotpo-icon-empty-star"></span> <span class="yotpo-icon yotpo-icon-empty-star"></span> </span> <span class="yotpo-full-stars"> <span class="yotpo-icon yotpo-icon-star"></span> <span class="yotpo-icon yotpo-icon-star"></span> <span class="yotpo-icon yotpo-icon-star"></span> <span class="yotpo-icon yotpo-icon-star"></span> <span class="yotpo-icon yotpo-icon-star"></span> </span> </div> </div> <div class="yotpo-review yotpo-regular-box yotpo-hidden yotpo-template" data-review-id="0"> <div class="yotpo-header yotpo-verified-user "> <span class="yotpo-icon-profile yotpo-header-element pull-left"> <span class="yotpo-user-letter"></span> <span class="yotpo-icon yotpo-icon-circle-checkmark yotpo-action-hover" data-type="toggleFade" data-target="yotpo-tool-tip" data-target-container="yotpo-header"></span> </span> <div class="yotpo-header-element "> <span class="y-label yotpo-user-name yotpo-font-bold pull-left" aria-level="3"></span> <div class="label-with-tooltip pull-left" aria-level="3"> <span class="y-label yotpo-user-title yotpo-action-hover" data-type="toggleFade" data-target="yotpo-tool-tip" >Verified Reviewer</span> </div> <div class="yotpo-clr"></div> <span class="yotpo-review-stars "> <span class="yotpo-icon yotpo-icon-empty-star rating-star pull-left"></span><span class="yotpo-icon yotpo-icon-empty-star rating-star pull-left"></span><span class="yotpo-icon yotpo-icon-empty-star rating-star pull-left"></span><span class="yotpo-icon yotpo-icon-empty-star rating-star pull-left"></span><span class="yotpo-icon yotpo-icon-empty-star rating-star pull-left"></span><span class="sr-only">0.0 star rating</span> <div class="yotpo-clr"></div> <div class="yotpo-user-related-fields"> <div class="yotpo-user-field yotpo-template-field yotpo-hidden"> <span class="yotpo-user-field-description yotpo-field-description text-s"></span> <span class="yotpo-user-field-answer yotpo-field-answer text-s"></span> </div> <div class="yotpo-clr"></div> </div> </span> <div class="yotpo-clr"></div> </div> <div class="yotpo-header-element yotpo-header-actions "> <span class="y-label yotpo-review-date">09/23/20</span> </div> </div> <div class="yotpo-main "> <div class="yotpo-multiple-rating-fields"> <div class="yotpo-user-related-fields"> <div class="yotpo-user-field yotpo-template-field yotpo-hidden"> <span class="yotpo-user-field-description yotpo-field-description text-s"></span> <span class="yotpo-user-field-answer yotpo-field-answer text-s"></span> </div> <div class="yotpo-clr"></div> </div> <div class="yotpo-product-custom-fields"> <div class="yotpo-product-related-fields"> <div class="yotpo-product-related-fields-wrapper"> <div class="aggregated-product-related-fields"> <div class="product-related-fields-desktop-layout"> <div class="product-related-fields-column"> <div class="product-related-fields-item yotpo-template-field yotpo-hidden"> <div class="product-related-fields-item-title font-color-gray text-s"></div> <div class="product-related-fields-item-value"> <div class="yotpo-field-bars-container"> <div class="yotpo-rating-bars yotpo-template-field yotpo-hidden"> <div class="yotpo-product-related-field-score-bar"></div> <div class="yotpo-product-related-field-score-divider"></div> <div class="yotpo-product-related-field-score-bar"></div> <div class="yotpo-product-related-field-score-divider"></div> <div class="yotpo-product-related-field-score-bar"></div> <div class="yotpo-product-related-field-score-divider"></div> <div class="yotpo-product-related-field-score-bar"></div> <div class="yotpo-product-related-field-score-divider"></div> <div class="yotpo-product-related-field-score-bar"></div> <div class="yotpo-clr"></div> </div> <span class='sr-only'>0 of 5 rating</span> </div> </div> </div> </div> <div class="product-related-fields-column"> <div class="product-related-fields-item yotpo-template-field yotpo-hidden"> <div class="product-related-fields-item-title font-color-gray text-s"></div> <div class="product-related-fields-item-value"> <div class="yotpo-field-bars-container"> <div class="yotpo-rating-bars yotpo-template-field yotpo-hidden"> <div class="yotpo-product-related-field-score-bar"></div> <div class="yotpo-product-related-field-score-divider"></div> <div class="yotpo-product-related-field-score-bar"></div> <div class="yotpo-product-related-field-score-divider"></div> <div class="yotpo-product-related-field-score-bar"></div> <div class="yotpo-product-related-field-score-divider"></div> <div class="yotpo-product-related-field-score-bar"></div> <div class="yotpo-product-related-field-score-divider"></div> <div class="yotpo-product-related-field-score-bar"></div> <div class="yotpo-clr"></div> </div> <span class='sr-only'>0 of 5 rating</span> </div> </div> </div> </div> <div class="product-related-fields-column"> <div class="product-related-fields-item yotpo-template-field yotpo-hidden"> <div class="product-related-fields-item-title font-color-gray text-s"></div> <div class="product-related-fields-item-value"> <div class="yotpo-field-bars-container"> <div class="yotpo-rating-bars yotpo-template-field yotpo-hidden"> <div class="yotpo-product-related-field-score-bar"></div> <div class="yotpo-product-related-field-score-divider"></div> <div class="yotpo-product-related-field-score-bar"></div> <div class="yotpo-product-related-field-score-divider"></div> <div class="yotpo-product-related-field-score-bar"></div> <div class="yotpo-product-related-field-score-divider"></div> <div class="yotpo-product-related-field-score-bar"></div> <div class="yotpo-product-related-field-score-divider"></div> <div class="yotpo-product-related-field-score-bar"></div> <div class="yotpo-clr"></div> </div> <span class='sr-only'>0 of 5 rating</span> </div> </div> </div> </div> </div> <div class="product-related-fields-mobile-layout"> <div class="product-related-fields-column"> <div class="product-related-fields-item yotpo-template-field yotpo-hidden"> <div class="product-related-fields-item-title font-color-gray text-s"></div> <div class="product-related-fields-item-value"> <div class="yotpo-field-bars-container"> <div class="yotpo-rating-bars yotpo-template-field yotpo-hidden"> <div class="yotpo-product-related-field-score-bar"></div> <div class="yotpo-product-related-field-score-divider"></div> <div class="yotpo-product-related-field-score-bar"></div> <div class="yotpo-product-related-field-score-divider"></div> <div class="yotpo-product-related-field-score-bar"></div> <div class="yotpo-product-related-field-score-divider"></div> <div class="yotpo-product-related-field-score-bar"></div> <div class="yotpo-product-related-field-score-divider"></div> <div class="yotpo-product-related-field-score-bar"></div> <div class="yotpo-clr"></div> </div> <span class='sr-only'>0 of 5 rating</span> </div> </div> </div> </div> </div> <div class="yotpo-clr"></div> </div> <div class="yotpo-clr"></div> </div> </div> </div> </div> <div class="content-title yotpo-font-bold" role="heading" aria-level="3"> </div> <div class="yotpo-clr"></div> <div class="yotpo-review-wrapper"> <span class=sr-only id="-ada-summary-text">Review by Anonymous User </span> <span class=sr-only id="-ada-title-text"></span> <div class="content-review" id=""> </div> </div> <div class="yotpo-clr"></div> <div class="yotpo-multiple-rating-fields"> <div class="yotpo-open-question-fields"> <div class="yotpo-question-field yotpo-template-field yotpo-hidden"> <div class="yotpo-question-field-description yotpo-field-description"></div> <div class="yotpo-question-field-answer yotpo-field-answer"></div> </div> <div class="yotpo-clr"></div> </div> </div> <a class="product-link-wrapper " aria-label="Product " aria-hidden="true" tabindex="-1" href="" target="_blank" rel="nofollow"> <div data-product-id="" class="y-label product-link"> On </div> </a> </div> <div class="yotpo-footer "> <div class="footer-actions"> <span class="yotpo-action" data-type="toggleFade" data-target="share-review" aria-labelledby="review-1600833810.887011" role="button" tabindex="0" aria-expanded="false"> <span class="yotpo-icon yotpo-icon-share"></span> <span class="y-label">share</span> <span class="yotpo-icon yotpo-icon-seperator"></span> </span> <span class="sr-only" id="review-1600833810.887011">' Share Review by Anonymous User </span> <span class="share-options-wrapper"> <span role="list" class="share-options share-review"> <span role="listitem" data-social="facebook"> <span class="y-label yotpo-action"> <a class="social-link popup-link" data-network="facebook" href="https://www.facebook.com/dialog/feed?app_id=226132034107547&aria_labelled_by=facebook-review-1600833810.887011&display=popup&link=http%3A%2F%2Freviews.me%2Ffacebook_post%3Fimage_url%3D%26product_url%3D%26review%3D%26social_title%3D&redirect_uri=http%3A%2F%2Fmy.yotpo.com%2Fshares%3Freview_id%3D"><i class="facebook share" aria-labelledby="facebook-review-1600833810.887011">facebook</i></a> </span> <span class="sr-only" id="facebook-review-1600833810.887011">facebook Share Review by Anonymous User </span> <span class="yotpo-icon yotpo-icon-dot"></span> </span> <span role="listitem" data-social="twitter"> <span class="y-label yotpo-action"> <a class="social-link popup-link" data-network="twitter" href="https://twitter.com/intent/tweet?aria_labelled_by=twitter-review-1600833810.887011&via=yotpo"><i class="twitter share" aria-labelledby="twitter-review-1600833810.887011">twitter</i></a> </span> <span class="sr-only" id="twitter-review-1600833810.887011">twitter Share Review by Anonymous User </span> <span class="yotpo-icon yotpo-icon-dot"></span> </span> <span role="listitem" data-social="linkedin"> <span class="y-label yotpo-action"> <a class="social-link popup-link" data-network="LinkedIn" href="https://www.linkedin.com/shareArticle?aria_labelled_by=linkedin-review-1600833810.887011&mini=true&source=Yotpo&summary=&title="><i class="LinkedIn share" aria-labelledby="linkedin-review-1600833810.887011">LinkedIn</i></a> </span> <span class="sr-only" id="linkedin-review-1600833810.887011">linkedin Share Review by Anonymous User </span> <span class="yotpo-icon yotpo-icon-separator"></span> </span> <span class="yotpo-icon yotpo-icon-seperator"></span> </span> </span> </div> <div class="footer-additional-actions"> <span class="y-label yotpo-review-date">09/23/20</span> </div> <div class="yotpo-helpful" role="group"> <span class="y-label label-helpful" id=label-helpful-id->Was this review helpful?</span> <div class="yotpo-icon-btn-small transparent-color-btn vote-btn" data-type="up" role="button" aria-describedby=label-helpful-id- aria-label="vote up Review by Anonymous User " tabindex="0"> <span class="yotpo-icon yotpo-icon-thumbs-up"></span> </div> <span class="y-label yotpo-sum vote-sum" aria-live="polite" aria-atomic="false" data-type="up">0</span> <div class="yotpo-icon-btn-small transparent-color-btn vote-btn" data-type="down" role="button" aria-describedby=label-helpful-id- aria-label="vote down Review by Anonymous User " tabindex="0"> <span class="yotpo-icon yotpo-icon-thumbs-down"></span> </div> <span class="y-label yotpo-sum vote-sum" aria-live="polite" aria-atomic="false" data-type="down">0</span> </div> <div class="yotpo-clr"></div> </div> </div> <div class="total-reviews-search" total-reviews-search="284"></div> <div class="yotpo-review yotpo-regular-box yotpo-regular-box-filters-padding " data-review-id="182610293"> <div class="yotpo-header yotpo-verified-buyer "> <span class="yotpo-icon-profile yotpo-header-element pull-left"> <span class="yotpo-user-letter">K</span> <span class="yotpo-icon yotpo-icon-circle-checkmark yotpo-action-hover" data-type="toggleFade" data-target="yotpo-tool-tip" data-target-container="yotpo-header"></span> </span> <div class="yotpo-header-element "> <span class="y-label yotpo-user-name yotpo-font-bold pull-left" aria-level="3">Karin C.</span> <div class="label-with-tooltip pull-left" aria-level="3"> <span class="y-label yotpo-user-title yotpo-action-hover" data-type="toggleFade" data-target="yotpo-tool-tip" aria-describedby=182610293>Verified Buyer</span> </div> <div class="yotpo-clr"></div> <span class="yotpo-review-stars "> <span class="yotpo-icon yotpo-icon-star rating-star pull-left"></span><span class="yotpo-icon yotpo-icon-star rating-star pull-left"></span><span class="yotpo-icon yotpo-icon-star rating-star pull-left"></span><span class="yotpo-icon yotpo-icon-star rating-star pull-left"></span><span class="yotpo-icon yotpo-icon-star rating-star pull-left"></span><span class="sr-only">5.0 star rating</span> </span> <div class="yotpo-clr"></div> </div> <div class="yotpo-header-element yotpo-header-actions "> <span class="y-label yotpo-review-date">05/26/20</span> </div> </div> <div class="yotpo-main "> <div class="content-title yotpo-font-bold" role="heading" aria-level="3"> JFFD </div> <div class="yotpo-clr"></div> <div class="yotpo-review-wrapper"> <span class=sr-only id="182610293-ada-summary-text">Review by Karin C. on 26 May 2020</span> <span class=sr-only id="182610293-ada-title-text">review stating JFFD</span> <div class="content-review" id="182610293"> Great human grade food. </div> </div> <a class="product-link-wrapper " aria-label="Product Beef &amp;amp; Russet Potato" aria-hidden="true" tabindex="-1" href="https://yotpo.com/go/sikrjaK9" target="_blank" rel="nofollow"> <div data-product-id="173557879" class="y-label product-link"> On Beef &amp; Russet Potato </div> </a> </div> <div class="yotpo-footer "> <div class="footer-actions"> <span class="yotpo-action" data-type="toggleFade" data-target="share-review" aria-labelledby="review-182610293" role="button" tabindex="0" aria-expanded="false"> <span class="yotpo-icon yotpo-icon-share"></span> <span class="y-label">share</span> <span class="yotpo-icon yotpo-icon-seperator"></span> </span> <span class="sr-only" id="review-182610293">' Share Review by Karin C. on 26 May 2020 </span> <span class="share-options-wrapper"> <span role="list" class="share-options share-review"> <span role="listitem" data-social="facebook"> <span class="y-label yotpo-action"> <a class="social-link popup-link" data-network="facebook" href="https://www.facebook.com/dialog/feed?app_id=226132034107547&aria_labelled_by=facebook-review-182610293&display=popup&link=http%3A%2F%2Freviews.me%2Ffacebook_post%3Fimage_url%3Dhttps%253A%252F%252Fcdn-yotpo-images-production.yotpo.com%252FProduct%252F173557879%252F127146020%252Fsquare.png%253F1594773537%26product_url%3Dhttps%253A%252F%252Fyotpo.com%252Fgo%252FxJEALtUu%26review%3DGreat%2Bhuman%2Bgrade%2Bfood.%26social_title%3DJFFD&redirect_uri=http%3A%2F%2Fmy.yotpo.com%2Fshares%3Freview_id%3D182610293"><i class="facebook share" aria-labelledby="facebook-review-182610293">facebook</i></a> </span> <span class="sr-only" id="facebook-review-182610293">facebook Share Review by Karin C. on 26 May 2020</span> <span class="yotpo-icon yotpo-icon-dot"></span> </span> <span role="listitem" data-social="twitter"> <span class="y-label yotpo-action"> <a class="social-link popup-link" data-network="twitter" href="https://twitter.com/intent/tweet?aria_labelled_by=twitter-review-182610293&text=Great+human+grade+food.&url=https%3A%2F%2Fyotpo.com%2Fgo%2FkoH1M99c&via=yotpo"><i class="twitter share" aria-labelledby="twitter-review-182610293">twitter</i></a> </span> <span class="sr-only" id="twitter-review-182610293">twitter Share Review by Karin C. on 26 May 2020</span> <span class="yotpo-icon yotpo-icon-dot"></span> </span> <span role="listitem" data-social="linkedin"> <span class="y-label yotpo-action"> <a class="social-link popup-link" data-network="LinkedIn" href="https://www.linkedin.com/shareArticle?aria_labelled_by=linkedin-review-182610293&mini=true&source=Yotpo&summary=Great+human+grade+food.&title=JFFD&url=https%3A%2F%2Fyotpo.com%2Fgo%2F12BFmUxa"><i class="LinkedIn share" aria-labelledby="linkedin-review-182610293">LinkedIn</i></a> </span> <span class="sr-only" id="linkedin-review-182610293">linkedin Share Review by Karin C. on 26 May 2020</span> <span class="yotpo-icon yotpo-icon-separator"></span> </span> <span class="yotpo-icon yotpo-icon-seperator"></span> </span> </span> </div> <div class="footer-additional-actions"> <span class="y-label yotpo-review-date">05/26/20</span> </div> <div class="yotpo-helpful" role="group"> <span class="y-label label-helpful" id=label-helpful-id-182610293>Was this review helpful?</span> <div class="yotpo-icon-btn-small transparent-color-btn vote-btn" data-type="up" role="button" aria-describedby=label-helpful-id-182610293 aria-label="vote up Review by Karin C. on 26 May 2020" tabindex="0"> <span class="yotpo-icon yotpo-icon-thumbs-up"></span> </div> <span class="y-label yotpo-sum vote-sum" aria-live="polite" aria-atomic="false" data-type="up">0</span> <div class="yotpo-icon-btn-small transparent-color-btn vote-btn" data-type="down" role="button" aria-describedby=label-helpful-id-182610293 aria-label="vote down Review by Karin C. on 26 May 2020" tabindex="0"> <span class="yotpo-icon yotpo-icon-thumbs-down"></span> </div> <span class="y-label yotpo-sum vote-sum" aria-live="polite" aria-atomic="false" data-type="down">0</span> </div> <div class="yotpo-clr"></div> </div> </div> <div class="yotpo-review yotpo-regular-box " data-review-id="182602418"> <div class="yotpo-header yotpo-verified-buyer "> <span class="yotpo-icon-profile yotpo-header-element pull-left"> <span class="yotpo-user-letter">B</span> <span class="yotpo-icon yotpo-icon-circle-checkmark yotpo-action-hover" data-type="toggleFade" data-target="yotpo-tool-tip" data-target-container="yotpo-header"></span> </span> <div class="yotpo-header-element "> <span class="y-label yotpo-user-name yotpo-font-bold pull-left" aria-level="3">Brittany G.</span> <div class="label-with-tooltip pull-left" aria-level="3"> <span class="y-label yotpo-user-title yotpo-action-hover" data-type="toggleFade" data-target="yotpo-tool-tip" aria-describedby=182602418>Verified Buyer</span> </div> <div class="yotpo-clr"></div> <span class="yotpo-review-stars "> <span class="yotpo-icon yotpo-icon-star rating-star pull-left"></span><span class="yotpo-icon yotpo-icon-star rating-star pull-left"></span><span class="yotpo-icon yotpo-icon-star rating-star pull-left"></span><span class="yotpo-icon yotpo-icon-star rating-star pull-left"></span><span class="yotpo-icon yotpo-icon-star rating-star pull-left"></span><span class="sr-only">5.0 star rating</span> </span> <div class="yotpo-clr"></div> </div> <div class="yotpo-header-element yotpo-header-actions "> <span class="y-label yotpo-review-date">05/24/20</span> </div> </div> <div class="yotpo-main "> <div class="content-title yotpo-font-bold" role="heading" aria-level="3"> Amazing and my dog loved </div> <div class="yotpo-clr"></div> <div class="yotpo-review-wrapper"> <span class=sr-only id="182602418-ada-summary-text">Review by Brittany G. on 24 May 2020</span> <span class=sr-only id="182602418-ada-title-text">review stating Amazing and my dog loved</span> <div class="content-review" id="182602418"> Amazing and my dog loved every crumb as well after she was finished </div> </div> <a class="product-link-wrapper " aria-label="Product Beef &amp;amp; Russet Potato" aria-hidden="true" tabindex="-1" href="https://yotpo.com/go/sikrjaK9" target="_blank" rel="nofollow"> <div data-product-id="173557879" class="y-label product-link"> On Beef &amp; Russet Potato </div> </a> </div> <div class="yotpo-footer "> <div class="footer-actions"> <span class="yotpo-action" data-type="toggleFade" data-target="share-review" aria-labelledby="review-182602418" role="button" tabindex="0" aria-expanded="false"> <span class="yotpo-icon yotpo-icon-share"></span> <span class="y-label">share</span> <span class="yotpo-icon yotpo-icon-seperator"></span> </span> <span class="sr-only" id="review-182602418">' Share Review by Brittany G. on 24 May 2020 </span> <span class="share-options-wrapper"> <span role="list" class="share-options share-review"> <span role="listitem" data-social="facebook"> <span class="y-label yotpo-action"> <a class="social-link popup-link" data-network="facebook" href="https://www.facebook.com/dialog/feed?app_id=226132034107547&aria_labelled_by=facebook-review-182602418&display=popup&link=http%3A%2F%2Freviews.me%2Ffacebook_post%3Fimage_url%3Dhttps%253A%252F%252Fcdn-yotpo-images-production.yotpo.com%252FProduct%252F173557879%252F127146020%252Fsquare.png%253F1594773537%26product_url%3Dhttps%253A%252F%252Fyotpo.com%252Fgo%252FxJEALtUu%26review%3DAmazing%2Band%2Bmy%2Bdog%2Bloved%2Bevery%2Bcrumb%2Bas%2Bwell%2Bafter%2Bshe%2Bwas%2Bfinished%26social_title%3DAmazing%2Band%2Bmy%2Bdog%2Bloved&redirect_uri=http%3A%2F%2Fmy.yotpo.com%2Fshares%3Freview_id%3D182602418"><i class="facebook share" aria-labelledby="facebook-review-182602418">facebook</i></a> </span> <span class="sr-only" id="facebook-review-182602418">facebook Share Review by Brittany G. on 24 May 2020</span> <span class="yotpo-icon yotpo-icon-dot"></span> </span> <span role="listitem" data-social="twitter"> <span class="y-label yotpo-action"> <a class="social-link popup-link" data-network="twitter" href="https://twitter.com/intent/tweet?aria_labelled_by=twitter-review-182602418&text=Amazing+and+my+dog+loved+every+crumb+as+well+after+she+was+finished&url=https%3A%2F%2Fyotpo.com%2Fgo%2FkoH1M99c&via=yotpo"><i class="twitter share" aria-labelledby="twitter-review-182602418">twitter</i></a> </span> <span class="sr-only" id="twitter-review-182602418">twitter Share Review by Brittany G. on 24 May 2020</span> <span class="yotpo-icon yotpo-icon-dot"></span> </span> <span role="listitem" data-social="linkedin"> <span class="y-label yotpo-action"> <a class="social-link popup-link" data-network="LinkedIn" href="https://www.linkedin.com/shareArticle?aria_labelled_by=linkedin-review-182602418&mini=true&source=Yotpo&summary=Amazing+and+my+dog+loved+every+crumb+as+well+after+she+was+finished&title=Amazing+and+my+dog+loved&url=https%3A%2F%2Fyotpo.com%2Fgo%2F12BFmUxa"><i class="LinkedIn share" aria-labelledby="linkedin-review-182602418">LinkedIn</i></a> </span> <span class="sr-only" id="linkedin-review-182602418">linkedin Share Review by Brittany G. on 24 May 2020</span> <span class="yotpo-icon yotpo-icon-separator"></span> </span> <span class="yotpo-icon yotpo-icon-seperator"></span> </span> </span> </div> <div class="footer-additional-actions"> <span class="y-label yotpo-review-date">05/24/20</span> </div> <div class="yotpo-helpful" role="group"> <span class="y-label label-helpful" id=label-helpful-id-182602418>Was this review helpful?</span> <div class="yotpo-icon-btn-small transparent-color-btn vote-btn" data-type="up" role="button" aria-describedby=label-helpful-id-182602418 aria-label="vote up Review by Brittany G. on 24 May 2020" tabindex="0"> <span class="yotpo-icon yotpo-icon-thumbs-up"></span> </div> <span class="y-label yotpo-sum vote-sum" aria-live="polite" aria-atomic="false" data-type="up">0</span> <div class="yotpo-icon-btn-small transparent-color-btn vote-btn" data-type="down" role="button" aria-describedby=label-helpful-id-182602418 aria-label="vote down Review by Brittany G. on 24 May 2020" tabindex="0"> <span class="yotpo-icon yotpo-icon-thumbs-down"></span> </div> <span class="y-label yotpo-sum vote-sum" aria-live="polite" aria-atomic="false" data-type="down">0</span> </div> <div class="yotpo-clr"></div> </div> </div> <div class="yotpo-review yotpo-regular-box " data-review-id="182610289"> <div class="yotpo-header yotpo-verified-buyer "> <span class="yotpo-icon-profile yotpo-header-element pull-left"> <span class="yotpo-user-letter">P</span> <span class="yotpo-icon yotpo-icon-circle-checkmark yotpo-action-hover" data-type="toggleFade" data-target="yotpo-tool-tip" data-target-container="yotpo-header"></span> </span> <div class="yotpo-header-element "> <span class="y-label yotpo-user-name yotpo-font-bold pull-left" aria-level="3">Penny S.</span> <div class="label-with-tooltip pull-left" aria-level="3"> <span class="y-label yotpo-user-title yotpo-action-hover" data-type="toggleFade" data-target="yotpo-tool-tip" aria-describedby=182610289>Verified Buyer</span> </div> <div class="yotpo-clr"></div> <span class="yotpo-review-stars "> <span class="yotpo-icon yotpo-icon-star rating-star pull-left"></span><span class="yotpo-icon yotpo-icon-star rating-star pull-left"></span><span class="yotpo-icon yotpo-icon-star rating-star pull-left"></span><span class="yotpo-icon yotpo-icon-star rating-star pull-left"></span><span class="yotpo-icon yotpo-icon-star rating-star pull-left"></span><span class="sr-only">5.0 star rating</span> </span> <div class="yotpo-clr"></div> </div> <div class="yotpo-header-element yotpo-header-actions "> <span class="y-label yotpo-review-date">05/23/20</span> </div> </div> <div class="yotpo-main "> <div class="content-title yotpo-font-bold" role="heading" aria-level="3"> Food </div> <div class="yotpo-clr"></div> <div class="yotpo-review-wrapper"> <span class=sr-only id="182610289-ada-summary-text">Review by Penny S. on 23 May 2020</span> <span class=sr-only id="182610289-ada-title-text">review stating Food</span> <div class="content-review" id="182610289"> My dogs live this food. </div> </div> <a class="product-link-wrapper " aria-label="Product Beef &amp;amp; Russet Potato" aria-hidden="true" tabindex="-1" href="https://yotpo.com/go/sikrjaK9" target="_blank" rel="nofollow"> <div data-product-id="173557879" class="y-label product-link"> On Beef &amp; Russet Potato </div> </a> </div> <div class="yotpo-footer "> <div class="footer-actions"> <span class="yotpo-action" data-type="toggleFade" data-target="share-review" aria-labelledby="review-182610289" role="button" tabindex="0" aria-expanded="false"> <span class="yotpo-icon yotpo-icon-share"></span> <span class="y-label">share</span> <span class="yotpo-icon yotpo-icon-seperator"></span> </span> <span class="sr-only" id="review-182610289">' Share Review by Penny S. on 23 May 2020 </span> <span class="share-options-wrapper"> <span role="list" class="share-options share-review"> <span role="listitem" data-social="facebook"> <span class="y-label yotpo-action"> <a class="social-link popup-link" data-network="facebook" href="https://www.facebook.com/dialog/feed?app_id=226132034107547&aria_labelled_by=facebook-review-182610289&display=popup&link=http%3A%2F%2Freviews.me%2Ffacebook_post%3Fimage_url%3Dhttps%253A%252F%252Fcdn-yotpo-images-production.yotpo.com%252FProduct%252F173557879%252F127146020%252Fsquare.png%253F1594773537%26product_url%3Dhttps%253A%252F%252Fyotpo.com%252Fgo%252FxJEALtUu%26review%3DMy%2Bdogs%2Blive%2Bthis%2Bfood.%26social_title%3DFood&redirect_uri=http%3A%2F%2Fmy.yotpo.com%2Fshares%3Freview_id%3D182610289"><i class="facebook share" aria-labelledby="facebook-review-182610289">facebook</i></a> </span> <span class="sr-only" id="facebook-review-182610289">facebook Share Review by Penny S. on 23 May 2020</span> <span class="yotpo-icon yotpo-icon-dot"></span> </span> <span role="listitem" data-social="twitter"> <span class="y-label yotpo-action"> <a class="social-link popup-link" data-network="twitter" href="https://twitter.com/intent/tweet?aria_labelled_by=twitter-review-182610289&text=My+dogs+live+this+food.&url=https%3A%2F%2Fyotpo.com%2Fgo%2FkoH1M99c&via=yotpo"><i class="twitter share" aria-labelledby="twitter-review-182610289">twitter</i></a> </span> <span class="sr-only" id="twitter-review-182610289">twitter Share Review by Penny S. on 23 May 2020</span> <span class="yotpo-icon yotpo-icon-dot"></span> </span> <span role="listitem" data-social="linkedin"> <span class="y-label yotpo-action"> <a class="social-link popup-link" data-network="LinkedIn" href="https://www.linkedin.com/shareArticle?aria_labelled_by=linkedin-review-182610289&mini=true&source=Yotpo&summary=My+dogs+live+this+food.&title=Food&url=https%3A%2F%2Fyotpo.com%2Fgo%2F12BFmUxa"><i class="LinkedIn share" aria-labelledby="linkedin-review-182610289">LinkedIn</i></a> </span> <span class="sr-only" id="linkedin-review-182610289">linkedin Share Review by Penny S. on 23 May 2020</span> <span class="yotpo-icon yotpo-icon-separator"></span> </span> <span class="yotpo-icon yotpo-icon-seperator"></span> </span> </span> </div> <div class="footer-additional-actions"> <span class="y-label yotpo-review-date">05/23/20</span> </div> <div class="yotpo-helpful" role="group"> <span class="y-label label-helpful" id=label-helpful-id-182610289>Was this review helpful?</span> <div class="yotpo-icon-btn-small transparent-color-btn vote-btn" data-type="up" role="button" aria-describedby=label-helpful-id-182610289 aria-label="vote up Review by Penny S. on 23 May 2020" tabindex="0"> <span class="yotpo-icon yotpo-icon-thumbs-up"></span> </div> <span class="y-label yotpo-sum vote-sum" aria-live="polite" aria-atomic="false" data-type="up">0</span> <div class="yotpo-icon-btn-small transparent-color-btn vote-btn" data-type="down" role="button" aria-describedby=label-helpful-id-182610289 aria-label="vote down Review by Penny S. on 23 May 2020" tabindex="0"> <span class="yotpo-icon yotpo-icon-thumbs-down"></span> </div> <span class="y-label yotpo-sum vote-sum" aria-live="polite" aria-atomic="false" data-type="down">0</span> </div> <div class="yotpo-clr"></div> </div> </div> <div class="yotpo-review yotpo-regular-box " data-review-id="182602411"> <div class="yotpo-header yotpo-verified-buyer "> <span class="yotpo-icon-profile yotpo-header-element pull-left"> <span class="yotpo-user-letter">D</span> <span class="yotpo-icon yotpo-icon-circle-checkmark yotpo-action-hover" data-type="toggleFade" data-target="yotpo-tool-tip" data-target-container="yotpo-header"></span> </span> <div class="yotpo-header-element "> <span class="y-label yotpo-user-name yotpo-font-bold pull-left" aria-level="3">Dona</span> <div class="label-with-tooltip pull-left" aria-level="3"> <span class="y-label yotpo-user-title yotpo-action-hover" data-type="toggleFade" data-target="yotpo-tool-tip" aria-describedby=182602411>Verified Buyer</span> </div> <div class="yotpo-clr"></div> <span class="yotpo-review-stars "> <span class="yotpo-icon yotpo-icon-star rating-star pull-left"></span><span class="yotpo-icon yotpo-icon-star rating-star pull-left"></span><span class="yotpo-icon yotpo-icon-star rating-star pull-left"></span><span class="yotpo-icon yotpo-icon-star rating-star pull-left"></span><span class="yotpo-icon yotpo-icon-empty-star rating-star pull-left"></span><span class="sr-only">4.0 star rating</span> </span> <div class="yotpo-clr"></div> </div> <div class="yotpo-header-element yotpo-header-actions "> <span class="y-label yotpo-review-date">05/20/20</span> </div> </div> <div class="yotpo-main "> <div class="content-title yotpo-font-bold" role="heading" aria-level="3"> Excellent Dog Food </div> <div class="yotpo-clr"></div> <div class="yotpo-review-wrapper"> <span class=sr-only id="182602411-ada-summary-text">Review by Dona on 20 May 2020</span> <span class=sr-only id="182602411-ada-title-text">review stating Excellent Dog Food</span> <div class="content-review" id="182602411"> I would have given this 5 stars if it were possible to leave out some of the ingredients such as oil for dogs who have pancreatitis or sweet potatoes for dogs who have ear issues. I have made this food and it was a lot of work and clean up so I am glad that they will make it for you. </div> </div> <a class="product-link-wrapper " aria-label="Product Beef &amp;amp; Russet Potato" aria-hidden="true" tabindex="-1" href="https://yotpo.com/go/sikrjaK9" target="_blank" rel="nofollow"> <div data-product-id="173557879" class="y-label product-link"> On Beef &amp; Russet Potato </div> </a> </div> <div class="yotpo-footer "> <div class="footer-actions"> <span class="yotpo-action" data-type="toggleFade" data-target="share-review" aria-labelledby="review-182602411" role="button" tabindex="0" aria-expanded="false"> <span class="yotpo-icon yotpo-icon-share"></span> <span class="y-label">share</span> <span class="yotpo-icon yotpo-icon-seperator"></span> </span> <span class="sr-only" id="review-182602411">' Share Review by Dona on 20 May 2020 </span> <span class="share-options-wrapper"> <span role="list" class="share-options share-review"> <span role="listitem" data-social="facebook"> <span class="y-label yotpo-action"> <a class="social-link popup-link" data-network="facebook" href="https://www.facebook.com/dialog/feed?app_id=226132034107547&aria_labelled_by=facebook-review-182602411&display=popup&link=http%3A%2F%2Freviews.me%2Ffacebook_post%3Fimage_url%3Dhttps%253A%252F%252Fcdn-yotpo-images-production.yotpo.com%252FProduct%252F173557879%252F127146020%252Fsquare.png%253F1594773537%26product_url%3Dhttps%253A%252F%252Fyotpo.com%252Fgo%252FxJEALtUu%26review%3DI%2Bwould%2Bhave%2Bgiven%2Bthis%2B5%2Bstars%2Bif%2Bit%2Bwere%2Bpossible%2Bto%2Bleave%2Bout%2Bsome%2Bof%2Bthe%2Bingredients%2Bsuch%2Bas%2Boil%2Bfor%2Bdogs%2Bwho%2Bhave%2Bpancreatitis%2Bor%2Bsweet%2Bpotatoes%2Bfor%2Bdogs%2Bwho%2Bhave%2Bear%2Bissues.%2BI%2Bhave%2Bmade%2Bthis%2Bfood%2Band%2Bit%2Bwas%2Ba%2Blot%2Bof%2Bwork%2Band%2Bclean%2Bup%2Bso%2BI%2Bam%2Bglad%2Bthat%2Bthey%2Bwill%2Bmake%2Bit%2Bfor%2Byou.%26social_title%3DExcellent%2BDog%2BFood&redirect_uri=http%3A%2F%2Fmy.yotpo.com%2Fshares%3Freview_id%3D182602411"><i class="facebook share" aria-labelledby="facebook-review-182602411">facebook</i></a> </span> <span class="sr-only" id="facebook-review-182602411">facebook Share Review by Dona on 20 May 2020</span> <span class="yotpo-icon yotpo-icon-dot"></span> </span> <span role="listitem" data-social="twitter"> <span class="y-label yotpo-action"> <a class="social-link popup-link" data-network="twitter" href="https://twitter.com/intent/tweet?aria_labelled_by=twitter-review-182602411&text=I+would+have+given+this+5+stars+if+it+were+possible+to+leave+out+some+of+the+ingredients+such+as+oil+for+dogs+who+have+pancreatitis+or+sweet+potatoes+for+dogs+who+have+ear+issues.+I+have+made+this+food+and+it+was+a+lot+of+work+and+clean+up+so+I+am+glad+that+they+will+make+it+for+you.&url=https%3A%2F%2Fyotpo.com%2Fgo%2FkoH1M99c&via=yotpo"><i class="twitter share" aria-labelledby="twitter-review-182602411">twitter</i></a> </span> <span class="sr-only" id="twitter-review-182602411">twitter Share Review by Dona on 20 May 2020</span> <span class="yotpo-icon yotpo-icon-dot"></span> </span> <span role="listitem" data-social="linkedin"> <span class="y-label yotpo-action"> <a class="social-link popup-link" data-network="LinkedIn" href="https://www.linkedin.com/shareArticle?aria_labelled_by=linkedin-review-182602411&mini=true&source=Yotpo&summary=I+would+have+given+this+5+stars+if+it+were+possible+to+leave+out+some+of+the+ingredients+such+as+oil+for+dogs+who+have+pancreatitis+or+sweet+potatoes+for+dogs+who+have+ear+issues.+I+have+made+this+food+and+it+was+a+lot+of+work+and+clean+up+so+I+am+glad+that+they+will+make+it+for+you.&title=Excellent+Dog+Food&url=https%3A%2F%2Fyotpo.com%2Fgo%2F12BFmUxa"><i class="LinkedIn share" aria-labelledby="linkedin-review-182602411">LinkedIn</i></a> </span> <span class="sr-only" id="linkedin-review-182602411">linkedin Share Review by Dona on 20 May 2020</span> <span class="yotpo-icon yotpo-icon-separator"></span> </span> <span class="yotpo-icon yotpo-icon-seperator"></span> </span> </span> </div> <div class="footer-additional-actions"> <span class="y-label yotpo-review-date">05/20/20</span> </div> <div class="yotpo-helpful" role="group"> <span class="y-label label-helpful" id=label-helpful-id-182602411>Was this review helpful?</span> <div class="yotpo-icon-btn-small transparent-color-btn vote-btn" data-type="up" role="button" aria-describedby=label-helpful-id-182602411 aria-label="vote up Review by Dona on 20 May 2020" tabindex="0"> <span class="yotpo-icon yotpo-icon-thumbs-up"></span> </div> <span class="y-label yotpo-sum vote-sum" aria-live="polite" aria-atomic="false" data-type="up">0</span> <div class="yotpo-icon-btn-small transparent-color-btn vote-btn" data-type="down" role="button" aria-describedby=label-helpful-id-182602411 aria-label="vote down Review by Dona on 20 May 2020" tabindex="0"> <span class="yotpo-icon yotpo-icon-thumbs-down"></span> </div> <span class="y-label yotpo-sum vote-sum" aria-live="polite" aria-atomic="false" data-type="down">0</span> </div> <div class="yotpo-clr"></div> </div> </div> <div class="yotpo-review yotpo-regular-box " data-review-id="182610282"> <div class="yotpo-header yotpo-verified-buyer "> <span class="yotpo-icon-profile yotpo-header-element pull-left"> <span class="yotpo-user-letter">S</span> <span class="yotpo-icon yotpo-icon-circle-checkmark yotpo-action-hover" data-type="toggleFade" data-target="yotpo-tool-tip" data-target-container="yotpo-header"></span> </span> <div class="yotpo-header-element "> <span class="y-label yotpo-user-name yotpo-font-bold pull-left" aria-level="3">Sally B.</span> <div class="label-with-tooltip pull-left" aria-level="3"> <span class="y-label yotpo-user-title yotpo-action-hover" data-type="toggleFade" data-target="yotpo-tool-tip" aria-describedby=182610282>Verified Buyer</span> </div> <div class="yotpo-clr"></div> <span class="yotpo-review-stars "> <span class="yotpo-icon yotpo-icon-star rating-star pull-left"></span><span class="yotpo-icon yotpo-icon-star rating-star pull-left"></span><span class="yotpo-icon yotpo-icon-star rating-star pull-left"></span><span class="yotpo-icon yotpo-icon-star rating-star pull-left"></span><span class="yotpo-icon yotpo-icon-star rating-star pull-left"></span><span class="sr-only">5.0 star rating</span> </span> <div class="yotpo-clr"></div> </div> <div class="yotpo-header-element yotpo-header-actions "> <span class="y-label yotpo-review-date">05/19/20</span> </div> </div> <div class="yotpo-main "> <div class="content-title yotpo-font-bold" role="heading" aria-level="3"> Wonderful Food </div> <div class="yotpo-clr"></div> <div class="yotpo-review-wrapper"> <span class=sr-only id="182610282-ada-summary-text">Review by Sally B. on 19 May 2020</span> <span class=sr-only id="182610282-ada-title-text">review stating Wonderful Food</span> <div class="content-review" id="182610282"> My dog loves this food, and I love it for her. It is fresh, good for her, and helps her digestive system and allergies. </div> </div> <a class="product-link-wrapper " aria-label="Product Beef &amp;amp; Russet Potato" aria-hidden="true" tabindex="-1" href="https://yotpo.com/go/sikrjaK9" target="_blank" rel="nofollow"> <div data-product-id="173557879" class="y-label product-link"> On Beef &amp; Russet Potato </div> </a> </div> <div class="yotpo-footer "> <div class="footer-actions"> <span class="yotpo-action" data-type="toggleFade" data-target="share-review" aria-labelledby="review-182610282" role="button" tabindex="0" aria-expanded="false"> <span class="yotpo-icon yotpo-icon-share"></span> <span class="y-label">share</span> <span class="yotpo-icon yotpo-icon-seperator"></span> </span> <span class="sr-only" id="review-182610282">' Share Review by Sally B. on 19 May 2020 </span> <span class="share-options-wrapper"> <span role="list" class="share-options share-review"> <span role="listitem" data-social="facebook"> <span class="y-label yotpo-action"> <a class="social-link popup-link" data-network="facebook" href="https://www.facebook.com/dialog/feed?app_id=226132034107547&aria_labelled_by=facebook-review-182610282&display=popup&link=http%3A%2F%2Freviews.me%2Ffacebook_post%3Fimage_url%3Dhttps%253A%252F%252Fcdn-yotpo-images-production.yotpo.com%252FProduct%252F173557879%252F127146020%252Fsquare.png%253F1594773537%26product_url%3Dhttps%253A%252F%252Fyotpo.com%252Fgo%252FxJEALtUu%26review%3DMy%2Bdog%2Bloves%2Bthis%2Bfood%252C%2Band%2BI%2Blove%2Bit%2Bfor%2Bher.%2BIt%2Bis%2Bfresh%252C%2Bgood%2Bfor%2Bher%252C%2Band%2Bhelps%2Bher%2Bdigestive%2Bsystem%2Band%2Ballergies.%26social_title%3DWonderful%2BFood&redirect_uri=http%3A%2F%2Fmy.yotpo.com%2Fshares%3Freview_id%3D182610282"><i class="facebook share" aria-labelledby="facebook-review-182610282">facebook</i></a> </span> <span class="sr-only" id="facebook-review-182610282">facebook Share Review by Sally B. on 19 May 2020</span> <span class="yotpo-icon yotpo-icon-dot"></span> </span> <span role="listitem" data-social="twitter"> <span class="y-label yotpo-action"> <a class="social-link popup-link" data-network="twitter" href="https://twitter.com/intent/tweet?aria_labelled_by=twitter-review-182610282&text=My+dog+loves+this+food%2C+and+I+love+it+for+her.+It+is+fresh%2C+good+for+her%2C+and+helps+her+digestive+system+and+allergies.&url=https%3A%2F%2Fyotpo.com%2Fgo%2FkoH1M99c&via=yotpo"><i class="twitter share" aria-labelledby="twitter-review-182610282">twitter</i></a> </span> <span class="sr-only" id="twitter-review-182610282">twitter Share Review by Sally B. on 19 May 2020</span> <span class="yotpo-icon yotpo-icon-dot"></span> </span> <span role="listitem" data-social="linkedin"> <span class="y-label yotpo-action"> <a class="social-link popup-link" data-network="LinkedIn" href="https://www.linkedin.com/shareArticle?aria_labelled_by=linkedin-review-182610282&mini=true&source=Yotpo&summary=My+dog+loves+this+food%2C+and+I+love+it+for+her.+It+is+fresh%2C+good+for+her%2C+and+helps+her+digestive+system+and+allergies.&title=Wonderful+Food&url=https%3A%2F%2Fyotpo.com%2Fgo%2F12BFmUxa"><i class="LinkedIn share" aria-labelledby="linkedin-review-182610282">LinkedIn</i></a> </span> <span class="sr-only" id="linkedin-review-182610282">linkedin Share Review by Sally B. on 19 May 2020</span> <span class="yotpo-icon yotpo-icon-separator"></span> </span> <span class="yotpo-icon yotpo-icon-seperator"></span> </span> </span> </div> <div class="footer-additional-actions"> <span class="y-label yotpo-review-date">05/19/20</span> </div> <div class="yotpo-helpful" role="group"> <span class="y-label label-helpful" id=label-helpful-id-182610282>Was this review helpful?</span> <div class="yotpo-icon-btn-small transparent-color-btn vote-btn" data-type="up" role="button" aria-describedby=label-helpful-id-182610282 aria-label="vote up Review by Sally B. on 19 May 2020" tabindex="0"> <span class="yotpo-icon yotpo-icon-thumbs-up"></span> </div> <span class="y-label yotpo-sum vote-sum" aria-live="polite" aria-atomic="false" data-type="up">0</span> <div class="yotpo-icon-btn-small transparent-color-btn vote-btn" data-type="down" role="button" aria-describedby=label-helpful-id-182610282 aria-label="vote down Review by Sally B. on 19 May 2020" tabindex="0"> <span class="yotpo-icon yotpo-icon-thumbs-down"></span> </div> <span class="y-label yotpo-sum vote-sum" aria-live="polite" aria-atomic="false" data-type="down">0</span> </div> <div class="yotpo-clr"></div> </div> </div> <div class="yotpo-pager" data-total="284" data-per-page="5" role="menu" aria-label="Browse next and previous reviews"> <a rel="prev" class="yotpo-page-element yotpo-icon yotpo-icon-left-arrow yotpo_previous yotpo-disabled" role="button" aria-label="Previous Page" aria-disabled="true"></a> <a role="menuitem" href="#" class="yotpo-page-element goTo yotpo-active" data-page="1">1</a> <a role="menuitem" href="#" class="yotpo-page-element goTo " data-page="2">2</a> <a role="menuitem" href="#" class="yotpo-page-element goTo " data-page="3">3</a> <a role="menuitem" href="#" class="yotpo-page-element goTo yotpo-hidden-mobile" data-page="4">4</a> <a role="menuitem" href="#" class="yotpo-page-element goTo yotpo-hidden-mobile" data-page="5">5</a> <a role="menuitem" href="#" class="yotpo-page-element goTo yotpo-hidden-mobile" data-page="6">6</a> <a role="menuitem" href="#" class="yotpo-page-element goTo yotpo-hidden-mobile" data-page="7">7</a> <a role="menuitem" href="#" class="yotpo-page-element goTo yotpo-hidden-mobile" data-page="8">8</a> <a role="menuitem" href="#" class="yotpo-page-element goTo yotpo-hidden-mobile" data-page="9">9</a> <a rel="next" class="yotpo-page-element yotpo-icon yotpo-icon-right-arrow yotpo_next " role="button" aria-label="Next Page" aria-disabled="false"></a> </div> </div> <div class="yotpo-questions " id="yotpo-questions-4bc260c8-b749-4a2c-a582-98900d9ef4d2" role="tabpanel"> <div class="yotpo-question yotpo-regular-box yotpo-regular-box-filters-padding" data-question-id="4529785"> <div class="yotpo-header yotpo-verified-user"> <span class="yotpo-icon-profile yotpo-header-element pull-left"> <span class="yotpo-user-letter">E</span> <span class="yotpo-icon yotpo-icon-circle-checkmark yotpo-action-hover" data-type="toggleFade" data-target="yotpo-tool-tip-question"></span> </span> <div class="yotpo-header-element"> <span class="y-label yotpo-user-name yotpo-font-bold pull-left">Elly</span> <div class="label-with-tooltip pull-left"> <span class="y-label yotpo-user-title yotpo-action-hover" data-type="toggleFade" data-target="yotpo-tool-tip-question">Verified Reviewer</span> </div> <div class="yotpo-clr"></div> <div class="yotpo-clr"></div> </div> <div class="yotpo-header-element yotpo-header-actions"> <span class="y-label question-date">07/26/20</span> </div> </div> <div class="yotpo-main"> <div class="content-question yotpo-font-bold"> Q: Hi, <br>I am trying to figure out how much food per day my dog will need. Thank you </div> <div class="yotpo-clr"></div> </div> <div class="yotpo-footer"> <div class="footer-actions"> <span class="yotpo-action" data-type="toggleFade" data-target=".yotpo-comments-box,.yotpo-show-more" role="button" tabindex="0"> <span class="yotpo-icon yotpo-icon-chat-bubble y-label"></span> <span class="yotpo-aux y-label">Answers (1)</span> </span> </div> <div class="yotpo-clr"></div> </div> <div class="no-border yotpo-comments-box visible"> <div class="yotpo-comment-box yotpo-comment " data-answer-id="12546510"> <div class="yotpo-header yotpo-store-owner "> <span class="yotpo-icon-profile yotpo-header-element pull-left "> <span class="yotpo-user-letter"> <span class="yotpo-icon yotpo-icon-store"></span> </span> <span class="yotpo-icon yotpo-icon-circle-checkmark yotpo-action-hover" data-type="toggleFade" data-target="yotpo-tool-tip-answer"></span> </span> <div class="yotpo-header-element"> <span class="y-label yotpo-user-name yotpo-font-bold pull-left">Just Food for Dogs</span> </div> <div class="yotpo-header-element yotpo-header-actions"> <span class="y-label question-date">08/03/20</span> </div> </div> <div class="yotpo-main"> <div class="content-title yotpo-font-bold"> </div> <div class="content-question"> A: Hello, Elly! <br> <br>Thank you for your question! <br> <br>You can use our <a target="_blank" rel="noopener noreferrer" href="https://www.justfoodfordogs.com/dog-food-calculator/">Feeding Calculator</a> to find out how much your pup will need per day. <br> <br>Please let us know if you need any help doing this! <br> <br>Best, <br> <br>Jasmine </div> </div> <div class="yotpo-footer"> <div class="footer-actions"> </div> <div class="yotpo-helpful" role="group"> <span class="y-label label-helpful" >Was this answer helpful?</span> <div class="yotpo-icon-btn-small transparent-color-btn vote-btn" data-type="up" role="button" aria-label="vote up Answer by Just Food for Dogs on 3 Aug 2020" tabindex="0"> <span class="yotpo-icon yotpo-icon-thumbs-up"></span> </div> <span class="y-label yotpo-sum vote-sum" aria-live="polite" aria-atomic="false" data-type="up">0</span> <div class="yotpo-icon-btn-small transparent-color-btn vote-btn" data-type="down" role="button" aria-label="vote down Answer by Just Food for Dogs on 3 Aug 2020" tabindex="0"> <span class="yotpo-icon yotpo-icon-thumbs-down"></span> </div> <span class="y-label yotpo-sum vote-sum" aria-live="polite" aria-atomic="false" data-type="down">0</span> </div> <div class="footer-additional-actions"> <span class="y-label question-date">08/03/20</span> </div> <div class="yotpo-clr"></div> </div> </div> </div> </div> <div class="yotpo-question yotpo-regular-box " data-question-id="4572625"> <div class="yotpo-header yotpo-verified-user"> <span class="yotpo-icon-profile yotpo-header-element pull-left"> <span class="yotpo-user-letter">C</span> <span class="yotpo-icon yotpo-icon-circle-checkmark yotpo-action-hover" data-type="toggleFade" data-target="yotpo-tool-tip-question"></span> </span> <div class="yotpo-header-element"> <span class="y-label yotpo-user-name yotpo-font-bold pull-left">Cindy</span> <div class="label-with-tooltip pull-left"> <span class="y-label yotpo-user-title yotpo-action-hover" data-type="toggleFade" data-target="yotpo-tool-tip-question">Verified Reviewer</span> </div> <div class="yotpo-clr"></div> <div class="yotpo-clr"></div> </div> <div class="yotpo-header-element yotpo-header-actions"> <span class="y-label question-date">08/06/20</span> </div> </div> <div class="yotpo-main"> <div class="content-question yotpo-font-bold"> Q: Can I thaw the 72 oz size in cold water? Thx! </div> <div class="yotpo-clr"></div> </div> <div class="yotpo-footer"> <div class="footer-actions"> <span class="yotpo-action" data-type="toggleFade" data-target=".yotpo-comments-box,.yotpo-show-more" role="button" tabindex="0"> <span class="yotpo-icon yotpo-icon-chat-bubble y-label"></span> <span class="yotpo-aux y-label">Answers (1)</span> </span> </div> <div class="yotpo-clr"></div> </div> <div class="no-border yotpo-comments-box visible"> <div class="yotpo-comment-box yotpo-comment " data-answer-id="12590342"> <div class="yotpo-header yotpo-store-owner "> <span class="yotpo-icon-profile yotpo-header-element pull-left "> <span class="yotpo-user-letter"> <span class="yotpo-icon yotpo-icon-store"></span> </span> <span class="yotpo-icon yotpo-icon-circle-checkmark yotpo-action-hover" data-type="toggleFade" data-target="yotpo-tool-tip-answer"></span> </span> <div class="yotpo-header-element"> <span class="y-label yotpo-user-name yotpo-font-bold pull-left">Just Food for Dogs</span> </div> <div class="yotpo-header-element yotpo-header-actions"> <span class="y-label question-date">08/06/20</span> </div> </div> <div class="yotpo-main"> <div class="content-title yotpo-font-bold"> </div> <div class="content-question"> A: Thank you for checking! You may for a quick thaw but please replace the cold water frequently. It will take an hour or so to defrost enough to use so this method is not ideal for our larger packages. Please do not ever refreeze food that has been thawed using this method! <br> <br>Sincerely, <br> <br>Heather </div> </div> <div class="yotpo-footer"> <div class="footer-actions"> </div> <div class="yotpo-helpful" role="group"> <span class="y-label label-helpful" >Was this answer helpful?</span> <div class="yotpo-icon-btn-small transparent-color-btn vote-btn" data-type="up" role="button" aria-label="vote up Answer by Just Food for Dogs on 6 Aug 2020" tabindex="0"> <span class="yotpo-icon yotpo-icon-thumbs-up"></span> </div> <span class="y-label yotpo-sum vote-sum" aria-live="polite" aria-atomic="false" data-type="up">0</span> <div class="yotpo-icon-btn-small transparent-color-btn vote-btn" data-type="down" role="button" aria-label="vote down Answer by Just Food for Dogs on 6 Aug 2020" tabindex="0"> <span class="yotpo-icon yotpo-icon-thumbs-down"></span> </div> <span class="y-label yotpo-sum vote-sum" aria-live="polite" aria-atomic="false" data-type="down">0</span> </div> <div class="footer-additional-actions"> <span class="y-label question-date">08/06/20</span> </div> <div class="yotpo-clr"></div> </div> </div> </div> </div> <div class="yotpo-question yotpo-regular-box " data-question-id="4657106"> <div class="yotpo-header yotpo-verified-user"> <span class="yotpo-icon-profile yotpo-header-element pull-left"> <span class="yotpo-user-letter">S</span> <span class="yotpo-icon yotpo-icon-circle-checkmark yotpo-action-hover" data-type="toggleFade" data-target="yotpo-tool-tip-question"></span> </span> <div class="yotpo-header-element"> <span class="y-label yotpo-user-name yotpo-font-bold pull-left">Steph C.</span> <div class="label-with-tooltip pull-left"> <span class="y-label yotpo-user-title yotpo-action-hover" data-type="toggleFade" data-target="yotpo-tool-tip-question">Verified Reviewer</span> </div> <div class="yotpo-clr"></div> <div class="yotpo-clr"></div> </div> <div class="yotpo-header-element yotpo-header-actions"> <span class="y-label question-date">08/23/20</span> </div> </div> <div class="yotpo-main"> <div class="content-question yotpo-font-bold"> Q: If I purchase the 72 ounce package how long can I keep it in the fridge thawed out? It would take me a week to use all of it. </div> <div class="yotpo-clr"></div> </div> <div class="yotpo-footer"> <div class="footer-actions"> <span class="yotpo-action" data-type="toggleFade" data-target=".yotpo-comments-box,.yotpo-show-more" role="button" tabindex="0"> <span class="yotpo-icon yotpo-icon-chat-bubble y-label"></span> <span class="yotpo-aux y-label">Answers (1)</span> </span> </div> <div class="yotpo-clr"></div> </div> <div class="no-border yotpo-comments-box visible"> <div class="yotpo-comment-box yotpo-comment " data-answer-id="12886811"> <div class="yotpo-header yotpo-store-owner "> <span class="yotpo-icon-profile yotpo-header-element pull-left "> <span class="yotpo-user-letter"> <span class="yotpo-icon yotpo-icon-store"></span> </span> <span class="yotpo-icon yotpo-icon-circle-checkmark yotpo-action-hover" data-type="toggleFade" data-target="yotpo-tool-tip-answer"></span> </span> <div class="yotpo-header-element"> <span class="y-label yotpo-user-name yotpo-font-bold pull-left">Just Food for Dogs</span> </div> <div class="yotpo-header-element yotpo-header-actions"> <span class="y-label question-date">08/27/20</span> </div> </div> <div class="yotpo-main"> <div class="content-title yotpo-font-bold"> </div> <div class="content-question"> A: Hello, Steph! <br> <br>Thank you for your question! <br> <br>Our recipes last 4 to 5 days in the fridge once thawed. If the recipe contains fish, it will last only 3 days. <br> <br>If your pup will not go through the entire package in that time frame, you are welcome to thaw it out in the fridge just long enough to break it apart and re-portion in ziploc or tupperware to freeze one time! This way, you can take out only what you need at a time. <br> <br>Please reahch out with any other questions :) <br> <br>Have a great day, <br> <br>Jasmine </div> </div> <div class="yotpo-footer"> <div class="footer-actions"> </div> <div class="yotpo-helpful" role="group"> <span class="y-label label-helpful" >Was this answer helpful?</span> <div class="yotpo-icon-btn-small transparent-color-btn vote-btn" data-type="up" role="button" aria-label="vote up Answer by Just Food for Dogs on 27 Aug 2020" tabindex="0"> <span class="yotpo-icon yotpo-icon-thumbs-up"></span> </div> <span class="y-label yotpo-sum vote-sum" aria-live="polite" aria-atomic="false" data-type="up">1</span> <div class="yotpo-icon-btn-small transparent-color-btn vote-btn" data-type="down" role="button" aria-label="vote down Answer by Just Food for Dogs on 27 Aug 2020" tabindex="0"> <span class="yotpo-icon yotpo-icon-thumbs-down"></span> </div> <span class="y-label yotpo-sum vote-sum" aria-live="polite" aria-atomic="false" data-type="down">0</span> </div> <div class="footer-additional-actions"> <span class="y-label question-date">08/27/20</span> </div> <div class="yotpo-clr"></div> </div> </div> </div> </div> <div class="yotpo-question yotpo-regular-box " data-question-id="4717788"> <div class="yotpo-header yotpo-verified-user"> <span class="yotpo-icon-profile yotpo-header-element pull-left"> <span class="yotpo-user-letter">C</span> <span class="yotpo-icon yotpo-icon-circle-checkmark yotpo-action-hover" data-type="toggleFade" data-target="yotpo-tool-tip-question"></span> </span> <div class="yotpo-header-element"> <span class="y-label yotpo-user-name yotpo-font-bold pull-left">Chantal V.</span> <div class="label-with-tooltip pull-left"> <span class="y-label yotpo-user-title yotpo-action-hover" data-type="toggleFade" data-target="yotpo-tool-tip-question">Verified Reviewer</span> </div> <div class="yotpo-clr"></div> <div class="yotpo-clr"></div> </div> <div class="yotpo-header-element yotpo-header-actions"> <span class="y-label question-date">09/01/20</span> </div> </div> <div class="yotpo-main"> <div class="content-question yotpo-font-bold"> Q: How many cups of food are there in the 18 oz. and the 72 oz.? </div> <div class="yotpo-clr"></div> </div> <div class="yotpo-footer"> <div class="footer-actions"> <span class="yotpo-action" data-type="toggleFade" data-target=".yotpo-comments-box,.yotpo-show-more" role="button" tabindex="0"> <span class="yotpo-icon yotpo-icon-chat-bubble y-label"></span> <span class="yotpo-aux y-label">Answers (1)</span> </span> </div> <div class="yotpo-clr"></div> </div> <div class="no-border yotpo-comments-box visible"> <div class="yotpo-comment-box yotpo-comment " data-answer-id="12985607"> <div class="yotpo-header yotpo-store-owner "> <span class="yotpo-icon-profile yotpo-header-element pull-left "> <span class="yotpo-user-letter"> <span class="yotpo-icon yotpo-icon-store"></span> </span> <span class="yotpo-icon yotpo-icon-circle-checkmark yotpo-action-hover" data-type="toggleFade" data-target="yotpo-tool-tip-answer"></span> </span> <div class="yotpo-header-element"> <span class="y-label yotpo-user-name yotpo-font-bold pull-left">Just Food for Dogs</span> </div> <div class="yotpo-header-element yotpo-header-actions"> <span class="y-label question-date">09/03/20</span> </div> </div> <div class="yotpo-main"> <div class="content-title yotpo-font-bold"> </div> <div class="content-question"> A: Hi, Chantel, <br> <br>Thank you for checking! There are 2 cups and 2 ounces in our 18 ounce package. There are 9 cups in our 72 ounce package. <br> <br>Sincerely, <br> <br>Heather </div> </div> <div class="yotpo-footer"> <div class="footer-actions"> </div> <div class="yotpo-helpful" role="group"> <span class="y-label label-helpful" >Was this answer helpful?</span> <div class="yotpo-icon-btn-small transparent-color-btn vote-btn" data-type="up" role="button" aria-label="vote up Answer by Just Food for Dogs on 3 Sep 2020" tabindex="0"> <span class="yotpo-icon yotpo-icon-thumbs-up"></span> </div> <span class="y-label yotpo-sum vote-sum" aria-live="polite" aria-atomic="false" data-type="up">0</span> <div class="yotpo-icon-btn-small transparent-color-btn vote-btn" data-type="down" role="button" aria-label="vote down Answer by Just Food for Dogs on 3 Sep 2020" tabindex="0"> <span class="yotpo-icon yotpo-icon-thumbs-down"></span> </div> <span class="y-label yotpo-sum vote-sum" aria-live="polite" aria-atomic="false" data-type="down">0</span> </div> <div class="footer-additional-actions"> <span class="y-label question-date">09/03/20</span> </div> <div class="yotpo-clr"></div> </div> </div> </div> </div> <div class="yotpo-question yotpo-regular-box " data-question-id="4734127"> <div class="yotpo-header yotpo-verified-user"> <span class="yotpo-icon-profile yotpo-header-element pull-left"> <span class="yotpo-user-letter">L</span> <span class="yotpo-icon yotpo-icon-circle-checkmark yotpo-action-hover" data-type="toggleFade" data-target="yotpo-tool-tip-question"></span> </span> <div class="yotpo-header-element"> <span class="y-label yotpo-user-name yotpo-font-bold pull-left">Linda P.</span> <div class="label-with-tooltip pull-left"> <span class="y-label yotpo-user-title yotpo-action-hover" data-type="toggleFade" data-target="yotpo-tool-tip-question">Verified Reviewer</span> </div> <div class="yotpo-clr"></div> <div class="yotpo-clr"></div> </div> <div class="yotpo-header-element yotpo-header-actions"> <span class="y-label question-date">09/05/20</span> </div> </div> <div class="yotpo-main"> <div class="content-question yotpo-font-bold"> Q: When can I order the Stir Fry seasonal meal. ? </div> <div class="yotpo-clr"></div> </div> <div class="yotpo-footer"> <div class="footer-actions"> <span class="yotpo-action" data-type="toggleFade" data-target=".yotpo-comments-box,.yotpo-show-more" role="button" tabindex="0"> <span class="yotpo-icon yotpo-icon-chat-bubble y-label"></span> <span class="yotpo-aux y-label">Answers (1)</span> </span> </div> <div class="yotpo-clr"></div> </div> <div class="no-border yotpo-comments-box visible"> <div class="yotpo-comment-box yotpo-comment " data-answer-id="13012091"> <div class="yotpo-header yotpo-store-owner "> <span class="yotpo-icon-profile yotpo-header-element pull-left "> <span class="yotpo-user-letter"> <span class="yotpo-icon yotpo-icon-store"></span> </span> <span class="yotpo-icon yotpo-icon-circle-checkmark yotpo-action-hover" data-type="toggleFade" data-target="yotpo-tool-tip-answer"></span> </span> <div class="yotpo-header-element"> <span class="y-label yotpo-user-name yotpo-font-bold pull-left">Just Food for Dogs</span> </div> <div class="yotpo-header-element yotpo-header-actions"> <span class="y-label question-date">09/07/20</span> </div> </div> <div class="yotpo-main"> <div class="content-title yotpo-font-bold"> </div> <div class="content-question"> A: Hello, Linda! <br> <br>Thank you for your question! <br> <br>Our Stir Fry special is expected to be available 09/15. <br> <br>Please reach out with any additional questions :) <br> <br>Best, <br> <br>Jasmine </div> </div> <div class="yotpo-footer"> <div class="footer-actions"> </div> <div class="yotpo-helpful" role="group"> <span class="y-label label-helpful" >Was this answer helpful?</span> <div class="yotpo-icon-btn-small transparent-color-btn vote-btn" data-type="up" role="button" aria-label="vote up Answer by Just Food for Dogs on 7 Sep 2020" tabindex="0"> <span class="yotpo-icon yotpo-icon-thumbs-up"></span> </div> <span class="y-label yotpo-sum vote-sum" aria-live="polite" aria-atomic="false" data-type="up">0</span> <div class="yotpo-icon-btn-small transparent-color-btn vote-btn" data-type="down" role="button" aria-label="vote down Answer by Just Food for Dogs on 7 Sep 2020" tabindex="0"> <span class="yotpo-icon yotpo-icon-thumbs-down"></span> </div> <span class="y-label yotpo-sum vote-sum" aria-live="polite" aria-atomic="false" data-type="down">0</span> </div> <div class="footer-additional-actions"> <span class="y-label question-date">09/07/20</span> </div> <div class="yotpo-clr"></div> </div> </div> </div> </div> <div class="yotpo-pager" data-total="7" data-per-page="5" role="menu" aria-label="Browse next and previous reviews"> <a rel="prev" class="yotpo-page-element yotpo-icon yotpo-icon-left-arrow yotpo_previous yotpo-disabled" role="button" aria-label="Previous Page" aria-disabled="true"></a> <a role="menuitem" href="#" class="yotpo-page-element goTo yotpo-active" data-page="1">1</a> <a role="menuitem" href="#" class="yotpo-page-element goTo " data-page="2">2</a> <a rel="next" class="yotpo-page-element yotpo-icon yotpo-icon-right-arrow yotpo_next " role="button" aria-label="Next Page" aria-disabled="false"></a> </div> </div> </div> </div>