JustFoodForDogs Ground Turkey Dog Food Recipe
Learn how to make JustFoodForDogs homemade ground turkey dog food recipe.
Making your own dog food can be a healthy and cost-effective option for pet parents who want to ensure that their dogs are getting the best nutrition possible. This recipe for human-grade turkey and whole wheat macaroni dog food is not only easy to make, but it is also filled with wholesome ingredients that are sure to make your dog happy and full!
This recipe is ideal for:
Adult dogs
Active dogs
Large breed dogs
Underweight dogs
Picky dogs
Dogs that need to avoid fish, beef, and lamb
With the addition of JustFoodForDogs Omega Plus Fish Oil and the Turkey & Whole Wheat Macaroni DIY Nutrient Blend, your dog will get all the essential vitamins and nutrients they need to maintain a healthy diet.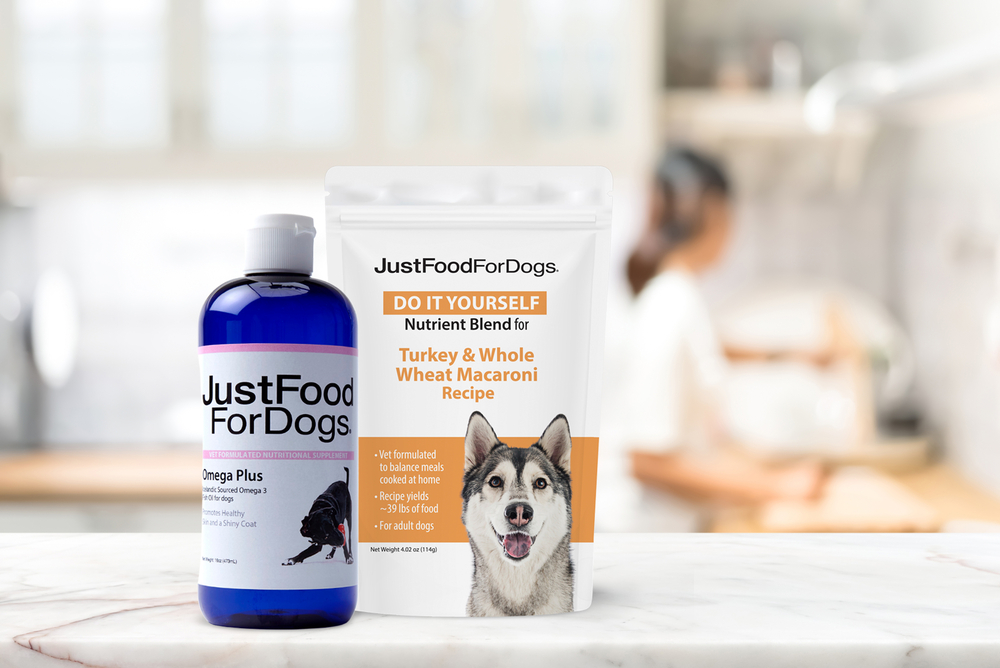 Ingredients List
Makes approximately 13 lbs of food*
5 lbs Ground Turkey
2.5 oz Turkey Liver
2 lbs 8 oz Whole Wheat Macaroni
5 oz Carrots
5 oz Zucchini
5 oz Broccoli
2.5 oz Cranberries
Tip: If you can't find organ meat at your local grocery store, visit your local butcher.
---
Note: As with any dog food recipe, it is essential that it is complete and balanced. This recipe is nothing without the DIY Nutrient Blend, which is formulated specifically for each recipe to meet AAFCO recommendations. The blend is compounded from 100% human-grade nutraceuticals regulated by the FDA. As such, it is vital that you follow this recipe exactly as it is written.
---
DIY Turkey & Macaroni Dog Food Recipe
PREPARATION
1. Wash all fruits and vegetables thoroughly. Use fresh vegetables whenever possible, but if one or two items are purchased frozen (may add as is), make sure there are no added ingredients such as salt or sugar.
2. Prepare a one-quart ice bath. Once the macaroni is cooked, the ice will be used to cool it and to stop the cooking process so it retains its texture.
COOKING
1. In a nonstick skillet or Dutch oven, brown the ground turkey and turkey liver over medium heat, stirring frequently. Add carrots, zucchini, broccoli and cranberries while turkey is still slightly pink. Continue to cook until turkey is fully cooked and vegetables are soft. Do not drain. Let the mixture cool until it is warm to the touch.
2. Cook macaroni according to package directions (usually 4 cups water per 1/2 lb pasta). Once cooked, add ice to stop cooking process and drain. Let cool.
3. In a large mixing bowl, combine all cooled ingredients, including Omega Plus Fish Oil. Slowly sprinkle in DIY Nutrient Blend until fully incorporated.
4. Portion into individual serving sizes and store in the freezer or refrigerator in an airtight container. Stored in the refrigerator, this recipe will stay fresh for up to 4 days. In the freezer, it can be stored for up to 3 months.
Preparing any homemade dog food recipe is a wonderful way to keep your dog feeling good. This recipe is packed with protein, veggies, and other essential nutrients, providing your dog with a delicious and healthy meal.
Serving Size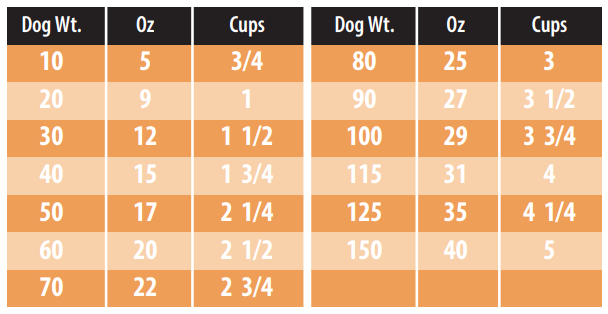 Not sure how much to feed your dog? If you aren't sure how many cups of food to feed your fur baby, refer to our dog food calculator for guidelines.
However you choose to cook this recipe, it's an easy and convenient meal that can be stored in the refrigerator or freezer for future meals. By feeding your dog this homemade recipe, you can rest easy knowing that they are getting the best possible nutrition to help them stay healthy and happy.
Calorie content
(Calculated):
1741 kcal ME/kg; 49 kcal ME/oz
882 kcal ME/18 oz; 3528 kcal ME/72 oz
Other ways to cook DIY dog food
Prep time is minimal no matter how you cook this recipe. Depending on what equipment you use, cook time may vary. Learn how to use this recipe in a Crock Pot or Instant Pot.
There are no secrets at JustFoodForDogs. We freely publish our Fish & Sweet Potato (featuring green beans and omega-3 fatty acids), Chicken & White Rice, Lamb & Brown Rice, Ground Beef & Russet Potato, Venison & Butternut Squash, and more recipes on our website for any pet parent to make at home.
Never forget to add the nutrient blend so meals are balanced and complete with all the nutrients your healthy dog needs. Vitamins and minerals like potassium, carbohydrates, vitamin a, vitamin c, and calcium are all important components of your dog's diet.
Kick the kibble with us! Check out our other pet food recipes, supplements, and dog treats.
*All weights indicated are raw or dry weight.
Prefer to make a smaller batch? This printable PDF includes instructions for full and half batches of food.