Complete & Balanced Homemade Lamb Dog Food Recipe
How to make lamb dog food at home with this easy DIY lamb dog food recipe.
Welcome to our delicious and nutritious homemade dog food recipe featuring ground lamb and brown rice. This recipe is designed to provide your dog with a wholesome and balanced meal that you can prepare at home.
By following our step-by-step instructions, you'll learn how to cook this lamb recipe for dogs that is packed with essential nutrients and free from by-products, fillers, and preservatives. Treat your beloved pet to a healthy homemade lamb meal today!
About This Homemade Lamb Dog Food Recipe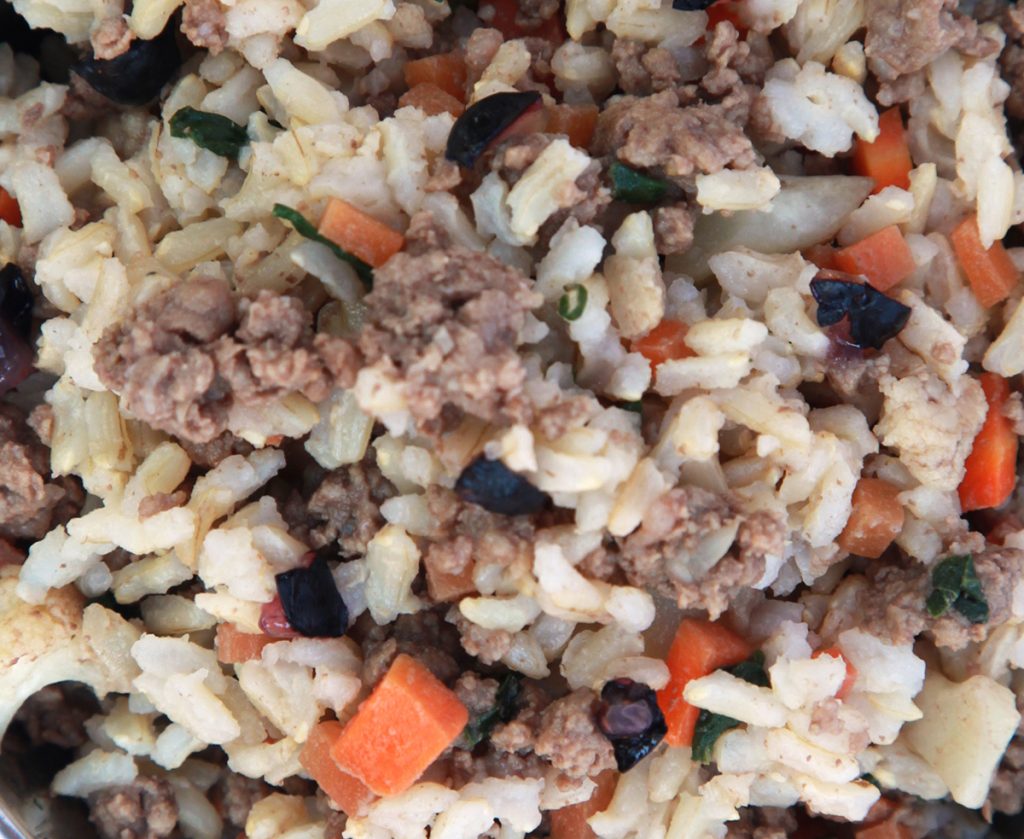 Our Lamb & Brown Rice Recipe is a great option for adult dogs, older dogs, and dogs with smaller appetites. With our Do It Yourself Nutrient Blend, you can make this nutritionally balanced recipe fresh from your kitchen.
This gluten-free, moderate protein recipe is made using ground lamb, long-grain brown rice, spinach, cauliflower, carrots, lamb liver, and blueberries. It's highly palatable and one of our higher-calorie diets, making it the ideal maintenance diet for active adult dogs or dogs with small appetites.
Ground lamb is a rich protein source and is an especially good source of zinc and iron, which are great for maintaining a healthy metabolism, healthy skin, and a shiny coat. It is also rich in B vitamins like niacin, which aid in digestion and provide energy.
Ground lamb is also one of the best sources of the amino acid derivative carnitine. Carnitine is essential for energy production and heart health.
Other ingredient health benefits
Long-grain brown rice has magnesium for healthy muscle and nerve function.
Lamb liver is a nutrient-dense food that contains a high concentration of vitamin B12 and vitamin A, which are great for energy, metabolism, and vision.
Carrots are an excellent source of beta-carotene and vitamin A, which is great for maintaining healthy vision. Carrots are also a great source of fiber, vitamin C, and potassium, which is an important electrolyte for hydration.
Spinach is also a great source of magnesium, manganese, and zinc, which aid in maintaining healthy hormones, bodily functions, and immune health.
Blueberries are chockfull of antioxidants that boost the immune system.
Fish oil provides omega-3 fatty acids in highly biologically available forms of EPA and DHA.
Our nutrient blend is made up of: Calcium Carbonate, Dicalcium Phosphate, Choline Chloride, Potassium Chloride, Dried Seaweed Meal, Sodium Chloride, Vitamin E Supplement, Ferrous Amino Acid Chelate, Zinc Oxide, Selenium Amino Acid Chelate, Cholecalciferol, Riboflavin.
Ingredients List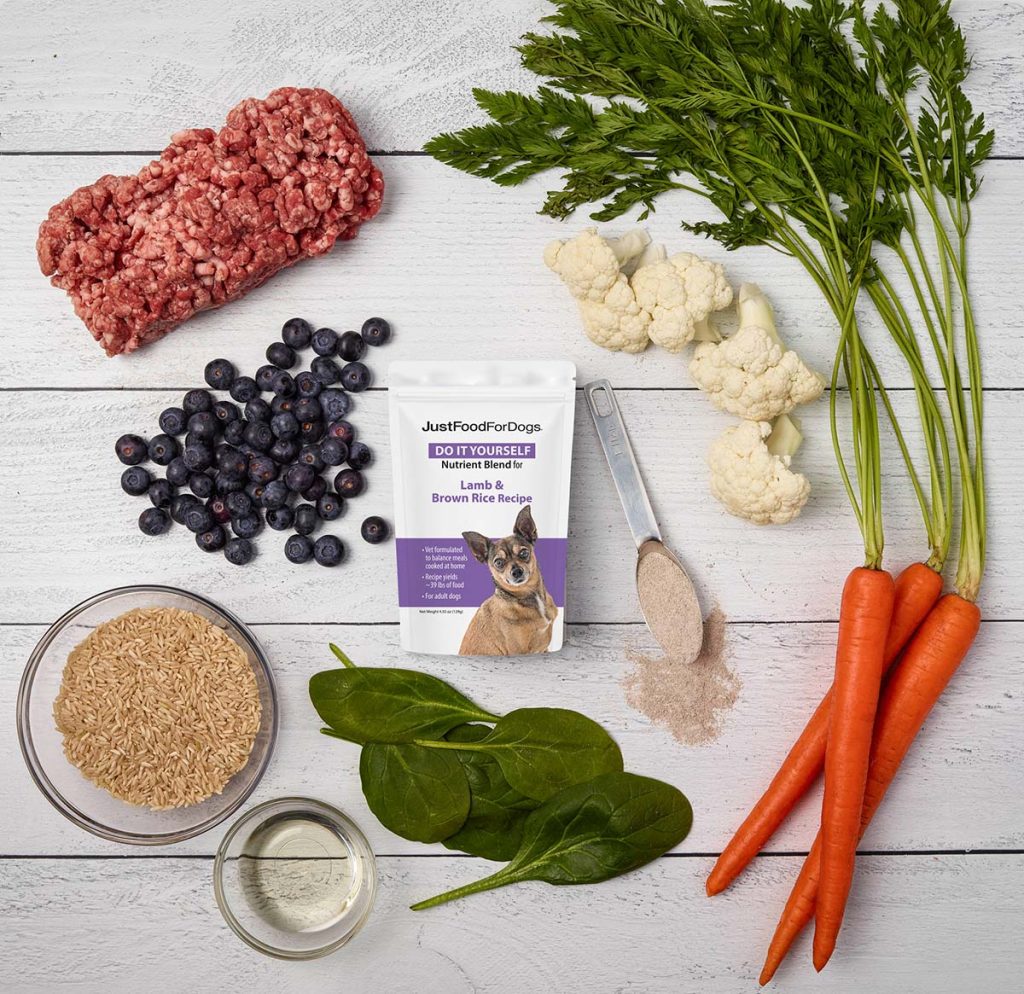 Makes approximately 13 lbs*
4 lbs Ground Lamb
5 oz Lamb Liver
2 lbs 4 oz Long-Grain Brown Rice
16 oz Cauliflower
16 oz Carrots
4 oz Spinach
2 oz Blueberries
4 tsp Safflower Oil
---
Note: As with any dog food recipe, it is essential that it is complete and balanced. This recipe is nothing without the DIY Nutrient Blend, which is formulated specifically for each recipe to meet AAFCO recommendations. The blend is compounded from 100% human-grade nutraceuticals regulated by the FDA. As such, it is vital that you follow this recipe exactly as it is written.
---
Lamb & Brown Rice Dog Food Serving Size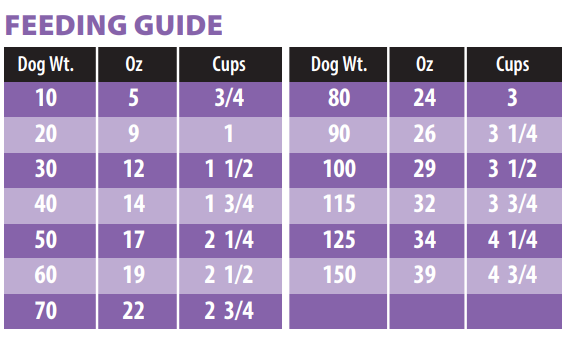 Lamb & Brown Rice For Dogs Vet Approved Recipe: Home Cooking Instructions
PREPARATION
Let's meal prep! Wash all fruits and veggies thoroughly. Use fresh vegetables whenever possible, but if one or two items are purchased frozen (may add as is), make sure there are no added ingredients such as salt or sugar. 
COOKING INSTRUCTIONS
1. In a nonstick skillet, brown lamb and lamb liver over medium-high heat, stirring frequently. Add cauliflower, carrots, spinach, and blueberries while lamb is slightly pink. Continue to cook until lamb is fully cooked and vegetables are soft. Do not drain. Let the mixture cool until it is warm to the touch.
2. Cook brown rice according to package directions. Let cool.
3. In a large mixing bowl, combine all ingredients, including the safflower and Omega Plus oils. Slowly sprinkle in DIY Nutrient Blend until fully incorporated.
4. Portion into individual serving sizes and store in freezer or refrigerator. Stored in the refrigerator, this recipe will stay fresh for up to 4 days. In the freezer, it can be stored for up to 3 months.
Approximate cook time: 40 mins
Conclusion
We hope you and your dog enjoy this homemade ground lamb and rice pet food recipe. By choosing to cook for your dog instead of feeding them kibble, you can provide them with a high-quality, wholesome, and customized diet at any life stage.
This lamb and brown rice recipe offer a balance of proteins, carbohydrates, and vegetables, ensuring that your pet receives the nutrients they need for optimal health.
Remember to consult with your veterinarian before making any changes to your dog's diet, and feel free to explore our blog for more nutritious human-grade recipes.
Guaranteed Analysis:
Crude Protein (min.) 7.5%
Crude Fat (min.) 5.0%
Crude Fiber (max.) 1.5%
Calorie Content (Calculated):
1494 kcal ME/kg; 42 kcal ME/oz
756 kcal ME/18 oz; 3024 kcal ME/72 oz
*All weights indicated are raw or dry weight.
No stove? No problem! Learn how to make this recipe in a slow cooker or Instant Pot.
Prefer to make a smaller batch? This printable PDF includes instructions for full and half batches of food.