Recipe: Homemade Dog Food With Ground Beef
This easy-to-follow recipe for homemade dog food with ground beef has all of the essential nutrients your pup needs.
Find here an easy homemade dog food recipe featuring ground beef and potatoes that can be cooked on the stove. Your canine companion deserves a healthy and nutritious meal, and this recipe is both quick and easy to prepare (and loved by picky eaters!).
By using simple human-grade ingredients and following our step-by-step instructions, you can provide your dog with a wholesome homemade dish they will love. This recipe includes all of the essential vitamins and minerals your dog needs, including niacin, calcium, carbohydrates, potassium, vitamin a, vitamin c, and antioxidants.
We openly share all of our recipes so dog owners can upgrade their dog's diet in the comfort of their own homes. It's a lot easier to make homemade dog food than you'd think. Try our ground turkey, lamb with brown rice, and ground chicken recipes, all developed by dog nutrition experts.
Ingredients List
Makes approximately 11.5 lbs*
5 lbs lean ground beef
2.5 oz Beef Liver
3 lbs 9 oz Russet Potatoes
1 lb 14 oz Sweet Potatoes
5 oz Carrots
5 oz Green Beans
2.5 oz Green Peas
2.5 oz Green or Red Apples

Cored, seeded, finely chopped

3.75 oz Safflower Oil
---
Note: As with any dog food recipe, it is essential that it is complete and balanced. This recipe is nothing without the DIY Nutrient Blend, which is formulated specifically for each recipe to meet AAFCO recommendations. The blend is compounded from 100% human-grade nutraceuticals regulated by the FDA. As such, it is vital that you follow this recipe exactly as it is written.
---
Serving Size For Beef & Potato Dog Food
Choose a serving size based on your dog's weight.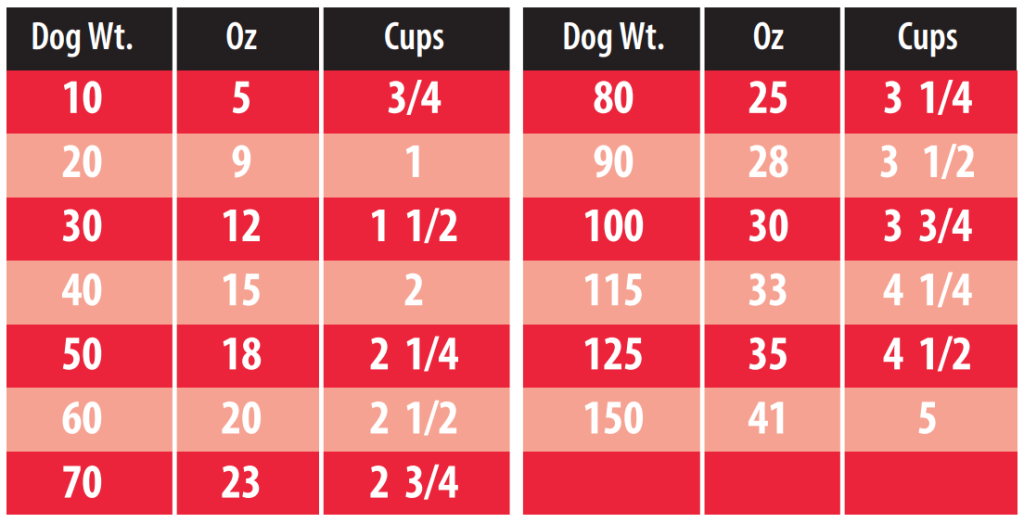 Ground Beef & Russet Potato Recipe: Home Cooking Instructions
PREPARATION
1. Wash all fruits and veggies thoroughly. Chop. Use fresh vegetables whenever possible, but if one or two items are purchased frozen (may add as is), make sure there are no added ingredients such as salt or sugar.
2. Be sure to use edible potatoes, without any signs of aging or shades of green.
3. Prepare a one-quart ice bath. Once the potatoes are cooked, the ice will be used to cool them and to stop the cooking process so they retain their texture.
4. Make absolutely certain that all apples have been cored and all seeds removed — apple core/seeds can be toxic to dogs.
Approximate prep time: 10 minutes
Cooking Instructions
1. In a large skillet, brown beef and beef liver over medium heat, stirring frequently. Add carrots, green beans, peas, and apples while beef is slightly pink. Continue to cook until beef is fully cooked and vegetables are soft. Do not drain. Let the mixture cool until it is warm to the touch.
2. Choose a pot that will hold all the potatoes, add water and bring to a rapid boil. In the meantime, dice the white and sweet potatoes (do not peel) to an appropriate bite size for your dog. Add potatoes to the water and lower heat to a simmer. Cook for 10-15 minutes or until fully cooked (soft to the touch). Add ice to stop the cooking process. Drain. Let the potatoes cool to the touch.
3. In a large mixing bowl, after the food has cooled completely, combine all ingredients, including the safflower and omega-3 oil. Slowly sprinkle in DIY Nutrient Blend until fully incorporated.
4. Portion into individual serving sizes and store in the freezer or refrigerator. Stored in the refrigerator, this recipe will stay fresh for up to 4 days. In the freezer, it can be stored for up to 3 months.
Approximate cook time: 40 mins
Calorie Content Per KG
Calorie Content (Calculated):
1559 kcal ME/kg; 44 kcal ME/oz
792 kcal ME/18 oz; 3168 kcal ME/72 oz
The Best Vet-Approved Food Diet
All of our pet food and healthy dog treat recipes are developed by veterinarians and nutritionists to ensure every meal is complete and balanced for your pup.
Now that you have discovered this quick and easy homemade beef dog food recipe, you can ditch the kibble and treat your dog to a healthy and delicious grain-free meal cooked on the stove. By following the instructions and using fresh ingredients, you can provide your own dog with a well-balanced and nutritious dish.
Remember to portion and store the food properly to ensure its freshness.
Learn how to make this recipe in a Crockpot slow cooker or Instant Pot.
*All weights indicated are raw or dry weight.
This printable PDF includes recipes for large and small batches of food.