The Science Behind Vegan Dog Food
Veterinarians and researchers agree that vegan dog food, when carefully prepared, can be a nutritionally sound and viable diet for dogs.
Can dogs be vegan? Surprisingly, yes. When carefully prepared and inclusive of all of the essential nutrients domesticated dogs need, dogs can actually thrive on a vegan diet. But there are key hazards to be aware of if you're thinking of putting your dog on a veggie-only food plan.
The Science
Most recently, the University of Illinois found that human-grade, lightly cooked vegan diets provide suitable nutrition for dogs.
"As long as they're consuming the essential nutrients in the correct amounts and ratios, dogs can be vegan, vegetarian, or meat-eaters," said Kelly Swanson, U of I professor in the Department of Animal Sciences, part of the College of Agricultural, Consumer, and Environmental Sciences.
Researchers compared two fresh plant-based dog foods against chicken-based kibble/dry food. The dogs fed the vegan diet had positive improvements in their gut health overall.
In another study, researchers found that "nutritionally sound" vegan diets are the healthiest and least hazardous dietary choice for dogs compared to raw meat diets.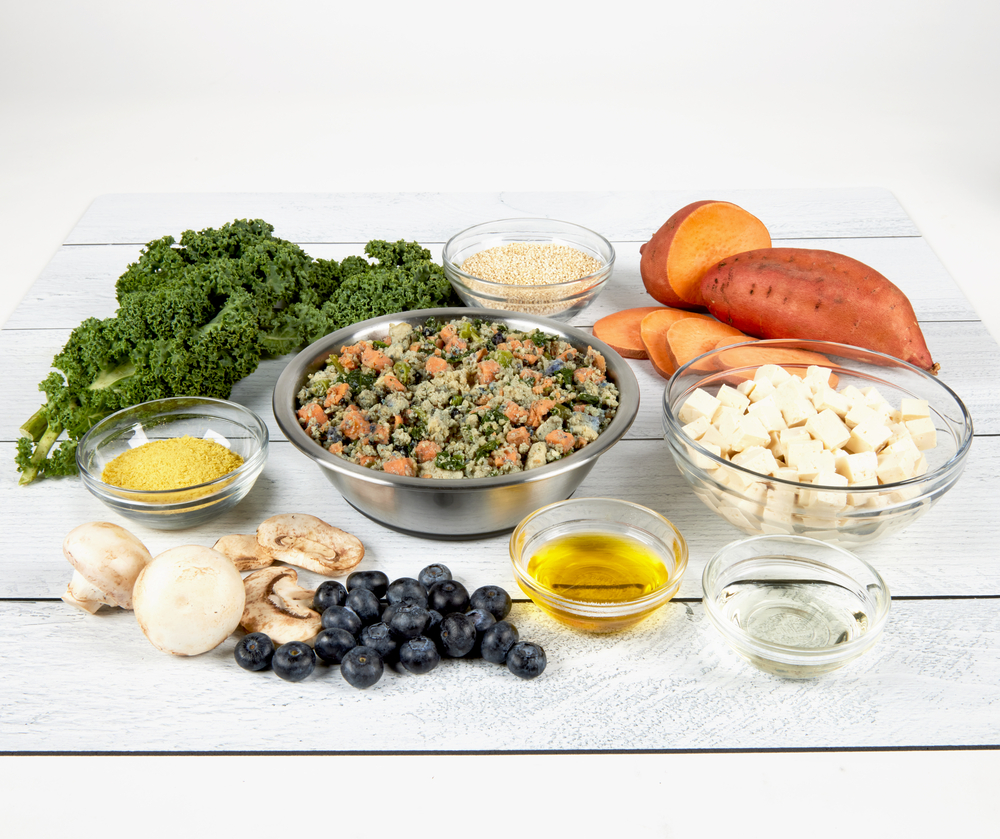 "Nutritionally sound" vegan dog food is imperative
Veterinarians agree it is absolutely essential for your adult dog's health and wellness that if you switch them to a vegan diet, it must be complete and balanced. Work with an experienced veterinary nutritionist to develop a health plan that can meet AAFCO's standards and your dog's individual needs.
Drawbacks and Dangers of Vegan Dog Food
While there is some evidence to support a carefully formulated vegan diet for dogs, pet parents must proceed with caution.
Veterinary nutritionist Dr. Julie Churchill, a professor of veterinary nutrition at the University of Minnesota College of Veterinary Medicine, warns that plant-based diets cannot accommodate all life stages. Still-growing puppies and pregnant dogs, for example, have greater nutritional needs that vegan recipes cannot meet.
Another thing to be aware of when it comes to vegan pet food is the risk of heart disease. The Federal Drug Administration (FDA) is still investigating the link between non-soy legume-heavy dog diets and dilated cardiomyopathy (DCM). DCM is the most common cause of heart failure in dogs.
Trusted Vegan Dog Food Brands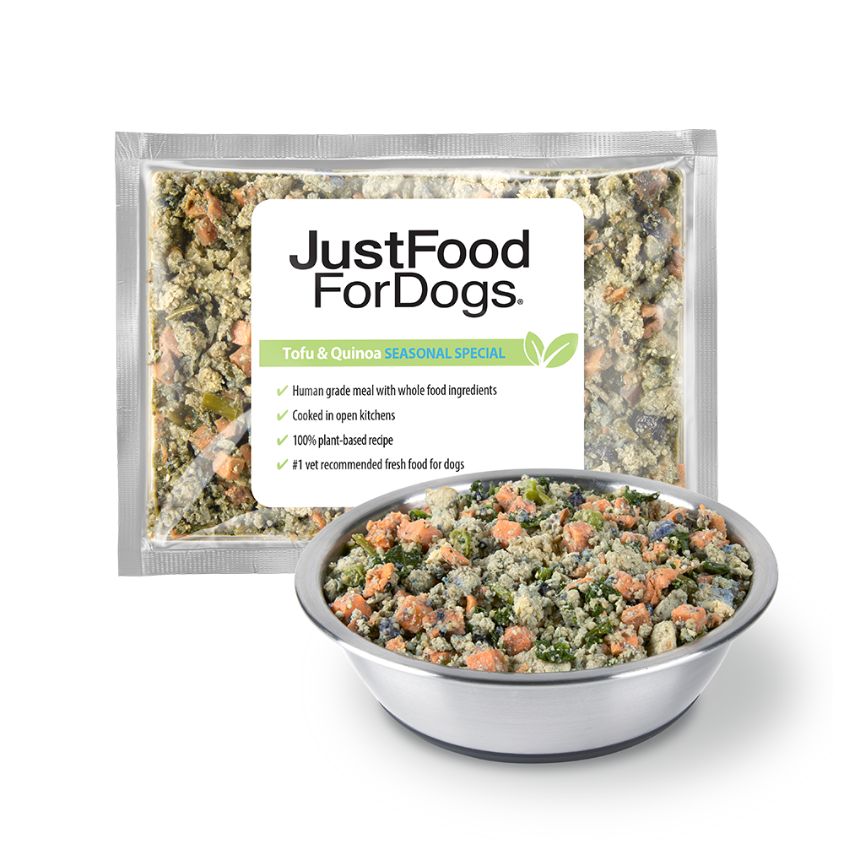 You can find nutritionally sound vegetarian dog food right here! Our Tofu & Quinoa vegan dog food recipe is made with 100% fresh, whole-food plant-based superfoods, including tofu, sweet potatoes, quinoa, kale, white mushrooms, blueberries, and nutritional yeast.
The JustFoodForDogs world-class nutrition team partnered with leading researchers in vegan pet nutrition to create a recipe that's high in protein, packed with antioxidants, amino acids, and full of anti-inflammatory ingredients. And, because this high-quality recipe is 100% vegan, it's perfect for dogs that need a novel protein and for pet parents who are looking to reduce their impact on climate change.
Pet parents who fed their dogs the Tofu & Quinoa recipe have reported healthy skin, increased energy, and milder allergy symptoms.
What About Cats? Can Cats Be Vegan?
It's not recommended. It is strongly advised you talk to your veterinarian before putting your cat on a vegan diet. Unlike dogs, cats are obligate carnivores, meaning they can only survive on animal proteins.
"[Cats] cannot utilize certain nutrients that come from plant-based proteins," says Dr. Vincent Michaels, DVM. "They have significantly higher protein requirements than dogs and require nutrients such as taurine that are only present in animal tissue."
Since felines require a higher level of protein than dogs do, a high-protein diet is essential. As such, cat owners should stick to regular cat food.
Easy Vegan Dog Treat Recipe
Want to whip up a quick vegan treat for your furry friend? Simple blend a banana with a couple of tablespoons of natural peanut butter (no salt or anything else added). Pour into a mold, freeze, and serve!
You can find fresh vegan dog food, dog treats, supplements, and more on our website, Petco, Amazon, and Chewy.