Homemade Food for Dogs to Gain Weight
If your underweight or malnourished rescue pup needs some help getting to a healthy weight, this blog post is for you.
The majority of pets in America are overweight, but what's a pet parent to do if they have a malnourished dog that actually needs to gain weight? If your underweight pup needs some help getting to a healthy weight, this blog post is for you. We'll lay out just what to add to homemade food for dogs to gain weight.
If your pet is looking boney, it takes more than portion size to get them to a healthy weight. According to a professor of clinical nutrition at Cornell's College of Veterinary Medicine, Joseph J. Wakshlag, protein is a priority. "Typically, we like to see slightly higher protein diets," says Wakshlag. High-quality animal proteins with lots of phosphates, magnesium, and potassium, like ground beef or ground turkey, are key to building and maintaining muscles as dogs age.
Your underweight dog's diet will need to meet certain caloric needs as well. Proteins like beef and lamb are higher in calories than, say, chicken or fish.
The most important part of DIY dog food, however, is ensuring it is a complete and balanced diet that meets your dog's specific nutritional needs.
Always work with a professional to help a malnourished dog. Before diving into home cooking for your dog, talk to your vet or veterinary nutritionist. They will be the best person to guide you on the appropriate weight gain process that meets the dog's needs.
Vet-Approved Supplements for Homemade Diets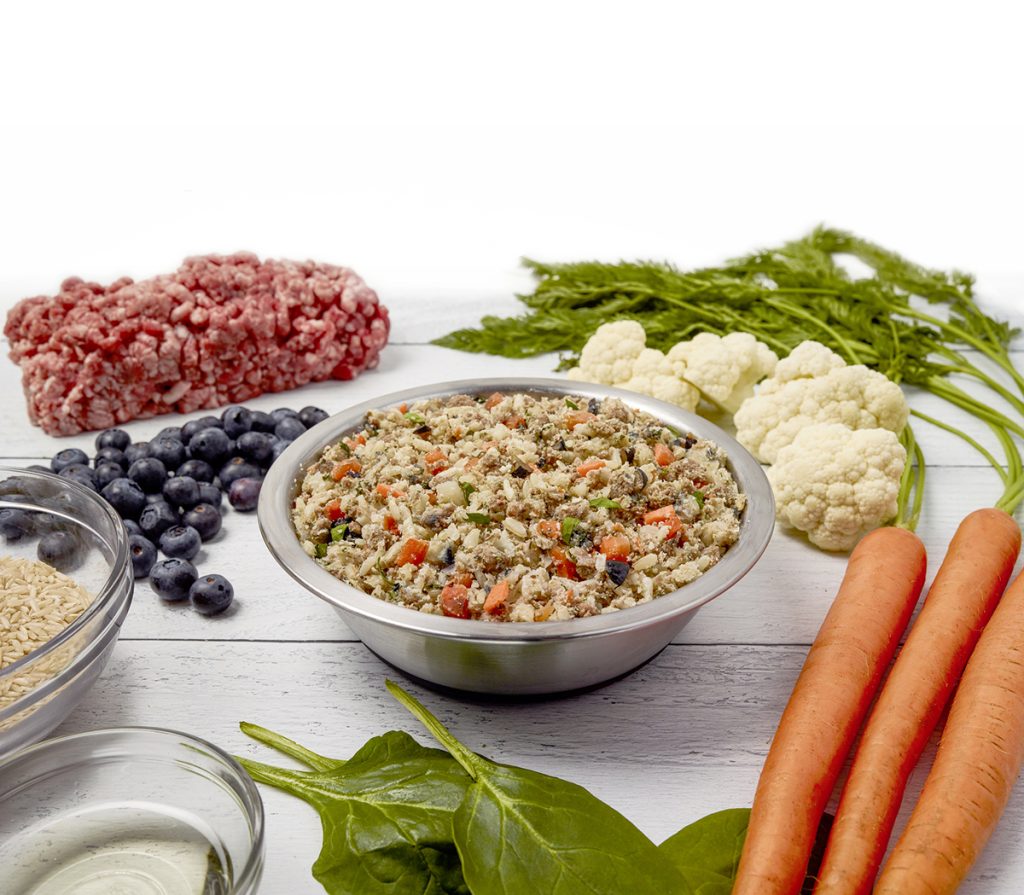 One of the easiest ways to make your own dog food is with the JustFoodForDogs Nutrient Blend. Each DIY Nutrient Blend is formulated specifically for each recipe to meet AAFCO recommendations for your dog's health. The blend is compounded from 100% human-grade nutraceuticals regulated by the FDA.
One of the best DIY formulas for dogs to gain weight that is low in carbohydrates and high in protein and fatty acids is the Beef & Russet Potato recipe. This recipe includes all of the essential vitamins and minerals your dog needs to reach a healthy body weight, including niacin, calcium, carbohydrates, potassium, vitamin a, vitamin c, and antioxidants. It features sweet potatoes, beef liver, carrots, and green beans.
Learn how to make this recipe in a Crockpot slow cooker or Instant Pot.
The other recipe our vets recommend is homemade lamb dog food, Lamb & Brown Rice. It's made using ground lamb, long-grain brown rice, veggies, lamb liver, and blueberries. It's highly palatable and one of our higher-calorie diets with healthy fats, making it the ideal maintenance diet for active adult dogs, underweight dogs, picky eaters, or dogs with small appetites.
Learn how to make the lamb recipe in a slow cooker or Instant Pot. Prep time and cook time may vary.
Homemade Food for Dogs to Gain Weight: Satin Balls
Satin balls are basically raw food meatballs typically made with raw eggs, starch, ground beef, and sometimes peanut butter or coconut oil. Talk to your vet before considering this method as raw food can be extremely dangerous for both pets and humans.
Homemade Pet Food vs. Store-Bought Kibble
Healthy dog food starts with quality ingredients — the same human food you find at the grocery store. Our veterinarians recommend making your dog's food at home instead of buying commercial dry dog food for weight gain. By using whole foods, you don't have to worry about preservatives or fillers. Your doggie will thank you for it in the long run!
Homemade Food for Dogs Best Practices
In addition to tailoring the dog's food to its ideal weight, dog owners should take their pup's activity level, breed, and any other health issues into account. This will help determine an appropriate portion size.
It's important to follow the recipe instructions exactly as it is written in order to create a truly complete and balanced food diet. Use the corresponding Nutrient Blend and Omega fish oil for each recipe.
Store the prepared food in an airtight container to ensure freshness. Freeze any extra fresh food that won't be consumed within three days.
As always work with your vet to find the best dog food and carb level for your pup's needs. Monitor your dog's weight on a regular basis and be careful of overfeeding. Remember that dog treats should make up no more than 10% of your dog's daily calories.
Stella's Story
When Stella cam down with a mysterious illness, she lost a lot of weight. Her vet recommended JustFoodForDogs and she's thriving!
If you are short on time and need a quick dog food solution, you can find our pre-made lamb and beef recipes on our website, Amazon, Petco, or your local JFFD kitchen.