Homemade Chicken & White Rice Dog Food Recipe
Learn how to make this healthy homemade chicken dog food recipe.
Make some of the best dog food right at home! This is a homemade chicken and white rice dog food recipe that will surely make your pup's tail wag with delight. This recipe combines the goodness of lean chicken, nutritious veggies, and wholesome white rice to create a balanced and tasty meal for your pet.
With simple ingredients and easy-to-follow instructions, you can provide your dog with a healthy homemade dog food recipe that meets their nutritional needs. Join us as we guide you through the process of preparing this nourishing chicken and rice dish for your beloved dog using human-grade ingredients.
Ingredients
(Makes approximately 9 lbs. Cook time may vary.)*
2 lbs 4 oz Ground Chicken Thighs

Meat only, boneless, skinless, or diced

1 lb 4 oz Chicken Thighs

Meat with skin, boneless, diced, or ground

6 oz Chicken Gizzards
5 oz Chicken Liver
24 oz Long-Grain White Rice
8 oz Spinach
8 oz Carrots
8 oz Green or Red Apples

Cored, seeds removed, finely chopped
---
Note: As with any dog food recipe, it is essential that it is complete and balanced. This recipe is nothing without the DIY Nutrient Blend, which is formulated specifically for each recipe to meet AAFCO recommendations. The blend is compounded from 100% human-grade nutraceuticals regulated by the FDA. As such, it is vital that you follow this recipe exactly as it is written.
---
Chicken & Rice Dog Food Serving Size
Select a serving size according to your ideal dog's weight.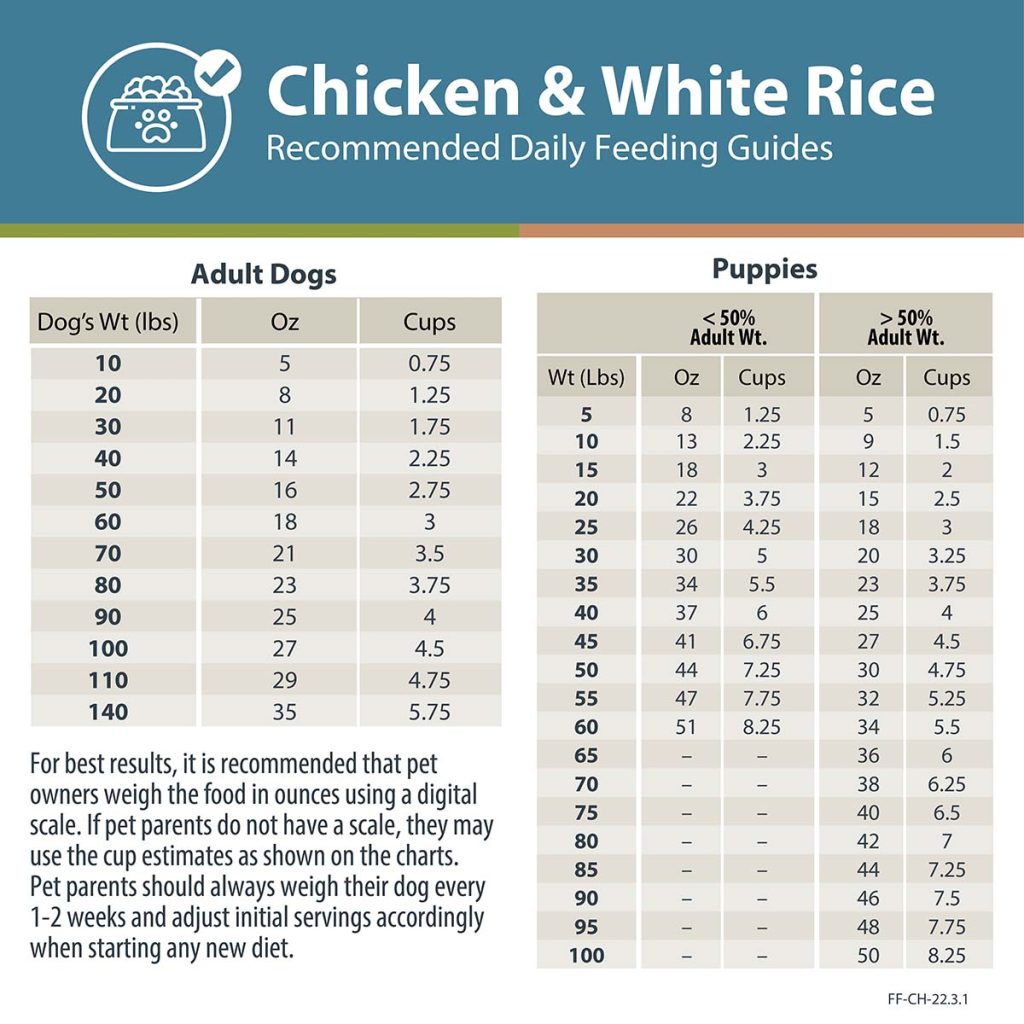 Chicken & White Rice For Dogs Vet-Approved Recipe: Home Cooking Instructions
PREPARATION
1. Wash all fruits and vegetables thoroughly. Use fresh vegetables whenever possible, but if one or two items are purchased frozen (may add as is), make sure there are no added ingredients such as salt or sugar.
2. Make absolutely certain that all apples have been cored and all seeds removed — apple core/seeds can be toxic to dogs.
COOKING INSTRUCTIONS
1. In a nonstick skillet or large pot, brown chicken thighs, chicken gizzards, and chicken liver over medium-high heat, stirring frequently. Add spinach, carrots, and apples while the chicken is slightly pink. Continue to cook until chicken is fully cooked and vegetables are soft. Do not drain. Let the mixture cool until it is warm to the touch.
2. Cook rice according to package directions. Let cool.
3. In a large mixing bowl, combine all ingredients, including the Omega Plus Fish Oil. Slowly sprinkle in DIY Nutrient Blend until fully incorporated.
4. Portion into individual serving sizes and store in an airtight container in the freezer or refrigerator. Stored in the refrigerator, this recipe will stay fresh for up to 4 days. In the freezer, it can be stored for up to 3 months.
Summary
Instead of using kibble, preparing homemade food allows you to have full control over the ingredients and ensures that your dog's diet has real nutritional value. This homemade chicken and white rice dog food recipe provides the perfect balance of protein, carbohydrates, potassium, fatty acids, carbs, calcium, and other essential nutrients your dog needs.
By following our step-by-step instructions, you can create a food diet that meets your doggie's dietary needs and satisfies their taste buds. Treat your furry friend to a homemade delight that showcases your love and care for their well-being.
Dog owners: remember to consult with your veterinarian or nutritionist to ensure this recipe aligns with your own dog's specific dietary requirements. Dogs with digestive issues or food allergies can try our vet-prescribed recipes.
Do you have a healthy dog that's a picky eater? Try this ground turkey dog food recipe featuring zucchini and carrots. You can also explore the health benefits of our ground beef and russet potato, fish and sweet potato with green beans, lamb and brown rice, and tofu and quinoa dog meals. Don't forget dog treats!
Related reading: Chicken Breast & Rice for Dogs 101
Instructions for making this recipe in a Crockpot/slow cooker
Instructions for making this recipe in an Instant Pot
*All weights indicated are raw or dry weight.
Prefer to make a smaller batch? This printable PDF includes instructions for full and half batches of food.